Let me do a little math here. With solar power now costing approximately three dollars a watt, including inverters, panels, and backup batteries, you can equip a 10 node cell tower with a thousand watt solar setup for approximately $3,000 and never need to worry about installing a transformer AT ALL. If you are transmitting 30 watts, you will draw at least 45 because of waste, plus your hardware is going to eat some juice but that should not come out to over 100 watts more. So lets just guess that your cell tower has a real power need of 150 watts. A 1000 watt solar setup will handle that no problem. And even if I am low in my numbers, running a high voltage feed to that cell tower, so it can get it´s 300,000 haarp watts, JUST BY ITSELF SANS TRANSFORMER could easily run $50,000 which would make a more robust solar panel setup the obvious solution in any legitimate setup. The transformer alone would cost more, even if made in China.
"You amerikans are getting fried it would appear. :-)
I dug for details, to be sure and said, Are you sure those are man made, and the answer was "YES, and it is ONLY THE BEGINNING, That was caused by evil people. The worst evil." I said "Are you sure this is just the beginning" and the answer was YES.
I do not publish hearsay as a matter of course on this web site. Everything that goes up has either direct links, math, or scientific proof of one sort or another, which makes this web site an analysis site that does not have a "secret inside contact", "communication with angels and God" or "word around the Kremlin today" form the base of what is here. But this friend has been hounding the issue for a few weeks, that there is a massive disaster being intentionally planned to be faked as mother nature by the worst of people, mentioned at least once every three days. This friend is very intelligent and well educated.
This friend knows nothing about haarp, weather modification, or any other conspiracy. So where are these dreams coming from, about evil people causing environmental disasters that appear to be natural?
What we call cell towers are absolutely not needed. They are often heavily fortified, are always fed at least 50,000 watts, often fed half a million watts, and typically spaced four miles apart, to give a signal radius of two miles per tower. Something is wrong with that.
The proof of how powerful they are is indicated by the size of the transformers feeding them, which are often 500KVA and Farganne even photographed and sent me the picture of one that had to be at least a megawatt.
WLS in Chicago transmits with five percent of that - (50,000 watts,) and can be heard clearly for over a thousand miles at all hours of the day with a reasonable radio, and often comes in clearly nationwide. So why do what we call "cell towers" often get fed 10 TIMES THAT to talk to a cell phone two miles away? When I was a kid, I had a set of walkie talkies that could talk to CB radios in a neighboring town when out in the open and on top of the hill (approximately two miles distant) and could even talk to a CB while transmitting out of the back seat of a car fairly predictably at up to about a half mile distant. These walkie talkies had only half a watt, and that´s not even mentioning wireless N routers which can sometimes connect at half a mile with milliwatts.
So if WLS can reach nationwide, and a kid´s walkie talkie with a laughable output can connect at two miles, why then do cell towers often get individually fed enough juice to dwarf the output of WLS, when a kid´s walkie talkie can hook up at the same distance a cell tower is rated for with 0.000.000.5 the power? It would be understandable, for the purpose of penetrating the thickest walls and the darkest cellars to equip a cell tower with 100 watts, and then give that cell tower a fantastic receiver so it could hear the much weaker cell phone. But over that? NO WAY.
I am not going into the over 95 percent of people´s heads concept of wave steering via synchronization of antennas, but it can be done - you can cause one transmitter to steal the energy of another and throw that energy in one direction via proper phase synchronization, so with computerized control you can get ALL towers in a region to focus their energy right where some evil bastard wants it. Perhaps the heart of an F5?
Are cell phone towers being used in a sinister way to further enslave humans to make us more pliable, more sheep-like so we'll wander around in life, aimlessly, not knowing what is going on and not caring?
Considering that our government is an out-of-control, sadistic, evil thing that doesn't give a damn about the people it was formed to serve and protect, that it only serves Wall Street, the FED and Israel thru war mongering inflicted by the Department of War and tyranny, thru the many jack-booted thugs of the ATF, DEA, FBI, NSA, DHS, etc. then it's not a stretch to think that cell phone towers are part of this menace.
Something more powerful than the mind-numbing Zionist MSM outlets like FAUX, ZNN and BSnbc is needed to keep the sheeple in the pen, since people are realizing that those 'news' outlets shovel into their minds a rather smelly fertilizer.
The MSM outlets have been caught telling so many lies that people are finally starting to wake up and realize that the MSM is nothing more than BS, lies, disinfo, worthless gossip and propaganda, hence the migration to the Internet for news.
That's just ONE aspect of the number of lies needed to keep the sheeple bawling for more.
OBOMBA is just as bad, one would need a calculator to add up the number of lies told by that 'No Balls Peace Prize Receipent.'
The PTB realize the MSM is losing its potency, yet they still need to keep the sheeple in line.
Enter cell phone towers and the microwaves they emit.
Peer-reviewed scientific studies have identified adverse effects on populations living near cell phone towers.
General symptoms include headaches, fatigue, concentration problems, dizziness, insomnia, depression, appetite loss, skin rashes, and discomfort.
Section 6409 of the U.S. Middle Class Tax Relief Act enacted in February requires state and local approval of cell tower collocations and other wireless tower modifications. "IN GENERAL- Notwithstanding section 704 of the Telecommunications Act of 1996 (Public Law 104-104) or any other provision of law, a State or local government may not deny, and shall approve, any eligible facilities request for a modification of an existing wireless tower or base station that does not substantially change the physical dimensions of such tower or base station."
Still think cell phone towers are harmless and only those who wear 'tinfoil hats' think they are being used to control people?
If no way is found to stop Bitcoin, the bankers we all hate are going to go bust. On top of this, since bitcoin is totally anonymous, it CANNOT BE USED AS A BASIS FOR A MARK OF THE BEAST SLAVE TYPE DIGITAL CURRENCY. Bitcoin really is the answer if freedom is what we seek, let´s see how long it takes for the financial criminals of this world to "criminalize" bitcoin so they can maintain their financial stranglehold on all of us . . . . . .
These people post claims that orgone is the solution for everything and that all you have to do to mitigate the harmful effects of cell towers, nuclear radiation, and every other problem that is science related is to throw a few orgone crystals at it.
Orgone is a fantasy, and there is no source for orgone crystals. You cannot just go out and get them. SO, since it all started with the cell tower/haarp report, I would like to repeat the following:
Cell towers are getting many times more power, (thousands of times more) than what they need to complete the function of communication, which is easily proven by the size of the transformers being used to run them. This leaves a huge open question - WHY? Keep in mind that these cell towers get at least 100 kilowatts, yet when power goes out they run on lead acid battery backup which lasts DAYS. Even the largest cell tower battery backup banks cannot provide a single kilowatt for more than half a day yet the cell towers can keep the phones going for days during blackouts on battery backup alone.
Since economics drive everything, and large transformers eat a certain amount of power just sitting idle, it would make sense to match your transformer to the load it is driving just to keep your operating expenses down. There is no economic reason for using transformers that are always over 100 kw and often 500 KW to drive a load that only uses a few hundred watts, as proven by how long the battery back ups keep the cell network running when main power is lost. A legitimate cell tower transformer would not be much larger than a coffee can. I would not gripe about a 3 kw transformer. It would fit in an innocuous box attached to the side of the tower completely un noticed and would provide everything needed to run the cell service and charge the batteries, with plenty of extra left over to prevent overload.
But as things are now, there is always a giant transformer associated with each cell tower which means that there is an alternative use for those towers which has nothing at all to do with communications and I beg to question WHAT. And the fact that the forum got so heavily shilled on this issue proves there is something to it, if it was not worth shilling they would not show up to do it.
People often question that if weather modification is real, where are the transmitters making it possible? The most probable answer - hidden inside of the many thousands of cell towers we look at every day. Cumulatively, with an enormously oversized transformer at each one, they equal countless billions of watts, many many times more than Haarp in Alaska.
"Summary: the court order for the specific Dwolla account, used as a conduit to/from bitcoins endangers in no way bitcoins and mtgox in particular.
I wonder, what drives people to form their 'opinions' on hearsay from idiots, but nevertheless a short speculative rout on bitcoins was triggered, otherwise it would break local resistance on 120 level already. I observe bitcoins 3 years in a row now, so I happen to know. There are quasi countless digicurrencies out there. From them I sorted out some 7 to closer inspection and set my sights on bitcoin, as a prospectual leader. It was.
The real infancy crisis developed, when some serious hackers broke into the MtGox exchange, misapropriated some funds and triggered a waterfall selling. The price plummeted in minutes to virtual zero.
The exchange closed operation for resolving/restoring the server, annuled fraudulent transactions and buttressed password storage and management. I happen to know how it works [my comments about security of this server], because checked it. The Mtgox exchange came from the crisis roaring back - brillant damage control.
It was then. Now they are an indisputable leader [80% of market volume] in the leading cryptocurrency in the world. They are raking the dough. It works.
One of the conduits to/from bitcoins is dwolla [not the biggest one], there are some ten substantial ones. This dwolla operation is targeted through IRS. It means their account with Mtgox can be seized [if not cleared before]. That's it. No repercussions for Mtgox or bitcoins whatsoever. One of the conduits is closed, a marginal one, to be exact. So what? Nothing.
After the real crisis with the hackers Mtgox is the place to go. I checked it personally, so I know. It works."
As I said, MtGox was not affected this at all, kept running business as usual, and bitcoin remained stable. IF this court order ever even happened, it was an opportunistic ambush which used paperwork to cause trouble for MtGox because of a change of a law in Canada, which officially declared bitcoin to be a real currency by putting a 2 percent tax on it´s exchange to CAD. The U.S. then hopped onto this declaration that bitcoin was a currency and prosecuted against paperwork, which prior to this declaration by Canada, was legitimate.
It is fairly safe to assume tptb HATE bitcoin, and are hunting for ways to cause problems. How else can you explain how they knew that the Dwolla account, one of several accounts held by MtGox, was going to be in violation the moment Canada changed a law? If THAT is all they could come up with, Bitcoin is a clean machine, running above board in a way that makes the currency and those who deal in it virtually unstoppable.
I gotta laugh. I just gotta laugh.
The reason for running my own hardware is simple - once the hardware is in the hands of others, I am suceptible to sabotage, and if I have the skills I need to run this myself, why not? Darren tried to do this, but with the hardware owned by people who were most likely the opposition, we could not get a dedicated server to handle even a two way call. Not good. These problems will be totally circumvented if I own both the server and the line that taps into the internet backbone.
I am gathering the details on this topic and once I have all needs known, I will then decide if I am really going to go for it. Needless to say, people like Dennis Fetcho and others who got slammed off the air for being legitimate truth will once again have a venue if I manage to pull this off.
MtGox has read on the Internet that the United States Department of Homeland Security had a court order and/or warrant issued from the United States District Court in Maryland which it served upon the Dwolla mobile payment service with respect to accounts used for trading with MtGox. MtGox takes this information seriously. However, as of this time MtGox has not been provided with a copy of the court order and/or warrant and does not know its scope and/or the reasons for its issuance. MtGox is investigating and will provide further reports when additional information becomes known.
Mt.Gox Co. Ltd Team.
If that be the case, MtGox will not suffer from this AT ALL.
I know it may appear to be so, because this site is controversial which generates a lot of mail and even in the beginning when there were only a few hundred hits a day, I would get over 10 uniquely written mails from readers commenting on what was posted for the day. Now, years later, this web site is big enough to be an accurate measure of what operating systems and web browsers people use. So with tens of thousands of visits a day, I would like to know HOW I have not received a single commenting mail or news tip, other than spam and forwarded internet rumors THIS ENTIRE DAMN MONTH? During the bat man shooting, when traffic was half what it is now, I received 80 - 100 news tips a day. Nuclear weapon and Boston bombing trumps that, and I got NOT ONE MAIL ON THOSE TOPICS.
And for those of you in foreign countries who still, for some reason believe America is a free and open society and are wondering why I never wrote back, I would like you to consider something - I never ignored you.
Jim Stone.
When this shill storm has subsided, the anonymous accounts will be re-enabled but for now, not even IP bans can keep the shills out, which means they are inside the system and operating above even Admin. That´s right, when both IP range bans AND exact IP address bans are applied simultaneously, the shills are still able to post unfettered, WITH the banned IP´s. This proves government action definitively, no average joe can keep posting with the SAME IP after it has been banned in the system, of course, unless the system is being spoofed by the holonet, thus making any bans I apply irrelevant.
The last comment the shills posted before the anonymous accounts were disabled (which they have to abide by to avoid being pegged, at least according to their play book, which says IP bans don´t necessarily work) stated that this community will die as a result of my keeping them out. Let´s see what happens, certainly the registered users, none of whom are posting anything that gets deleted, won´t all just miraculously stop posting simply because an anonymous shill got the boot unless someone in the holonet hits the kill switch . . . . . . . .
And don´t sit around as that neighbor of yours gets hauled away late at night because of a "drug bust", a neighbor you never knew was involved in that, because he was not, that story will be cover. They are going to do this with spot hits of "drug dealers," "child molesters," "terrorists" or whatever else they can say to justify what they are doing by defamating innocent patriots as they get hauled away. Be ready for that lie, it is part and parcel with ANY population purge. Bolsheviks back stab the current victim to make the NEXT victim do nothing to prepare in advance. Be ready for the mind play.
And obviously, if there is any sort of disaster being used to justify taking your guns, they caused the disaster, shoot the ____stards
I strongly suggest you have separate war and peacetime frequency channels and encryption built into all drones, with the war time frequencies and encryption never used until show time.
I will also post the schematics for a communication system, custom designed by me that will be something that will totally circumvent NSA intercept even if they know these systems exist, with the only caution of the user being that the transmit/receive locations be kept secret. I have seen a need for this for a while and will finally get off my butt and do it. This will be something that ANY team of hacks can build from parts they definitely already have, and I absolutely will waste a few days doing this if my own e-mail communications are not fully restored.
Additionally, I am sick of the censorship, where damning truths get instantly wiped everywhere be they from my own work or the great work of others, we need a little honesty in the mainstream press, failure to have any honesty marks them as the enemy. When they stifle people willing to tell the truth by wiping all reference off blogs and comment sections and e-mails, usurp media outlets that started as real truth only to now report misleading garbage, and set up total spoof sites like Inspire, it is a multiple slap. I absolutely WILL screw the ability of the zionists to maintain information superiority if they continue on the path they are on, the nuking of Syria was the last straw and I have to admit, that mothers day shooting pissed me off just as much.
I know you folks at the NSA really think you are doing righteous work. I know they treat you great. But I suggest you watch Oblivion, where a man was fooled into destroying his own people by and for an alien machine that treated him very well, you have been fooled in a similar way and I suggest you look for answers and try to wake up. This request will likely never be heard by anyone decent however, those assigned to this web site and others already know Israel nuked syria and are trying to provide cover, with the good people kept in the dark via compartmentalized clearance.
At first I thought PressTV was compromised and therefore not reporting this. But now, after PressTV went to the scene and spoke to top weapons experts who were also at the scene of the nuclear bombing in Syria, ALL CONCUR: There is no doubt nuclear weapons were used, including at least one ground penetrating nuke, and that proof of the use of nuclear weapons is irrefutable.
Copy the gif above, change the name to something random, like a39264.gif, and put it on a web site like Photobucket. Start linking it in forums and blogs, without saying what it is and without referencing this web site or it WILL get censored immediately. Say it is the picture of the day, or a really interesting picture, or whatever else you can think of that will get people to view it without saying ANYTHING about what it is. The same goes for the video these frame captures are from. This should help the truth spread, and it is important because if Israel is not held accountable for this type of behavior it WILL eventually happen to you - they have no limits.
A constitutional convention with Obama and criminal cohorts in power would be the end of the constitution.
It is a classic tactic of conquoring powers to get ahold of the media and lie about the leadership of a nation to cause the people to remove support for their government in a time of greatest need, and instead welcome in the destroyers. This is CLEARLY happening in Syria.
It all started when I saw photos of a nice building in Afganistan before and after destruction by U.S. forces. And the thought I had was "I thought Afghans lived in mud huts and caves, where did that building come from" and I knew I had been lied to. So I googled "destroy arab building" and instantly landed on Israeli demolitions in Palestine. My eyes were open. I then quickly knew that the destruction of Jenin had started.
I was blown away - I could not believe my hero - the Jew, would be so horrible. And the method of destruction was so complete, it was like how Microsoft smashed it´s competition in the most filthy way, and then going back and forth over the rubble to crush whatever pieces of once was beyond all recognition - I was well aware of how evil Microsoft was because I knew many people in the software business that Microsoft had robbed and obliterated -
And that was the tactic I witnessed in Jenin. I stayed awake for 3 days, and after that the only rest I got was when I passed out on the floor. I was a pianist at the time and had nothing scheduled and a pile of cash to get by on, so I went as deep as one could go into the subject,
I got ahold of people in Jenin. I managed to get one message through and a short response. They were on the third floor, trying to post pictures of what was going on from a cell connection, and knew they would eventually be dead. They had set up a page on an arabic web site and were trying to show the world what was happening. They knew when the soldiers would be there more or less, and after the killings they would go out and try to document what was going on without getting killed themselves. The soldiers were lazy and were not so consistent in their lock down that you could not photograph the streets around you if you were aware and determined, but you could forget escaping Jenin. That would be impossible . . . .
The pictures were small, aggravatingly small, (320 pixels) but they were horrifying. People smashed and mutilated in the oddest ways. Lots of brains blown out, entire families burned together in the street . . . . I guess the small size was somewhat advantageous because they were easy to upload which would be needed, but I really wished for better resolution, they uploaded thousands over a period of days,
They were afraid. The soldiers were going door to door grabbing people and putting them face first in the street, men women and children, and mostly shooting the men. Sometimes they would shoot them all.
Their last post was when they said their street was next. They never reported any bulldozings (they must have been in a section of Jenin that was spared that, at least at first).
Then silence.
Then the wait.
Then finally Israel let the UN fact finding mission in, which confirmed that almost the entire city had been damaged by bulldozers and that over half had been destroyed beyond repair and an absolutely enormous section that was flattened to sand and smelled of death in a way that people who entered the scene said was "horrific beyond belief".
When the final death toll of "52" was released, it was more than a lie, it was an insult. From the pictures alone there were over a thousand deaths recorded. And it is obvious that they could not have come anywhere close to photographing them all. Then the hard drive the pictures were on got hot for no reason I could think of, and died. Dammit. It was a major loss and I strongly suspect that it was intentional sabotage.
After that I knew Israel did 911 and that particular hive was far beyond any other in history for it's evil, at least the great horrible people in the past did not hide their crimes under a false flag and silence. The Israelies are evil people, believe it folks, - without match.
"The real issue at hand now is that Israel has proven itself out in the open, under documented irrefutable conditions, that it considers nuclear aggression acceptable policy. This means that for as long as Israel exists it is a menace to the world. It is fairly well proven that Israel caused the Indonesian tsunami, nuked Bali, caused the Japan tsunami, nuked Fukushima, and FINALLY, because an Arab set a decent camera up at exactly the right place and time, and had the balls to post the video immediately, it is proven and not a guess that Israel is a nuclear rogue.
I did not get the best screen grab for what I showed in my initial analysis, and when I was doing further work on this report, I landed on the holy grail - the moment of criticality. I did not know the camera captured this.
Here you can see that even in the part of the frame that was not the sky, even in the shadow areas, there was so much light that the camera sensor clipped to it´s maximum value at all sensor sites. You can extract this frame from the cleanest version of the original video, Here is the most pristine version of the original video ever posted by the man who shot it. I made sure this got preserved. A powerful computer or advanced video editor will help. You won´t be grabbing this frame with an old Celeron.
I cannot begin to emphasize enough how impossible it is to clip a camera sensor to maximum, even in the shadow areas. This means that even the windows in the buildings took in so much light that the normally dark area inside the buildings which would make the windows appear dark got so much light that even the super dark areas clipped the sensor. The sun will not do that, even with a massive over exposure. The only thing that will do that is a nuke, which is well known to be brighter than the sun.
This is the proverbial "no damage from a 9.0 earthquake, other than tsunami damage" proof that is needed to show this was a nuke. Anyone should be able to understand this, and you don´t need to know photoshop, you don´t need to know focal lengths and lens behavior, just look at the frame grabs below. They say it all and you do not need to be an expert to see it.
The following captures give you a clear reference for what is happening in the frames above. Put your finger on one of the flames in the frame above to see where it is in the picture while the light of the nuke is still overwhelming the camera so badly it cannot see that flame. How bright is the sun? Would that camera be able to see a fire at high noon? Obviously yes, and this proves that even after significantly fading, the nuke is STILL brighter than the sun.
There is only ONE THING WE KNOW OF, THAT CAN LIGHT THINGS BRIGHTER THAN THE SUN. THIS ALONE IS PROOF ISRAEL NUKED SYRIA
We now know what a nuclear attack looks like for real, and it is surprisingly Hollywood. We also know now that EMP is B.S., and that an ordinary camera can survive filming it. As I have always said, nuclear EMP is a HOAX that is going to be used as an excuse to get rid of technology via Intel CoreVpro processors, other 3g enabled processors, and via the 3g connections ALL AUTOMOTIVE CONTROL COMPUTERS AFTER 2004 HAVE ON ALL THE TIME, as well as smart meters which can probably command appliances to auto destruct, which will be used to fake the public into believing a nuclear EMP wiped everything out when in fact it was only the zionists using decades old 3g technology to tell everything to self destruct with a system we all forgot about. And THAT is how they will throw us back to the stone age, and accomplish our final enslavement.
This video is proof positive that our electronics are NOT susceptible to nuclear EMP, a fact I have been harping for a long time now, and all it took for me to know was to put pen to paper and calculate it out.
EMP fear mongering is a mind game, to get people to waste their efforts on that which is irrelevant. EMP from a nuke is a threat to ONE thing - a device hooked up to a wire over a mile long that has no protection circuit. Nuclear EMP needs a conductor with a cross section a mile long to couple with, it´s all very easy math. Your car, your laptop, your cell phone is immune, simply because it is too small to take in the signal. Power distribution systems, phone systems, ethernet computer networks with no fiber optics, and cable TV systems can be damaged but even then it is not likely, the nuclear tests of the 40´s 50´s and 60´s took place amidst power lines and phone networks, and the ONE time anything did get blown out it was a rotary multiplexer at a small local phone provider. Our modern stuff is far more robust simply because over time it was improved to survive lightning strikes.
But nuclear EMP is not the issue here, IS IT?
I´d say NO. The real issue at hand now is that Israel has proven itself out in the open, in documented irrefutable conditions, that it considers nuclear aggression an acceptable policy. This means that for as long as Israel exists, it is a menace to the world. It is fairly well proven that Israel caused the Indonesian tsunami, nuked Bali, caused the Japan tsunami, nuked Fukushima, and now, simply because an Arab set a decent camera up and had the balls to post the video immediately, it is PROVEN BEYOND ALL DOUBT AND NOT A GUESSING GAME THAT ISRAEL IS A NUCLEAR ROGUE. I gotta laugh - it was their "eternally illiterate mud hut goat herder" patsy that nailed them. Hey Israel, WHO ARE WE SUPPOSED TO BE TRUSTING WITH A BOMB?? Looks like the movie Airplane and many others were nothing but kike fantasies. The damage you caused to the reputation of others while being even WORSE filth yourselves is the pinnacle of all hypocrisy.

Even more damning is the blackout in the media - all forms of it. I can excuse some of the alternative media that has limited staffing for missing this, but CNN, FOX, AlJazeera, ABC, NBC, CBS, ALL latino news outlets, EVERYTHING "mainstream" has staffing good enough to know what went on, and their silence is absolutely DAMNING. It proves beyond a shadow of a doubt that we are all wrapped up in a blanket of zionist lies, disinfo, and SILENCE.

May 6, 2013
I was taken offline to prevent this from being posted. I am back, for who knows how long . . . .
They destroyed 2 cell modems over this, and I am now running on backup modem 2. This is important to "them", they did NOTHING over the boston bombing reportage, why did the following get their hackles up so bad they acted so strongly to prevent it from being posted?
The information blackout is telling, this explosion never got mentioned AT ALL in the Mexican press, which is reporting zero about ANYTHING happening in Syria right now. WHY???
Perhaps because Israel owns the world´s media, and wants silence with regard to their nuclear war crimes?
Analysis of the video from Syria proves it to be a nuclear air burst beyond all doubt.
Permalink
The referenced capture is from the video linked below. If you cannot get that exact frame to pause well enough to be captured, it is because your computer is not able to handle the distraction of the pause button while playing video - pull the video into an editor to grab the frame if this happens

It is fairly easy to prove the blast was a nuclear air burst with terms anyone can understand.

Many people said the blast could not have been nuclear because the color was wrong. But a frame analysis of the exact frame that captured the initial blast proves the camera maxed out in all 3 color channels, which by itself proves the blast was nuclear. Further analysis proves the camera captured more blue than any other color. The following eyedropper sample of the explosion from an un edited frame capture proves the camera went to 255 in all 3 color channels across a majority of the frame, which is the maximum value a camera can record, or pure white.
When using levels, we once again see that the camera recorded it's maximum in all 3 color channels across the majority of the frame, with values below 255 in all 3 color channels being represented by black, with the red channel not clipped out in some of the frame appearing as red, and red and green approaching clip out appearing as yellow in some of the frame. So what we have here is an image that is entirely clipped to full white in a majority of the frame straight out of the camera, with absolutely no image data recorded other than white. This is only possible with a nuclear weapon, you cannot just clip an image white in all 3 color channels from one edge of the frame to the other with a conventional light source.
When checking the same image with a threshold max, which will take any color channel that is maxed out and cause it to render as white we see that the blue channel was clipped out almost everywhere, with the areas the blue channel did not over ride the red and green channels represented as black. This proves that the actual color of the blast, despite appearances in the video, was blue.
The following frame is the original grab. Play with it in a photo editor to prove I am not making this stuff up. The original video this was grabbed from is linked farther down this page
What type of bomb causes the sky to light up blue from horizon to horizon and causes Muslims to call out to God for salvation from 4 KM away?
YOU GUESS.
The rest of this analysis is in progress. The supporting photo frames are being prepared, the text will be similar to what follows:
First off - to write off the possibility that it was a weapons cache exploding - this is not the case. The event was a separate bombing and this is easily proven by timing the sound of ordnance exploding in the fire in this frame, to it's arrival at the camera. The time it takes is a little over 4 seconds, which puts it at a distance of approximately 5,000 feet. The sound of the second blast takes 11 seconds to arrive, which puts it at an approximate distance from the camera of 12,500 feet, or about a mile farther away than the first blast. So we are looking at a separate bombing, with the second blast occurring more than a mile away from the fires that are burning from a previous bombing run in the early part of the video.
A secondary method to prove this was a nuke -
Virtually all cameras with zoom capability start with a 28 millimeter equivalent focal length, and even if you start with a much easier and cheaper 38 millimeter equivalent focal length, (which narrows the field of view) you will still usually get a 70 degree field of view when the zoom is at maximum wide. In addition to these common numbers, I tested an 18-55 lens on an SLR with a 4/3 sensor which equals a widest focal length of 28 mm, which is the standard for most consumer cameras, and it's field of view at maximum wide angle was able to take in a carefully measured 11 feet horizontal and 7 feet of vertical at a distance of 8 feet from the target.
Since this is the most common max wide angle in camera and video gear that can zoom, let's plug those numbers into some measurements from the video, to get a guess at how big that blast was.
We have a fixed distance from the lens of 3.8 kilometers, which is proven by the time it takes the sound of the blast to reach the camera.
At the start of the video, we have the camera zoomed in to what appears to be maximum zoom, and it appears to be covering an area approximately 200 meters across. When the blast occurs at two and a half times the distance from where the camera is initially focused, which makes that recorded area approximately 500 meters across, it instantly exceeds the frame, and the camera operator pulls the zoom back. At his first pull back, the explosion still exceeds the frame, and when zooming out only to discover your frame is still completely filled, virtually all photographers will go to maximum wide angle to make sure they get it all in. So it is highly probable that is exactly what our cameraman did. That gives us our (most probable) 28 mm reference.
We can, from the measurements of what a focal length on another lens did at 28mm, (which was 8 feet of distance producing a frame which was 11 feet widefor a ratio of 8/11 at 28mm with the test camera), calculate approximately how big the blast was. To find out how wide the bombing video frame was, we can calculate with a known 3.8 km distance times a reference ratio of 11 width /8 distance. This means, take 3.8km, multiply it by 11 and divide that by 8 which comes out to a field of view that is 5.225 kilometers across at 3.8 KM distance, and a height ratio of 7/8 which when plugged into our known 3.8 KM distance to the blast, (if you multiply it by 7 and divide that by 8) you will get a vertical frame height of 3.325 km.
So at final pull back, the frame we are seeing in reference to the explosion is fairly close to 5.225km wide, and 3.325 km high give or take lens and sensor variances in consumer camera gear. I will explain this a little better later.
Now let's measure that blast by measuring how much of that frame it fills. (to be completed, but initial guess is a minimum of 1.5 KM high within AT MOST 10 seconds, which means air currents did not cause the fireball to go to that height, the initial blast was that tall and got that tall at most likely a supersonic speed.
Work on this is in progress
May 5, 2013,
Don't expect the "official" truth about anything from Damascus
The first casualty of war is the truth, so the best thing to go on is the videos individuals have posted to Youtube, and the blast effects. I am holding my ground - Earthquake and then blast means bunker busting nuke that breached the surface. On top of that, the scale of a couple of those blasts was beyond conventional. There were eyewitness reports that one of the mushroom clouds generated it's own lightning.

First thought of the day - Israel is sucking the tit of terror by milking sympathies from the Boston bombing and sprinkling a little bit of that terror milk on Damascus, GOTTA GIT DEM AYERABS IN SYRIAH!. Yep, they just did idiot Joe proud.

Erik posted to the forum - "Criminals who carry out the "prophecies" of their own apocalyptic scriptures are like serial murderers who select their victims by following patterns in a phone book and claim that it is therefore inevitable."

LesMajeste posted to the forum - ""The hand of God?"

I see the bloody hands of mass murdering lunatics, desperate to protect their world-wide scheme of wealth theft thru their central banks fiat money frauds.

May 4, 2013
The following may be used to provide plausibility for an "islamic" nuking of America by Israel TOMORROW OR MONDAY, As stated by Pamela Rae Schuffert, KEEP AN EYE ON THOSE JEWISH COMMUNITIES IN AMERICA!
Israel is now bombing Syria
Regardless of what the media says, Israel struck FIRST.
All rumor until confirmed true, however, this is the chatter
"Israel dropped a nuclear class weapon on Damascus, mushroom cloud so big it sparked it's own lightning. Two Israeli jets shot down, anti aircraft batteries responding"

My comment - It really appeared to be at least a kiloton class weapon, with a mushroom cloud at least a KM high.

"earthquake preceeded blast"

My comment - Ok, the attack may have been nuclear, because it shook the ground FIRST, and then the "blast" penetrated the surface where it was observed by people on the ground. NOTE - this is not the blast in the video below.

RT is reporting a dead journalist, with surviving journalists thus far seeing over 300 dead. If that many dead are seen this soon, the actual count will be in the thousands until the divide by a thousand factor is thrown in by the spin team, official "dead" will likely be fewer than 20.

Another round of attacks by Israel is underway. It is now being reported that Syria has been forced to declare war on Israel

Israel is confirming the loss of two planes, and also confirming they are bombing Syria.

Israel has cancelled all schools tomorrow and told all people to stay home from work in case Syria attacks back

The Aleppo airport has been completely obliterated

All power out in the entire Damascus metro area after latest round of Israeli airstrikes

Several Syrian military divisions completely wiped out, plus a key military airport not in Aleppo

If Syria declares war on Israel, in response to being bombed, the U.S. will step in to "defend" Israel's aggression. If Israel bombed FIRST, then America is defending an aggressive nation. That's all there is to it. And if Syria does not respond, Israel will proceed to flatten them. All is fair on the playground I guess, where bullies prevail and World War 3 is sought by the bankers at all costs.

I have found a way to totally circumvent Youtube. Please give feedback in the forum if it worked or it did not work.

An explanation of the "Allahu Akbar" statements in this video - The blast was so big that the people you can hear did not know if they would be dead when the shock wave arrived so they professed their belief in God before possibly dying. Shills are commenting that Muslims LOVE explosions, so they were praising God because they saw one, but it is obvious that in fact they thought they might be dead.

Here is a direct link in case the window below is defunct. The fire is from a previous bombing run, the big blast is near the end, this proves Israel is using the largest ordnance there is. This was filmed from approximately 3 kilometers away.

The video has been removed because it was auto starting on some systems.
Violence?
I just hate it when Jesus is used to pacify action, yes, when manipulated, religion is a key portion of the elitist control grid; misapplication of Christian teachings is serving to control America very well. Here is what I think about this - The following was posted to the forum, and what I said about it

Anonymous 69 posted this to start this thread:

"The message of Jesus Christ to the world is not communicated through violence that takes men's lives, but rather by his love and his words, which serve to save mankind from destruction. Your actions here on this Earth will be rewarded eternally, regardless of your environment in this instance of reality. Violence begets violence here on Earth, and will only be rewarded as such in the infinity thereafter. The lifespan of a human being is but a blink of an eye to the creator- as he lives eternally. You have FREE WILL to either walk alongside him, or be caught up in the violent options that you may now consider to be a plausibility. For your sake, please choose wisely- the path you take will affect you infinitely."

--admin comment - Jesus, of course, spoke from a perspective - a scriptural back ground - of kicking the butts of those who seek to destroy you. And now, since plenty of that was already said by the previous prophets, when Jesus is used to cause people to not defend themselves it is an insult to the very religion Jesus represented. If you lay down and let people destroy you, you are as guilty for your destruction as those doing it, and if they are drugging you, ruining your society, and have embedded themselves to such an extent that direct physical force outside the system they set up to control you is needed, you had better use that force or you will be finished.

I want to PUKE when I see people use Jesus to cause people to let themselves be crushed by evil.
The following is important enough to front page:
Permalink
RED ALERT: This further corroborates Pamela Rae Schuffert's warning about a nuclear attack on May 5th or 6th
LesMajeste posted the following to the forum:
If a nuclear incident happened in Montana, key officials don't want to be meeting each other for the first time.
Military personnel at Malmstrom Air Force Base have regular exercises to test their response procedures and make sure everyone knows what to do and when.
But starting Monday, their training will go to a higher level.
A national exercise, known as NUWAIX 2013, which is executed by U.S. Northern Command and sponsored by the Defense Threat Reduction Agency, will bring about 1,000 people to Montana throughout the exercise. The exercise isn't expected to disrupt the community, but locals may notice additional vehicle traffic in and out of the base, increased helicopter activity and some personnel in hazmat suits or "tent cities" at some of the exercise sites. The majority of the exercise will be contained at Malmstrom and Fort Harrison in Helena.
Personnel from a variety of local and federal agencies, primarily the Federal Bureau of Investigation, Department of Energy, Homeland Security and Federal Emergency Management Agency Region VIII, will augment Malmstrom and other Air Force participants.
The exercise will be scenario based, and participants will respond to a nuclear incident, which could be a DOE shipment in the state, an attack on a nuclear missile site, hostile action on base or the missile field or a range of scenarios.
"A range of scenarios..?" Like some stolen explosives from nearby Red Lodge, MT being used to make the drill go live?
http://montanasnewsstation.com/news/explosives-stolen-from-forest-service-facility-near-red-lodge
My comment:
PAY ATTENTION TO THE DETAILS HERE - This is a national excercise, ANOTHER DRILL, which involves Nuclear, Biological and Chemical weapons and a cyber attack, and on top of that, right where this particular portion of this drill is taking place, we had over 500 pounds of high explosive get "stolen" by someone who happened to know where it was. On top of that it was stored in a controlled area the government runs. Think any bomb sniffing dogs are going to pick up the scent this time when they were all over the Boston bomb scene and failed to there?
Also, Pamela Rae spoke about this nuclear attack being a national event with multiple blasts. Anyone see anything spooky about a drill going on for the same scenario at exactly the same time? It might be a good idea to save this page with screen captures, as well as the linked articles.
All phone calls are recorded and permanently stored
FBI agent Tim Clemente admitted on MSM that ALL phone calls, texts, and e-mails are permanently captured and stored by the NSA, and have been for some time ON ALL AMERICANS, so in the case of Tammerlan and his wife, they simply pulled up all his past phone conversations and played them back. This is also being done on you, even if all you ever do is talk football and fishing. Interesting it is those calls between him and his wife netted nothing.
So as I have already said in the past, the police state is totally ubiquitous and a full blown reality, this is not the result of a warrant, it is a full time always on recording of everything on everyone everywhere. Read the following, quoted from the Guardian, and weep. Yep, there will be NO rebellion if it is EVER discussed over the phone. We are already SCREWED.

The following was reported by The Guardian:

"The real capabilities and behavior of the US surveillance state are almost entirely unknown to the American public because, like most things of significance done by the US government, it operates behind an impenetrable wall of secrecy. But a seemingly spontaneous admission this week by a former FBI counterterrorism agent provides a rather startling acknowledgment of just how vast and invasive these surveillance activities are.

Over the past couple days, cable news tabloid shows such as CNN's Out Front with Erin Burnett have been excitingly focused on the possible involvement in the Boston Marathon attack of Katherine Russell, the 24-year-old American widow of the deceased suspect, Tamerlan Tsarnaev. As part of their relentless stream of leaks uncritically disseminated by our Adversarial Press Corps, anonymous government officials are claiming that they are now focused on telephone calls between Russell and Tsarnaev that took place both before and after the attack to determine if she had prior knowledge of the plot or participated in any way.

On Wednesday night, Burnett interviewed Tim Clemente, a former FBI counterterrorism agent, about whether the FBI would be able to discover the contents of past telephone conversations between the two. He quite clearly insisted that they could:

BURNETT: Tim, is there any way, obviously, there is a voice mail they can try to get the phone companies to give that up at this point. It's not a voice mail. It's just a conversation. There's no way they actually can find out what happened, right, unless she tells them?

CLEMENTE: "No, there is a way. We certainly have ways in national security investigations to find out exactly what was said in that conversation. It's not necessarily something that the FBI is going to want to present in court, but it may help lead the investigation and/or lead to questioning of her. We certainly can find that out.

BURNETT: "So they can actually get that? People are saying, look, that is incredible.

CLEMENTE: "No, welcome to America. All of that stuff is being captured as we speak whether we know it or like it or not."
"All of that stuff" - meaning every telephone conversation Americans have with one another on US soil, with or without a search warrant - "is being captured as we speak".
On Thursday night, Clemente again appeared on CNN, this time with host Carol Costello, and she asked him about those remarks. He reiterated what he said the night before but added expressly that "all digital communications in the past" are recorded and stored:

Let's repeat that last part: "no digital communication is secure", by which he means not that any communication is susceptible to government interception as it happens (although that is true), but far beyond that: all digital communications - meaning telephone calls, emails, online chats and the like - are automatically recorded and stored and accessible to the government after the fact. To describe that is to define what a ubiquitous, limitless Surveillance State is.

Read the rest of this lengthy article HERE

My comment -

So there you have it. The all seeing eye is ever present, and we are fully, unanimously screwed. And who controls all of this - the part left unsaid? GUESS WHO. I have spoken about the holonet, and that is the rest of the story. The one thing that I get shilled over the most is the holonet, where your reality online is not what others are observing, it's just your own little world in your custom node on an NSA/CIA/FBI MOSSAD MEMORY BANK, doing everything it can to stifle you with bullshit screens and a fake reality. Boy do they hate it when I say HOLONET, HOLONET
HOLONET
HOLONET
HOLONET HOLONET HOLONET!!!!
And since they finally admitted to permanently recording and storing everything on everyone, the holonet is obviously the next big secret. How about your car, and the fact that ALL cars after 2004 have a full time 3g connection going, with the microphone always on? That is being permanently recorded and stored at the NSA too. How about your Intel CorevPro processor, with it's always on 3g connection as well? THAT is the NEXT big secret, your car and your processor ratting you out, FULL TIME, 24/7. It is happening NOW, COUNT ON IT.
May 3, 2013
Should we take Pamela Rae Schuffert's nuclear attack warning seriously?
Upon further reading, there is actually more than one dead General, one of them openly named, associated with this story.
A few days ago Pamela Rae Schuffert posted a warning, purportedly from a man in the military, who was running around defusing nuclear devices similar to Magna BSP's OWL's, in an effort to thwart a covert ground based nuclear attack which was due on May 5th or 6th and shown to be plausible in my article Nuclear Blackmail.
There is no doubt that Israel has managed to place nuclear weapons at strategic locations in (at least) Japan, Brazil, America, Germany, (and possibly) other countries. This was borne out by my background investigation of Magna BSP as part of my Fukushima report. So the threat is real.
Now on to - Is Pamela Rae's warning of any real significance?
I spent hours yesterday looking into Pamela Rae, and discovered that she is even more shilled than I am. That means she has a message the elite do not want getting out. I also discovered that though she did do another gloom and doom scenario last spring, she does not have a habit of doing such things despite what the shills say, which makes the shillage all the more suspicious. The prediction game is a double edged sword - If you give a warning, and it serves to cause the aggressors to back off and then nothing happens, you look like a kook. Shills will then hop on you and exploit it, to make you less effective at sounding the alarm in the future.
There is only one problem with Pamela's story, and it is that one of the claimed dead Generals in the mix, the man in charge of the teams that are going around defusing the nukes - is identified with only an alias given. I see that as a potential problem with the story, but then again, if I was a General going around trying to stop a covert nuclear attack in America, I would know that giving my name out would be fatal, and the fact that no dead General showed up in the news on the 29th is of no consequence because if he really was killed for trying to stop such an attack, our rigged media would NEVER report it, and there is another documented dead General (via plane crash on April 20th) possibly associated with this story anyway.
So that got me thinking about how to foil zionist nuclear attack plans if they really do exist. Her story is actually playing out the way I would expect in this political environment - all happening behind the scenes with people who are trying to stop this disaster getting picked off one by one. So though I am not going to take a position on whether or not the story is b.s., I will tell people - if they want to do a little leg work, how to throw a wrench in the plan with ease.
It will be the zionists doing it. Your local Jewish community. It's as simple as that. So they have their butts hanging out in the open in a BIG way - and you can see it from a great distance. To know if your city might be targeted for a nuclear attack, just check your local synagogue on Friday night and Saturday day. If no one is there, the place has been evacuated and your city could be targeted by one of these nukes. They are not going to stay around for the fun. So if you observe vacant synagogues in a particular city, SOUND THE ALARM AND GET OUT. You cannot just check a synagogue for cars on Friday night or Saturday, because Judaism forbids the operation of a motor vehicle on the Sabbath, and all the devout Jews walk to the synagogue. A totally luciferian reformed synagogue will likely be packed with cars but only about 30 percent are that way.
Also, to keep their conspiracies from escaping their chambers, they NEVER use PA systems, it's all spoken by voice and if you cannot hear what is being said you move to the front - so at a Jewish service, the people with good ears always sit in the back, so the people with bad ears can get closer to the podium and hear what is being said. This means you are actually going to have to observe people coming and going, or go inside and check to see if there is a service going on because you will not hear it from outside. You don't need to worry about going in there, 501C3 status makes it illegal for them to stop you. If you want to be REALLY safe, make sure someone else knows where you are going, but chances are they will be outwardly nice. There will be jew hats in a bin somewhere near the door, if you are a man, put one on. It is required.
If your city is targeted no one will be at the synagogue except for perhaps security and maintenance, and if it is a refuge the place will be unusually packed.
Of important note - Her web site is definitely cached in the holonet, and will be different in appearance constantly. So make sure you hit it a few times, and if it is boring crap on the top, SCROLL DOWN. That site is getting scrambled for a reason. The real web site is very well laid out and to the point but it's damn near impossible to get a good hit into it.
If you have not heard Pamela's story, you can read it here. and an interesting write up on the dead General is HERE She is a bible thumper, but not a nutty one so don't let the initial thump put you off. I am not making any predictions, I am just going to tell you what she said in case the story has merit and let you decide for yourself.

______________________________________

_____________________________________
How to deal with Tyranny
Permalink
Non violence will get you killed
I am sick of the pacifist line - the one which claims there is a peaceful solution to every conflict. When dealing with mass murderers, that is a logical fantasy somewhere out there with the Unicorns and My Little Pony. One such idealist posted such a logical fantasy to the forum, and you would be surprised where it went:

Anonymous 33 posted:

"I have a vision of the big boys with riot control halloween costumes coming to a park where the little league baseball teams ignore them altogether.

In the current version of reality I am sure loud noises and loudspeakers would cause disruption to the masses.

But how can we increase the amount of people who don't fear things. The scene in the movie that starts with the first letter in victory comes to mind.

After Bos, we know whats coming. What is the effective solution to martial law being declared?

Seriously, Why is there no thread concerning the counter of marital law ? Peaceful solutions to what we know is coming would seem to be the most important issue this site could tackle.

Idea #1.. Posters with what if Marital law was declared but nobody cared..... (with pictures of the big boys being ignored by parents enjoying kids in athletic competition) My vision anyway...

Idea #2.. ( be the hero)"

--admin comment -

There is no peaceful solution when dealing with tyranny. If you are seeking a peaceful solution when dealing with brute force, you are asking to get your ass kicked like a sheep down the slaughter shoot. If a bear is going to eat you, you don't sit down and negotiate with the bear, you KILL IT, and that is where we are at now, 911, Ruby Ridge, Waco, OKC, Boston, Aurora, Sandy Hook, WTC bombing #1, all make it obvious - brute force response is what we need, NOT a peaceful solution.

Why does no one seem to care about the first WTC bombing just because the place did not fall? OUR OWN FBI and CIA DID THAT, COME ON NOW, WAKE UP! You don't respond to an attempt to destroy a city by talking nice and handing them a pop tart!

anonymous101 posted:

Wow yup I can see how you will let your family get slaughtered or beat to inch of life etc just to try and peacefully resist...

There is no such thing as peacefully resisting a tyrant! Even Ghandi preached to use force to protect your family when the need arises, yet you come here talking of ignoring storm troopers ready to bash in everyone head to make a point, not only are you willingly putting your family in harms way, you are aggravating the situation, since these storm troopers will only get angry when you ignore their orders.

Protest and peaceful opposition does not work, they reason TPTB want people to think it is a viable option, is simply to give them cattle for the slaughter, up until recently they pretended to hear protestors and pretended to take action etc, these day you see them bashing the heads of protestors and not giving two craps.

kb7dqh posted:

Try Russia after 1917... Here a quote from Alexander Solzhenitsyn:

And how we burned in the camps later, thinking: What would things have been like if every Security Operative, when he went out at night to make an arrest, had been uncertain whether he would return alive and had to say good-bye to his family? Or if, during periods of mass arrests, as for example in Leningrad, when they arrested a quarter of the entire city, people had not simply sat there in their lairs, paling with terror at every bang of the downstairs door and at every step on the staircase, but had understood they had nothing to lose and had boldly set up in the downstairs hall an ambush of half a dozen people with axes, hammers, pokers, or whatever else was at hand? After all, you knew ahead of time those bluecaps were out at night for no good purpose. And you could be sure a head of time that you'd be cracking the skull of a cutthroat. Or what about the Black Maria sitting out there on the street with one lonely chauffeur-- what if it had been driven off or its tires spiked? The Organs would very quickly have suffered a shortage of officers and transport and, notwithstanding all of Stalin's thirst, the cursed machine would have ground to a halt!

My further comment:

It is now obvious that they do not care if we are onto the whole false flag issue, and that they do not care if we write our senators, protest, or do whatever else they say we should to work within this system which is rigged like a pirate ship. Absent FORCING the issue, and FORCING them to behave under direct threat this country is going one place - into the history books and by all but a few accounts it could already be there.

In the final game, resistance is not futile, if they come to your door to take you, DO NOT GO PEACEFULLY, KICK THEIR BEHINDS AND IF YOU HEAR THEM SHOOTING UP OR NOTICE THEM TAKING YOUR NEIGHBOR, YOU NEED TO GET VIOLENT OR YOU WILL BE NEXT.

Have an emergency plan in place where you pay attention to who is at the door, and if it is not someone you know, don't answer. If they then kick it in, just start shooting. Keep the gun UP ON THE WALL by your bed with the bolt open, safety on, and fully loaded at night so if the door gets kicked in you have it there for an easy grab - you won't make it to the gun safe or have time to load it, and having the bolt open and safety on will prevent a small child from operating it. They will come between 2AM and 5AM, with peak activity at 3AM, this is standard military procedure because those hours are when people are least able to cope with a home invasion. Make sure ALL non shooters are instructed to NOT go to the door and to stay in their rooms or in bed to keep them out of the line of fire.

The best guns will be a 12 gauge slug (for high impact) or a metal jacketed .270 (for great penetration of body armor) or if you must stoop so low, a standard 30.06. Trust me, I played with that and I know what works, a .270 will penetrate like nothing else short of a .50 cal but a 30.06 is nothing to cry over either and a 12 gauge slug has so much punch it will really put a damper on play time. Forget the advice to use buck shot and bird shot, the thugs will have body armor against which you do not want bb's and if you think ANY handgun is useful for anything other than an ambush when the body armor is off, you are either fooled by an idiot or saboteur or kidding yourself. A light loaded 30/30 will blow away the strongest handgun many times over and that is widely regarded as a child's deer rifle.

I know there are many other suitable calibers, but when dealing with body armor the key is a heavy round, a small cross section and a lot of powder in a long barrel, and MOST OF ALL - Don't cower in fear like a Russian while the world goes to hell around you.

May 2 2013
Main stream media NAILED IN LIE RIGHT NOW
Get while the getting is good!
Here is the headline on the Drudge Report: " PAPER: Saudi Arabia warned USA in writing about Tamerlan..." Here is the text it links to: READ THE BOLDED TEXT

Mail Online - "According to a highly placed source who spoke to MailOnline, the Saudis sent a written warning about Tsarnaev to the U.S. Department of Homeland Security in 2012. That was long before pressure-cooker blasts killed three and injured hundreds.

The official told MailOnline about a written warning from the Saudi government to the Department of Homeland Security, and said he had direct knowledge of that document.

But the Middle Eastern nation's embassy in Washington denied that account on Wednesday.

It issued a statement which read: 'The Saudi government had no prior information about the Boston bombers. Therefore, it is not true that any information, written or otherwise, was passed to the U.S. Department of Homeland Security (DHS) or any other US agency in this regard,' an embassy statement statement claimed.

'The Saudi government also does not have any record of any application by Tamerlan Tsarnaev for any visa to Saudi Arabia.'
So what we have here is the Western media pumping a LIE, and getting it thrown RIGHT BACK AT THEM by the exact people they say they are quoting.
But wait, IT GETS BETTER!
In addition to the same article stating that the Saudis never named Tammerlan or mentioned Boston, only some stupid vague threat that fingered no one, the article includes the following:

"A DHS official denied, however, that the agency received any such warning from Saudi intelligence about Tamerlan Tsarnaev.

'DHS has no knowledge of any communication from the Saudi government regarding information on the suspects in the Boston Marathon Bombing prior to the attack,' MailOnline learned from one Homeland Security official who declined to be named in this report.

The White House took a similar view. 'We and other relevant U.S. government agencies have no record of such a letter being received,' said Caitlin Hayden, a spokesperson for the president's National Security Council."

So now we have even the DHS calling bullshit on the Saudi connection.
BUT WAIT, THERE'S MORE!
If you let the page load all the way, it blinks, and then replaces the real article with the FOLLOWING TEXT:

Update - they stopped that! It replaced the real text with an article that ranted and raved about how Soviet intelligence was all over Tammerlan and his terror ties. Now the mail is backing off and wiping crap as fast as a waiter at a new years party, and the HOLONET HOAXERS have also picked up the cleaning rag.
Russians deny Tamerlan had any involvement in radical Islam
The following is a quote from a Russian news site that I never heard of, but Alexa confirms it is as big as RT.

Dagestani Interior Minister Abdurashid Magomedov has denied allegations that Tamerlan Tsarnaev, one of the two men suspected of committing bomb attacks at the Boston Marathon, started practicing radical Islam during his stay in Dagestan in 2012.

"According to our information, Tamerlan Tsarnaev did come to Dagestan in 2012 in order to have his Russian passport restored.

However, his father Anzor Tsarnaev says his son was in the republic for only three or four days and left before his passport was ready," Magomedov said.

"As far as the Dagestani Interior Ministry is aware, Tamerlan Tsarnayev did not have any contacts with the North Caucasus criminal underworld," Magomedov said. Tsarnaev flew to the United States through Moscow, he added.

AND NOW THAT YOU KNOW THAT MUCH OF THE STORY, HOW CREDIBLE DO YOU THINK THE FOLLOWING MEDIA LIE IS?
And now, the first sura of the Koran, in case you are curious - It certainly is not what you might think.
Praise be to god

Cherisher and sustainer of the worlds

Creator of all things

Master of the day of judgement

Thee alone we worship, and thine aid we seek

Guide us to the straight path

Not the path of those who have earned your anger

Or of those who go astray

I have actually read the Koran all the way through several times. There is nothing in it about killing infidels, and it instead encourages Muslims to care for traveling strangers like family, and help them get to their destination. It is, for the most part, an abbreviation of the bible with an additional code of law, and because it contains ALL Islamic law, it includes the laws of war. Those laws are a hell of a lot kinder than anything in the Mossad hand book or the Jewish Torah, let alone the Talmud.

-However,-

The Jewish scriptures and prayer books, which I have also read extensively, speak all about the Jewish right to be the master of all nations and peoples, from the perspective of owning them in a superior position, with the full right to create and destroy nations and peoples as they see fit. It is the Jews who wage Jihad, and they do it with more than bombs, they do it with educational systems, terror attacks like 911, rigged elections, ownership of media and communications, antidepressants, and many other things such as brain destroying vaccines which are completely responsible for how stupid kids are becoming and the outrageous out of control autism levels. They also commit many other crimes against us that anyone who is the least bit aware of will know.

They blew it with the Boston bombing. And right now I am in the process of confirming whether or not the bombing happened at all, and if it was all blue screen. I have not reached a final conclusion on this yet, but I have certainly found some compelling stuff. Even if the blue screen ends up being bogus, having foreign countries throwing their zionist Kol Nidre inspired lies right back at them will be enough to do the final wipe of their behinds and put them in a desperate position. AND I MEAN DESPERATE.
Do not be surprised if they pull the final plug immediately and jump straight to nuclear terror. THEY HAVE THEIR MOTIVE AND THE BOMBS ARE PLANTED. They messed up so badly out in Boston that it could very well sink them, remember, even while fatally wounded the Titanic sat in glory for a brief period before listing and sinking, and the zionist media may have hit an ice berg. They may well try to melt that ice with a nuclear fire before they sink. Don't put it past them, they murdered well over 40 million in Russia, millions by proxy in Afghanistan and Iraq, and they have a profound hatred for America and the freedom it gave people they felt they had rightfully enslaved via outrageous taxation and a Jewish owned private central bank. Now that Americans are waking up to the fact that they have been successfully re-enslaved, DO NOT PUT A NUCLEAR ATTACK ON AMERICAN SOIL PAST THEM.
Real terror connection coming to light
Watch this and look for it - It is fairly well known that the backstabbing uncle along with half of the family is heavily involved with the CIA. So since the CIA runs all the terrorist psy ops, aids and abets terrorists, and does all it can to foster terrorism, it's a no brainer where all these terrorism ties are coming from. There will be a giant can of worms there to be exploited. Even the older brother showed up to the bombing in the same Khakis with the same back pack as all the other agents there.

And THAT explains where they got the money they needed to live well, the younger brother tweeted about how well off he was financially, and you don't do that on welfare. The entire welfare story is a scam, but that is beside the point - all these terror connections being spoken of now could be real, As part of everyone's jobs, working for the CIA

I cannot dig in to this topic now but if the other journalists who read this site do, and if we explore this from the perspective that all the ties are professional ties set up via their own work at the CIA, I think we can make a lot of ground because we ALL KNOW WHO A GROUP OF CIA AGENTS ARE NOW, AND THAT INFORMATION IS GENERALLY CLASSIFIED. We have a breach in the first level of security, handed to us by an idiotic media spinning a story. Find all these "terror" ties they are talking about (which represent an additional breach of security layers 2-5,) and find out how to irrevocably pin them on the CIA.

My sympathy for the patsies is a little less now, because it is quite evident they worked for the agencies that are killing this country. They probably thought they were doing good though - the brainwashing those agents go through is extreme.
You had better RUN!
Totally unsubstantiated B.S. now the norm in frame up of patsy "bombers"
So now we are supposed to believe that our two bombers were on six digit welfare. Yeah, I guess, but as you read this article, look at the URL it is coming from. It's not coming from the news section of the Boston Herald, it is coming from the OPINION section, which means it is not news at all. No sources are cited, no proof is given, the article is pure hearsay and a load of B.S. - if you cannot line item or solidly reference even one piece of what is claimed, don't publish it. Fat chance the Boston Herald will face slander prosecution when they aid and abet the murderers of the older brother via what they spew. More and more I am noticing that the mainstream press is indeed aiding and abetting the criminals in government by posting content that is totally unsubstantiated, all going on "the word of this and the word of that" and NEVER quoting anything solid to support their claims, all the while tons of solid evidence proving the patsy's innocence is posted daily in the alternative press.

In opposition to the mainstream lie, the alternative press came up with proof that the older brother had a very high income working for an intelligence agency, because his clothing and back pack are a perfect match to the uniforms the other six figure income agents were wearing at the finish line:
I'd have to say, beyond the bombing itself, that the lie that angers me the most is the carjacking story. Here is a picture of Tammerlan with his Mercedes. I'd like people to compare it to the Mercedes in the police shoot out photos and videos - yeah, it seems our patsy stole his own car. You can forget the fact that Mercedes hopped on the bandwagon and said their Mbrace technology caught the bombers in a nice shiny 2013 model - the video and photos tell a different story. Once again, hard proof of the truth, rather than hearsay and lies, and if I ever buy another nice car it will be a Volvo, Mercedes can STUFF IT.
When liars get desperate they spew in ways that easily hang them and the Mercedes story is one of them. "What was he driving? - a Mercedes - HA, let's say he carjacked it! we need to slander him anyway, and it's good break room talk" - but ahh yes, people caught on to the fact that Djorkar the younger brother owned a Mercedes sedan, the older brother owned a Porsche and a Mercedes, and the older brother's wife owned a Mercedes wagon, all according to their mechanic. How the Mercedes SUV story was hatched is beyond me, but there is one big problem with it - the shootout video clearly shows that it's NOT an SUV, it is, in fact, one of the sedans the two emerge from at the shootout. So here we have the media liars, perfectly bagged in their lie, hatching new lie after new lie, smearing the patsies left and right with hit piece after hit piece, hoping to get enough cumulative hate instilled in the public concience to bury the entire family the same way the Bolsheviks did in Russia when the truth survived a barrage of lies. Just kill it all. Wipe out the entire family line and kill or silence all witnesses. Now the Jews have a new term - "freelance terror". Evidently I may have spoken the truth too well.
Now we are supposed to believe "a female's DNA was on the bomb". Folks, do you know what kind of B.S. that is? First of all, if it was even real the thing went off and flew everywhere. There is no telling where it may have picked up DNA from. Second of all, you can't just say it is female DNA from a small sample, you need a fairly large sample (at least a hair) to do even the most vague of DNA tests, and to recover that from anything that exploded is sheer fantasy. That bomb would have blown itself clean if it was real at all.
But oh, the back pack - one problem, it did not match. And on top of it, NOWHERE, in ANY of the photos can it be seen after the bombing, and the after bombing photos are pretty damn clear.
To top it off, the scammers showed us a shredded back pack, with no trace of burns or smoke deposits on it anywhere, not even on the easily scorched inner fluff. So it seems the back pack pictures the FBI presented are FAKE.
My guess? The Israeli Mossad used a custom made flash boom device that produced a nice flame and smoke puff and vanished into nowhere. The entire device, except for a small chip and watch battery vanished entirely because it was made out of 100 percent active material. I don't believe the back pack and pressure cooker line AT ALL. If so, pieces of it would have been visible in the photos and hd video, and if the back pack flew anywhere it would have landed nearby and been photographed, or at least have appeared airborne, slowly falling down in the HD videos that RT published. Yet out of all the high quality photos of the "aftermath" NOT ONE had a hint of that back pack ANYWHERE. Sure, the metal may have flown, but how far can you throw a piece of cloth? It would not have left the scene. Watch for it in the RT videos, this photo implies it landed in the middle of the street. RT published videos in full HD with the entire street in focus, so this should definitely show up.
So with the Boston bombing, we have a back pack full of lies. We have DHS recruitment pages, crisis actors, the whole 9 yards, yet the FBI, which has GOT TO KNOW THE TRUTH is pursuing an obvious lie with the "help" of the Israelis. The truth will NOT be told, and innocents WILL be taken out. Don't expect the people who did 911 and murdered millions in Iraq and Afghanistan to give a damn about a mother and longsuffering widow, these women will be taken out like trash and disposed of for the purpose of feeding a ravenous lie.
I have a warning to the mother and wife: YOU ARE GOING TO BE FRAMED BY THE SAME HEARSAY AND LIES THAT GOT YOUR SON AND HUSBAND IMPRISONED AND MURDERED, AND YOU YOURSELVES ARE GOING TO BE DESTROYED. THEY ARE RUNNING THIS LIE LIKE A MARATHON THAT GOES FROM THE PITS OF HELL TO A FINISH LINE AT THE RIVER STYX, YOU HAD BETTER RUN.
Boston bombing may be used to ban remote control airplanes and cars
Now the zionist scammers are saying that the bomb was set off with a remote control from a toy car. Since the same remotes control model airplanes, it's a no brainer to conclude that they will try to ban remote control airplanes, to do away with any public ability to keep an eye on zionist activities by using private drones operating outside of the zionist government's control grid. More on this later as the story develops. These are sickening evil people, who will front a fraud like the bombing, possibly hurting real people while doing so, and then sucking whatever gains they want from it from every conceivable angle.

I am NOT sick of Arabs.

I am NOT sick of North Korea

I am NOT sick of Iranian "nuclear threats"

I am NOT sick of gun toting patriots

I am NOT sick of war protesters or any other protesters,

I am NOT sick of bible thumping Constitutionalists.

But I am damn sick and tired of dual citizen Israelis pumping fraud after fraud, occasionally severely damaging frauds like 911, Waco and OKC, and then BLAMING ARABS, IRAN, PATRIOTS, WAR PROTESTORS, AND BIBLE THUMPING CONSTITUTIONALISTS. The Kol Nidre has served you well you lying bastards, and I am NOT falling for it anymore. And if there are those who still doubt they have a prayer which gives them in their own sick minds the right to commit these frauds against us while being loved by God, I have seen that prayer myself in their own prayer book in their own synagogue during their own high holidays and it is time for YOU to grow up about it. These people need to be flushed from all positions of influence in America and elsewhere and imprisoned once and for all because they have chosen to live in ONE mode of life, that of a parasite which is killing us. And for the first time they finally have control of technologies that could destroy mankind forever. They will, just to pump their egos.

And they always play the same tricks, believing that all they have to do is tell a lie, like -

Djorkar apologized to his dad for doing the bombing, with his own words, when in reality he told his dad he was framed;

The older brother was on welfare because he received a "government check", when in fact he received a government check because he was at the bombing dressed like all the other under cover government agents, and carrying the same back pack;

That Djorkar carjacked a Mercedes, When in fact the police "shoot out" photos confirm he was in fact driving his own Mercedes when that happened

And here is a good one: THAT SANDY HOOK WAS REAL, and they had this sick psychopath crisis actor "Kaitlin Roig" claim she was a teacher and tell a big horror story about what happened at the school, only to have her become the face of the Boston bombing as Marathon runner "Rebecca Roche" and play a good act there - It's the same woman folks, the only difference is that one photo was taken with a flash and the other used ambient light so the shadows in the ear are different.

UPDATE: A reader mailed me saying the nose does not match where it meets the eyes. I responded that one photo was taken with a flash, and the photos are shot from a slightly different angle, and both of these factors will significantly change the appearance of the nose. My comparison is of the ear, which is too close a match despite these factors changing the appearance of photos. If anyone can come up with cleaner photos with this woman "doing her act" and not facebook pages, please try to get a mail through the censors with those photos, or try to get them visible in the forum.

For now I am sticking to the crisis actor perspective because I am an experienced photographer and know how much those factors can change appearances. The ear is too much to overlook, that alone pretty much does it for me.
And what about THESE GUYS? the SAME hero police officers from Sandy Hook were at the Boston bombings working as a team there as well. YEP, the actor pool is pretty shallow, there are only so many people out there willing to commit frauds this big and keep their mouths totally shut.
Yep, it's all just another zionist fraud, and we cannot let them get away with it. In fact, they did not. they are now cornered, and cornered psychopaths are extremely dangerous. Who knows what they will think of next.
"Shelter in place" is final tyranny
The biggest Nazi victory to come out of the Boston bombing is "shelter in place", a Kim Jong fantasy I am not certain even he would get away with.

Deeze posted the following to the forum:

9-year-old killed in Valley Springs; manhunt for suspect under way

VALLEY SPRINGS -- A manhunt in Valley Springs led to a shelter in place order following the death of a 9-year-old child.

Multiple law enforcement agencies combed the area Saturday afternoon for a suspect believed to be armed and dangerous, described as a white or Latino male, with longer gray hair, 6 feet tall with a muscular build, last seen wearing a black long-sleeved shirt and blue pants.

Residents in the area were advised via reverse 911 and Nixle mass notification system to lock their doors and report suspicious activity to the Calaveras County Sheriff's Office.

My comment

"Shelter in place" is the final stage to total tyranny. With "shelter in place", tyrants can make up any story and effectively imprison everyone within their homes without any prior notice. This is NOT a tolerable situation, seriously, that is beyond Kim Jong and is more like orders to stay inside in places like the world's worst hell hole - Palestine.

Once they send a reverse 911, if you pick it up, they have a record that you know you were ordered to "shelter in place" and if you do not comply, what is the punishment? What happened to those who did not cooperate in Boston?

Unlike communist countries that have tried shelter in place in the past, America will not survive this. It will cause too many losses. Shelter in place works in ONE situation - a COMMUNIST situation where the government absorbs all losses. "Shelter in place" is expensive and can represent a total economic loss for the period of time it is ordered for any businesses in the lock down zone. If such losses are forced onto the people on a regular basis, as they likely will be if Americans allow it, businesses won't survive it. Perhaps this could have the effect of being a back door method of destroying all competition to Wal Mart? At any rate, the fact that a single killing led to shelter in place orders so quickly on the heels of Boston proves beyond any doubt what Boston was really about - convincing people to go along with TOTAL TYRANNY, where a marshal law "shelter in place" lockdown can be issued for any reason at any time.

If you believe it is a good idea to allow government that much power to keep you safe, you might as well leave the country and seek out a third world hell hole (IF you could find a place other than Jewish occupied Palestine with a tyranny over it THAT BAD.) Expect to be hated when you arrive there to support your favorite regime - There is no place on earth that will love you, there is no place on earth with such spineless people. Even Kim Jong does not order actions so severe.

Take a look at Philadelphia's "shelter in place" page. Here they talk about turning off heating and air conditioning and sealing off all cracks. Read the comments below. These are biological warfare type preparations - and the military vets noticed

April 27 2013
QUESTION:
Permalink Why no ambulances? Why no fire trucks? Why no stretchers? Why ZERO real emergency response?
ANSWER: Because it was only a DRILL, AS ANNOUNCED ON THE SPEAKERS REPEATEDLY BEFORE THE BLAST, AND EVERYTHING WENT AS PLANNED. Crisis Actors were AWESOME. Think about that.
The businesses lost a few windows because the scammers were jerks about the drill. However, if it had been real, the smoke was there for SO LONG that there is no doubt the fire department would have been called long before it dissipated, and EMT's with their ambulances would have mobbed the scene. The fact that this did not happen proves the bombing to have been a drill all by itself. In fact, the fire department and medical centers would have HAD TO HAVE BEEN TOLD TO STAND DOWN AHEAD OF TIME TO AVOID REAL CITIZENS CALLING THEM IN.
Mister leg bone had his fake leg fall off in front of a private security camera and the police put it back on;
Bomber 2 was chased away from his own "car jacked" Mercedes,
Mother crying that it was her son totally naked in the video ALIVE after being arrested, and then obviously murdered by the police,
Bomber 2 gets out of the boat unhurt and then suddenly cannot speak,
All victims being treated at the same Jewish medical center,
A restaurant saying it did not happen as stated,
Older brother showing up in kraft uniform with younger brother in civilian clothes (how did THAT not make news? the older brother was a freaking AGENT at that bombing,)
No emergency response to the bombing, NO FIRE TRUCKS, NO EMT's NO AMBULANCE
WRONG COLOR BACK PACK
DHS web page found with job applications for Boston bombing, including requests for amputee actors, and for people to arrive with shredded clothes
Whistleblower saying ahead of time that this bombing was staged, and reloading powder and bullets would be restricted as a result.
Witnesses saying the police ran over the brother
Fake blood packs found at scene
Scene additionaly trashed afterwards to look better for the camera (look through the photos)
Mysteriously edited photos and vanishing evidence ongoing, even now (censorship)
And MANY more.
Paul Short posted the following to the forum:
@admin exactly, no emergency response. Why the heck would they take a guy with his legs blown off, sit him upright in a wheelchair and wheel him 50-100 yards down the street to an ambulance when there is a perfectly good paved roadway right there? Why would they let that young blonde woman in the blue shirt die on the sidewalk when ambulances equipped with defribulators, oxygen and jumpstart drugs were 50-100 yards away?
I've been at the scene of serious accidents and the like (never a bombing) and the roads are clogged with ambulances and firetrucks within minutes. I've actually seen an ambulance shove a car out of the way to get access to the scene. They don't take trauma victims on stretchers and wheelchairs and push them a block up the street to be treated, they bring the treatment units to the victims.
There was lots of opportunity for photographers and cameramen to get close to the gore in Boston though.
My response: It's worse than that even - Mister exposed leg bone was wheeled back and forth through the scene, as far as the cameras went that were covering it, NO FEWER THAN 4 TIMES, to make GOOD AND SURE he got his picture taken plenty of times. No nice photo of when his prop leg fell off though. And since I never saw a photo of ANY responding ambulance, even off in the distance, it cannot be said that they were 50 - 100 yards away. I don't think they were there AT ALL.
FAKE LEG FALLS OFF
Remember mister blown off legs? The guy with the leg bone showing? The DUAL AMPUTEE ACTOR?
His FAKE LEG FELL OFF and got caught on video. WATCH THIS! It's hilarious.
I keep going back and forth between Boston being a total fake and only partly fake. This pushed me back towards TOTAL FAKE.
Here is an excellent piece of censored info
Why did this never make the news? You would think that if the media and the government was being honest, the restaurant most affected would be at the forefront of the Boston story, yet they have been completely and totally ignored. This lends creedence to the possibility of real devices being used, so it has to be stirred in with the same pot as the DHS page where they clearly recruited actors and amputees for the Boston bombing. And by the way, when that page was newly exposed it had content all the way into 2013. Within a few hours it was stripped back to 2009. Now it is stripped back to 2005. Lovely. So I give the (original) DHS page more weight than the following link, yet believe that this following link should be considered.

Keep in mind however that this following article could be fully fraudulent, and a desperate stab at watering down the impact of there being fake blood packs at the scene, and a DHS recruitment page asking for amputee actors and for people to "arrive with their clothes shredded, to simulate bomb damage".

For what it's worth, Here is an alleged report of what the restaurant said happened, and it totally screws the official story. Even if this account is accurate, and even if the DHS page never existed, this would totally blow it for the FBI and other agencies that carried out the bombing. My initial impression of the bombing was that it had actors mixed in with real victims. Perhaps my initial impression was correct.
The good guys are NOT coming to save us
Don't expect the system of checks and balances in the government to save you, and do not just sit there and hope for things to get better, because hoping without acting on that hope amounts to nothing but a useless fantasy. Many people are even convinced that America has a divine right to exist, and will therefore never be lost. To those people I say, WAKE UP.

I have read all the scriptures extensively, especially the Christian scriptures, and they DO NOT EVER MENTION AMERICA as a great hero. This is most likely because when everything happens in the last days, America will have already been rendered of zero influence. If anything, America in the scriptures is the great beast of war, a horrific abomination that NO ONE can go to war with and survive. That beast is not the last one.
-SO-
Don't sit there and hope for something to magically drop in from outer space and save you, Don't think the system will somehow fix itself - it is too far gone and will not, Dont' sit around hoping for a hero, - BE the hero, for if we all sit on our behinds waiting for one, we will discover HOPE was little more than a strategically motivated Hollywood fantasy as we sit in the sewer after being eaten and flushed.
April 25 2013
"Now if any of you remain recalcitrant over this issue, and still believe in the fairy tales from "the authorities" in Boston, Gogo says that you should seek immediate psychiatric care. She advises you to think back to your childhood, "in order to try and see if you can pinpoint when the major malfunction in your cranium began."
http://www.youtube.com/watch?v=RdY3U5XR6lI
LOL!
And remember this one: http://www.youtube.com/watch?v=OHKD4r9CSsE&list=UUiI-ytgd6OSxRGWlQEVBWoQ&index=4
The following was posted to the forum by Doug
And I think it's perfectly accurate. See thread HERE
"The COMEX will default in the next week or several weeks and people will be "settled" with Dollars, no more metal will be delivered! So, knowing that "game over" has arrived, they are dumping a massive volume of paper contracts with impunity to push the metals prices as low as possible before the "default". This way the "shorts" do not have to and will not be "covered" when "supply" cannot be obtained because of "an act of God". They will be settled in cash (at a profit no less) because these "unforeseen" disruptions in supply. "Who could have seen it coming?" will be the mantra. I would suspect that banking stress and "bail ins" will also become prevalent globally. The pricing structure" will now push any and all physical sellers away from the markets and the "door" to safety is effectively being shut. Either you own metal or you don't." My comment - The final robbery of ALL wealth is now in progress, and they don't have to make it illegal to own gold or silver if they can just deny you access while handing you worthless paper that will quickly reduce to zero value. IF you get paper rather than metal, the very first thing you should do is buy investment property in a low tax zone. Get another hard asset, do not store your wealth in a printed fiction.
SMOKING GUN FACT BOSTON BOMBINGS WAS STAGED DHS DOCUMENT TO PROVE IT
Get while the getting is good, the DHS is destroying all referenced links and wiping the pages NOW.
NAIL THIS IMMEDIATELY, IT WILL GET PULLED FROM YOUTUBE ALSO
HERE IS THE DHS PAGE People are now saying this link goes to a word document. That is NOT the case, it is SUPPOSED to go directly to the relevant page on the DHS web site, which contains many documents, videos, and sound files so participants will know what the special effects will look like and sound like and how the fake news reports will run. I got to it when it was all still up. I know what is supposed to be there. This information is getting destroyed LIVE. Everything he talks about was there at first, and it has been vanishing both off the DHS site AND removed from the GOOGLE cache simultaneously. This video was five hours old when I found it. Some of the DHS page still works. They had the work applications for the actors wanting to participate in the boston bombing posted on this site initially, as well as instructions for how it was to go down, for people to arrive with shredded clothes, the need for amputees, the WHOLE 9 YARDS WAS THERE. BOSTON WAS FAKE. FINAL ANSWER.

In addition to this, this is the link to the recruitment page for the Sandy Hook psy op, which is now not functioning and is ALSO removed from the Google cache. http://www.ct.gov/demhs/ical/eventDetail_page.asp?date_ID=CBC7CBCBCC8%E2%80%8B3CDC9CC

The above video PROVES boston fake

GREAT way to keep the lid on a lie.
Just in case anyone hitting this site does not know, Dzhokar never stopped talking after being read his miranda rights because he never talked to begin with - after leaving the boat unhurt, as proven by the photo, and arriving at the Jewish medical center, his throat was "cut" and he could no longer speak. He therefore never admitted to anything. Don't forget this as they morph their lies.
Cool. He went straight into "caring Jewish hands", at the same hosptial that got ALL THE INJURED FROM THE BOMBING. YES, THAT'S RIGHT, A JEWISH MEDICAL CENTER GOT ALL BOMBING "VICTIMS". Great way to keep the lies water tight.
The following was sent to me by Paul Short:
"About the fema site and video you linked to on your front page - I saw it was removed and I couldn't get to it, but then it appeared again with the latest material being posted there in 2009. If there was anything newer there, it's gone now and rolled back to an earlier date."
My comment - Obviously they cannot let the proof they faked the whole thing with amputees, crisis actors, pre arranged media complicity, hospitals involved and told to lie, etc, hang out in the open for long!
By the way - It is now pretty obvious the patsies worked for the CIA, FBI, or Blackwater. First of all, the older brother wore the same clothes all the agents did, and had the same back pack. How this is being overlooked is a total farce, staged to the MAX. The claim he was getting welfare is B.S., he WAS getting a government check but selective reporting led people to believe it was a GOVERNMENT WELFARE CHECK when emperical evidence makes it obvious it was not, that uniform means a six figure paycheck. On top of that, the younger "bomber" who was a college student drove a late model mercedes, talked about how money was no problem on his twitter account, plus his bi weekly "payday" yet the media never said anything about where he worked. I wonder why. How does a 19 year old college student get paid enough to own a mercedes and remark about how much he made? SIMPLE ANSWER - he was a SPOOK, and his presense where the bombing was staged certainly indicates that as well.
He had a problem however, he discovered the truth about 911 and tweeted about it, and also caught on to false flag terror according to his tweets. So he most likely was not in on the game anymore, which could also be why he was not in uniform while hanging out with his brother who was. I have a little message for all CIA spooks and similar types - STAY IN BED. IF YOU WAKE UP, THEY WILL KILL YOU BECAUSE YOU KNOW TOO MUCH. The Vancouver Jewish community tried to kill me TWICE simply because I learned too much and left. A third attempt was made in America as well. So if you get in on any of the big secrets, DO NOT start tweeting about it because it will get you murdered directly, or get you framed as our young patsy was.
The following mail is also a good read
"WE cannot ever forget that America has been on the gradual skid to nonentity for a long time. Hell, when our Benny Franklin (Frankel?) allowed the European banks to set up, it was the beginning of the end right there.
I do think the word "pacified" is correct. Americans have gotten fat on materialism, the state of having nearly everything they have ever wanted, within reason. Gadgets dull gray lives. Screaming rock stars also make up for deadened lives, lives that know full well that they are morally bankrupt, ignorant, poorly schooled, but always wanting what their neighbor has. In actuality, the fear of NOT having something is what drives Americans. It's a perverted herd mentality.
Hearing that Obama passed clandestine laws against importation of cheap foreign ammo does not surprise me. Our two relatively recently elected senators, Blumenthal and Murphy, have already turned into cast iron pricks, totally rigid on gun control and basically giving their constituencies the finger. The politician's Bible says, "talk purty and lie like a rug".Hell, it works every time. Just plain fuckin' lie, misstate, exaggerate, underestimate, people are too frickin' stupid to know shit from clay.
Jim, there is a way and I'm amazed, hell, boggled, that some sharp eyed sumbitch has not found a way around the logjam. Arguably, it's chronically disheartening to read how totally wiped so many Americans are, but there just has to be a way to get the message across and still retain connection of head and neck."
My comment
They socially attacked America from many angles at once, and now that they have succeeded in getting so many monstrosities in place, from the aemoralistic city police forces who will knowingly arrest the innocent and destroy them, to the FBI, CIA, NSA and other agencies which keep an ear to the rail so they can instantly nail ANYONE who raises a finger do do anything to stop this, America is beaten and there is only ONE THING LEFT - our guns. People were smart enough to at least defend those. Who knows how much good the guns will do if people fail to use them the way the founding fathers intended.
If we as a nation fail to directly act against the people Abraham Lincoln himself warned us about, as well as John F. Kennedy and even Michael Jackson, we really will have met our end. There is a reason why Michael Jackson was mutilated, defamed, and eventually killed - he pointed a finger directly at those who are responsible for destroying America. Princess Diana did also, and on top of that dated an Arab. The penalty for accurately pointing the finger from a position of high influence is DEATH.
I am certain that there were plenty of Joe Six packs that tried to save this country despite the hell they were put through, and I really think there was a militia taken out in the Ozarks and also one in Michigan. I do not think those mysterious booms people keep hearing are meaningless, I am convinced they are night time bombing raids on groups who believe they can take this country back. Thank you NSA and CIA and black ops for signing this country's death warrant, I wish all people in those agencies to suffer the direct consequences of their actions through loss of family and life at the hands of their own employer. To them I say: Look at Boston. Look at this web site and what is here. It's not the only web site speaking the truth, which is hanging in your face like a bloody rag. WHAT THE HELL ARE YOU DOING TO YOUR HOMELAND? ARE YOU STUPID?
CONFLICT OF BACK PACKS
FBI proves their lie with THEIR OWN EVIDENCE
The following photo is what was used to nail bomber #2
Yet when you look at the pack in the "surveillance video" the FBI presented to nail him, it's NOT THE SAME PACK. Additionally, the "surveillance video" was taken 15 minutes before the "bombing". How did #2 get a different pack that fast?
Now let's take a closer look at that FBI photo.
The following whistleblower post got blown off the Forum by the Holonet
This calls B.S. on the Boston chase from a first hand eyewitness. This has been at the top of the thread list for a week, yet NO ONE HAS BEEN ABLE TO SEE IT. I am assuming a direct link will work (that is hard to screw with) and if this was important enough to throw into the Holonet, it's getting front page linkedand if anyone has troubles seeing it via this link, please do what it takes to notify Admin.
All import of high volume cheap ammo, guns and parts BANNED BY EXECUTIVE ORDER during the Boston mayhem
Official FBI Affidavit OMITS BLACK BACKPACKS
That's right - in the original FBI reports they talked all about how both bombs were in black back packs. But since the patsy had an obvious white backpack, the final affidavit mentions nothing about the color of the back packs.

I suppose they are all going to try to instill amnesia to the topic, which clearly shows our patsy walking along with a WHITE backpack, in the EXACT SAME VIDEO THEY USED TO INCRIMINATE HIM BECAUSE HE HAD A BACK PACK, while saying in that same report that both bomb packs were BLACK. In the final report the bags are called knapsacks, which complicates searches for the topic so keep that in mind when using the find function.

America is a failed state - you cannot have things like this happening in a society that has long to live. Either we fix this problem directly or America is going bye bye, and from this point on we cannot allow the government a monopoly on physical force. They are thrilled when we merely cry on a lawn in protest, because the correct response to that from them is no response, if you are not going to stand up and fix this directly - with more than just a phone call or letter you are as responsible for the failure of your country as the people taking direct physical action to destroy it.

I am sitting here watching the nation shred right in front of me, and it seems people have been pacified to such an extent that they are just going to allow it all to happen. It seems like the do nothing but cry to fix things brainwashing has really taken hold, if you think calling your senator, casting a rigged vote, or sitting on a public lawn doing nothing but waving signs and shouting will do anything useful, you are a slow learner. What of substance has that accomplished so far? Tyrants back down when facing only ONE THING - FEAR OF DIRECT PHYSICAL CONSEQUENCE.

Look at the time stamp on the video frame. HOW DID OUR PATSY BUY A BLACK BACK PACK AND STUFF IT WITH A BOMB WITH SO LITTLE TIME REMAINING?
If Americans are going to swallow a thinly woven story and sit silent as their rights are taken away after seeing a photo like this, which goes so strongly against the "official" lie, they will lose their future. I guess fighting and dying for freedom are the realm of fantasy now.
It's time to get revenge
We need revenge on the "elite" over what they did in Boston.
It matters not WHO actually physically did it, when it is obvious that whoever DID do it worked for the government as either a well paid agent or a patsy of a well paid agent. No matter which way you cut it, the government did the bombing. This government is run by zionists, who need the survival of their central bank - which is already under stress - to continue to fund their corrupt actions and enormous out of control military/spook/spy/black op complex.

SO, I present the following graphic to the Chinese, Brazilians, and all other countries who do not make bombings, missile attacks, wars, and air plane crashes into big buildings their main method of doing business. I am sick of the zionist influence in world affairs and I would like to remind the various nations that all they have to do to kill the monster is DUMP THE DOLLAR. The following graphic ought to show you why you should.
A note to the American public - it may hurt to lose the dollar, it will make it difficult to purchase cars and big screens, but sometimes the only way to kill a parasite is to destroy the host, which in the case of the zionists IS the U.S. dollar. Only after killing this parasite will America become healthy again.
UPDATE: This came in through the mail in response to the above:
James, for what it is worth ... Lindsey Williams says his "elite" friend, and his buddies, want to dump the dollar to usher in the NWO currency. I won't get rid of the beast, it is on the agenda. They are getting the last stage going now and are discussing the dates they will do the economy dump for the U.S. In the meantime the Cyprus thing is going to happen to Canada, Australia, New Zealand (sounds like all the crown colonies) and the Euro Zone (I think the Euro Zone.) The U.S. will just loose the pension plans, for the time being.

Who the Hell knows ... this is always so liquid!!

My comment - If this is true, it is still better than the apathy Americans are stuck with right now. Nothing could be better than a solid economic wake up call.
UNBELIEVABLE!!
Yesterday, on Monday, April 22, the Mexican media reported that Dzhokhar Tsarnaev admitted to doing the bombing, and had already been given the death sentence. This was told to me today, the 23rd by my latino friends.
______________________________

The gif I had posted earlier of the disappearing bag has been removed, because the frames in the security video are out of order, with the first part of the security video actually being the last part. This made it look like he was leaving the scene, when in fact the last part of the video showed him arriving. This does not change the fact that I believe someone else did the bombing because the bag does not match.
NAILED IMMEDIATELY
NEW PHOTOS OF BOSTON SHOOT OUT EASILY PROVEN FAKE
I pulled the originals into photoshop and verified that indeed, the headlights blew the image beyond all recognition other than that it could easily be proven that no one was holding a gun, it's just empty space in front of the headlights.

Get both images UPDATE: images have been censored. pull them into photoshop and try to get the un enhanced one to show you ANYTHING in front of that SUV. I am an experienced photographer, and can tell you, the "enhanced" versions are impossible. Something fishy is going on here, as in new pixels other than the original.

The only way such a drastic improvement in background detail could be acheived is if the scene was re-shot on a different night with a different camera, and I bet that is what this is. Judgement calls have to be made when sifting through lies.
Dzhorkar drove a Mercedes
Is that what he "stole?"
Dzhokhar A. Tsarnaev DROVE A MERCEDES AS HIS OWN PRIVATE CAR.

JOB:

Let's see if the car he carjacked was his own! I need help with this one. I would bet damn near anything that the carjacking story is total BULLSHIT and the car mentioned was HIS OWN. They wanted him to look like a low class idiot, when in fact he was wealthy and had a VERY nice car and MANY friends. The elite scammers would want to hide this reality. I have a hunch the entire carjacking story is unadulterated deep fried B.S. because the car was his.

I bet I am RIGHT. Please search this out and FIND THE ANSWER.

James
Farganne posted to the forum:
On Tuesday, Dzhokhar Tsarnaev came to an auto-body shop to pick up a Mercedes he had dropped off for repairs, said Gilberto Junior, who works at the shop."

Wall Street "journal" confirms this

My response: Ok, so that is it, that is the solid link we need to confirm that step. Now we need to try to confirm that it was HIS mercedes "THEY" said he carjacked. Mercedes is not a super common car, like Ford or Toyota. The "carjacking" as presented would have been of necessity, not preference, which means a different make of car would have been far more likely in a real scenario. Perhaps this is why the police said NO PHOTOS OF US WORKING.

So now we need the exact details of both the "carjacked car" and Dzhokar's car, to see if they are the same car.
To be clear: We need a picture of the exact car the police said was carjacked, including plates.
Use an anonymous account and put it in the forum. Thanks.
REAL PERPS IN THE BOSTON BLAST FOUND
PERMALINK
SCREW YOU FBI

These three "police officers" were the STARS of Sandy Hook. So why then are they ALL at the finish line in Boston when the gig goes down? WHERE THE HELL ARE THEIR BACK PACKS AS THEY RUN FROM THE SCENE?.
WHERE IS THAT BACK PACK, VISIBLE IN OTHER PHOTOS? Let's see you find better proof against those Muslims you shot and killed. COOL, THE SURVIVOR IS AT BETH ISRAEL HOSPITAL, IN GREAT JEWISH CARE.
Ha, here is ANOTHER ONE!!!
Whistleblower NAILS IT on the morning of April 16
Permalink
Boston bombing outcome ratted to near perfection by whistleblower on Tuesday, April 16, the morning after the bombing.
People were not going to fall for the white american NRA angle, but there are enough meat heads out there to fall for the Islamic terror angle (still) thanks to a scamming zionist media that focuses on pure fabrication and deception, rather than even trying to hide or tweak the truth
April 19 UPDATE: NRA link now confirmed Read whistleblower testimony below for context
This ended up being bona fide whistleblower testimony with the Boston bombing. A note to the whistleblower: Thank you for loving your country enough to stick your neck out, god only knows if your head is still attached.
The following should NOT be ignored.

"I work on a security commission and I've just received word to start on a campaign we've been working on for the last two months and now it all makes sense.

I'll keep it as short as I can

They're going to pin this event on a male late teens to early 20s and say he did it because he's unstable. They are going to find firearms and a NRA book in his home. They are going to to say he used reloading powder for the explosion and that reloading powder shouldn't be for sale to the public. They are then going to say that because the powder in ammunition can be used for explosions that the number of rounds you can buy should be limited and taxed to help pay for these events.

I can't do anything or I'll lose my job and possibly face criminal charges. Please don't let them get away with it. They won't find the suspect till later this week and the raid is issued to occur on Friday. This was a staged event. The people hurt are real but the event was planned. Don't let them hurt our rights."

--Admin comment - Let's step by step this as the elite scammers do it. Here we go:

Step 1. - COMPLETE "They're going to pin this event on a male late teens to early 20s (he ended up being 19) and say he did it because he's unstable(confirmed, they took the unstable approach." - HERE IS THE ARTICLE THAT PROVES THE LONE WOLF, SINGLE MAN DOING IT -Step 1 in the setup complete - READ THAT FREAKING ARTICLE THAT IS LINKED, IT IS SPOOKY

Step 2 - FINALIZED - GUN POWDER STORY CONFIRMED: They are going to find firearms and a NRA book in his home - UPDATE- NRA INDICTEDBY MSNBC. They are going to to say he used reloading powder for the explosion and that reloading powder shouldn't be for sale to the public. Step 2 FINALIZED (interesting it is that it is ISRAEL where the gunpowder story is being fronted FIRST. Hmmmmmmmmmmm . . . . . . . . HERE is another link

Step 3 - OBVIOUSLY NEXT. They are then going to say that because the powder in ammunition can be used for explosions that the number of rounds you can buy should be limited and taxed to help pay for these events.

Step 4. FINALIZED - I can't do anything or I'll lose my job and possibly face criminals charges. Please don't let them get away with it. They won't find the suspect till later this week and the raid is issued to occur on Friday. - BINGO, THAT IS EXACTLY WHAT HAPPENED.

MY COMMENTS: Dead accurate, except they opted to frame a Muslim because many CNN junkies could wrap their brains around that concept, but not have the villain be one of their own
April 19 2013
Emperically PROVEN - ___ael DID THE BOSTON BLAST
Flew in Mossad actors for false flag media police show frame up of Muslim neuroscience student
And HEY, remember Holmes? Why does the Mossad always patsify neuroscience students? I bet he will show up to court heavily drugged also, if he lives that long.

And since I can't really post REAL news here that is critical of ___ael and tells people what to do about it, (regarding their _______ amendment rights) without getting shut down, I am happy to announce that VETERANS TODAY nailed it, and I can just parrot what they say.

The ____aeli police force "helping" with the boston blast had planned for it and scheduled their "help" session BEFORE THE BOMBING EVER HAPPENED. THIS MEANS ___AEL DID IT. Stupid Muslim Patsy flap in the mainstream "press" was needed because Americans won't fall for mister gunpowder right wing wacko. So now the "press" is flapping a MUSLIM GUNPOWDER WACKO rag, hoping to spike the public conscience with a little hallucinogenic printing press dust, and therefore the end goal - BANNING RELOADING POWDER AS STATED BY THE WHISTLEBLOWER may still be achieved with the zombie public which is badly in need of a stiff snort of reality

Anyway, here is the report on Veterans Today, and it's by Kevin Barrett, NOT Gordon Duff. THANKS Kevin, it's a beaut.
Take a look at the "suspect's" tweets!
Suspects COUNTLESS tweets of great nature shows he was a well adjusted socialite
But we are supposed to hate him, dont ya know, GUESS WHAT? HE IS A 911 truther with a great sense of humor.
Suspects LOAD OF B.S.
Ok, so they got the HAT from the pictures, but they switched the people below the hats. GUESS WHAT? They knew they could not front the "patriot did it" lie, and that people were not going to buy the "arab did it" lie, so they came up with a hybrid story line, which is WHITE MUSLIMS FROM RUSSIA DID IT. After all, WHITE "FAMILY GUY" got sucked into a Muslim bomb plot. Pretty good predictive programming there. A bridge is next no doubt. So ISLAM IS THE DISEASE, NOT THE RACE OR REGION. And this web site got spanked for fingering the REAL culprits and offering a solution to the problem . . . . .

So, I wanna puke.

More later as this develops . . . . .

April 18, 2013
DEFINITELY A MISSILE STRIKE
Permalink
THIS WEB SITE WAS TEMPORARILY TAKEN OFFLINE DUE TO THE MISSILE ARTICLE AND MY COMMENTS ABOUT WHAT SHOULD BE DONE ABOUT IT. IT WAS A WARNING SHOT, AND I AM BACK AND EDITED THE ARTICLE DOWN. I WILL SAY THIS, THE MISSILE STRIKE WAS ON MEXICAN TELEVISION AND YOU COULD CLEARLY HEAR THE MISSILE OVER THE TV SET AS WELL, THE TURBINES IN THE JET ENGINE AS IT CAME IN. THIS IS NOT A HOAX, THAT FERTILIZER PLANT EXPLOSION WAS A TOMAHAWK HIT, PROBABLY THE SECOND OF TWO.

The server was not offline due to malfunctions, but the account was disabled. It told me there was no such domain as Jimstonefreelance and to register it all over again. Simultaneously computers on other connections could not hit the web site. When I posted this to the forum (which runs independently) the problem cleared, and I edited the missile strike article down to NOT include the details of what should be done about the missile strike and how, against WHO.

Do not be fooled by them saying how strong the earthquake from the blast was, a 2.1has the same seismic yield as 50 pounds of TNT detonated below ground, and a Tomahawk can carry over a thousand pounds of higher grade explosive. The reduced seismic signature can be attributed to the fact that the detonation was above ground and not perfectly coupled to the ground to maximize the seismic effects of that much explosive going off.
Bottom line? That earthquake was NOTHING compared to what weapons of war routinely produce
I have re posted the following after carefully analyzing the other videos, and though saying less than what is in the original post is a disservice to the innocent, I HAVE TO, BECAUSE I WILL BE SHUT DOWN IF I SAY WHAT REALLY NEEDS TO BE SAID.

You can hear the missile in ALL the videos, but how loud it is on approach, and the tone it has all depends upon where people were located while shooting the video. Some videos have the Tomahawk's jet engine decreasing in pitch and very loud as it goes past them nearby, and other videos have the engine sound very quiet with the pitch increasing as it approaches them because it is far away and approaching from the other side. But it can be heard in ALL videos if you use good headphones or really good speakers with the volume cranked.
Don't sit and think about how the flame looks, don't even bother with how it goes from left of the explosion to right, and how the explosion is elongated. Pay no mind to ANY OF THAT, WHICH BY ITSELF PROVES A MISSILE JUST WATCH THIS VIDEO AND LISTEN TO THE SOUNDTRACK. YOU CAN CLEARLY HEAR THE MISSILE COME IN BEFORE THE BLAST.
If they kill this web site over me saying it like it is AND what to do about it, it will be re instated at destroythedarkness.com and I suggest you bookmark the forum so you can go there as well. I will also post to Beforeitsnews.com because they are decent and do not shut me out. The folks at Abeldanger.net are also a good alternative backup, as is Degaray.com and Aangirfan at Blogspot. Though I have been off on my own for a while, if I get wiped here I will certainly be very likely to pop up at those locations.

I just cannot see this missile strike and subsequently shut my mouth, this is TOO MUCH, DAMN THEM. This article is substantially edited, but it is better to be able to say at least SOMETHING than it is to be totally shut down.

I NEED A SERVER IN RUSSIA, OR CHINA, OR SOME OTHER COUNTRY THAT WONT SHUT IT DOWN WHEN I REALLY SAY IT LIKE I SHOULD.

Perhaps no place is safe . . . . .

April 17, 2013
Jeff Bauman is no more Nick Vogt than the man on the moon
UPDATE - IT is NOT VOGT OR BAUMAN
The man who had his legs blown off appears to be neither now, and he was never in a wheel chair to begin with. Why the media said he was in a wheel chair is beyond me, I don't know how that got told. It is obvious from additional pictures posted to the forum that the man who had his legs blown off was just standing around and was close to the bomb. Furthermore, the wheel chair story is not supported by the high resolution photos available on the web, NONE of them show ANY wheel chairs in the crowd. Why did the wheel chair story get spun then?

There is a discussion about this in the Boston thread on the forum, where photos are presented to refute the identity of Vogt, and I have to say I agree, but that the photos also prove it is not Bauman either. I also consider this a detail in a larger story, which is at a minimum a false flag at yet another drill. The bottom line is that the truth is NOT coming out of Boston via the mainstream press. So the following is left as history, it never applied because the entire wheel chair victim story line was B.S., and the photos on the forum prove it.

What really happened? A man who has never been accurately named got his legs blown off, and was carted away in a wheel chair. Bauman is a media fiction.
Fraud and actors proven at the Boston blast
UPDATE - do not miss the update to the end of this article, with high res photos of Vogt/Bauman with the blood compared to bona fide real events. I think an explosive device did go off and people were injured and died, but that as part of the well announced drill going on at the same time there were also actors on scene mixed in with real injured people, real blood, prop blood, the whole 9 yards. This is what I have said from the beginning. They picked a really poor copy for Nick Vogt, and I mean, they really messed up big time. They were careful to only show Bauman with poses showing the right side of his face, and predominantly only showed Vogt with poses to the left side of his face, but they did screw up, and when you can compare both faces from the same angle, they are simply not the same guy.

The key poses follow.
Nick Vogt, who is in the wheel chair, DOES NOT match Bauman. Look at the hair and where it parts. Bauman is below
No match there, AT ALL, and you cannot just magically change that attribute of your hair.
The following photo is another of Nick Vogt. Note how the hair is a match. Though Vogt's hair is not grown out yet, it is OBVIOUS the natural part matches the Boston photo. Furthermore, Bauman's face is shorter and fuller, and Vogt's face is longer and more bony.
Bottom line? At least ONE actor was used for the Boston psy op.
They had a problem. The guy who was supposed to be the victim had no legs, and people figured it out. So they found another wheel chair bound man who had his legs and used him as a fill in for Vogt, once people knew Vogt had no legs. It was a rush job, and fate did not favor the scammers AT ALL. Nick Vogt dishonored his country and FAKED IT at the Marathon. That's all there is to it. God only knows if he knew beforehand it was all going to be a psy op and not a drill. Perhaps he should be cut some slack on those grounds. That having been said, something DID happen there, but certainly, Vogt was not part of any of the real action. WHY was an actor on scene with a hollywood grade prop? That was just TOO SIMPLE.
For your consideration - more on Bauman
The following was posted to the forum. Bottom line is I really do not know what to make out of what happened in Boston. I believe they had a drill set up, so actors were there, but they also had real injuries, because they went hot with the drill. I therefore present the following for your consideration.

This was posted to the Forum.

RE: Vogt/Bauman here are a few more pictures of the guy on the ground with leg bone, before he was put in the wheel chair as shown on home page here.

The pics are too high res for this page, click them.

Bauman 1
Bauman 2
Bauman 3
and maybe here, his head/ear at the top? Bauman 4

Do these support or detract from it being Vogt or Bauman? I can't decide this...

--admin comment - Wow, those look real. However, now we get into another topic - the color of the blood. It looks like paint. Here is what REAL blood looks like on the ground.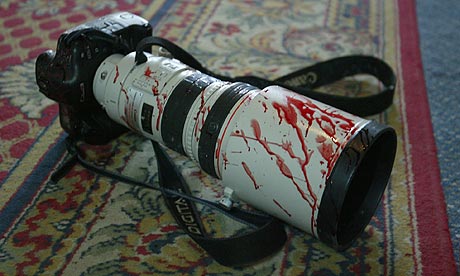 And as a result of the above photos, where the color is consistent across the board from bona fide REAL photos, and TOTALLY different from what is out in Boston, I'd like to once again declare FAKE on Bauman.
However, due to environmental effects, I think that there were many injured out in Boston. What I think was going on there is that they wanted to do a drill and had actors there for the drill, complete with props, and the drill got sabotaged (by an intelligence agency) with a real device. So I think, and have always stated that this was a combination event, with actors and real injured people mixed in. As for Bauman, I am calling B.S.
And I would like to ask now, why are the Israelis SO CONCERNED ABOUT THIS that they see fit to arrive with their Own police, to "help" in the investigation? If you want to control the outcome, GET INVOLVED!!!!
April 16, 2013
Boston bombing updates -
There is an excellent thread about this in the Forum

Notice that mister Vogt lost his legs entirely in Afghanistan in 2011. He appears to be one of the victims, and if so, where did he get that leg that is sticking out, stripped to the bone? This does not wash with me, that leg has GOT to be a prop.
This having been said, the photos DEFINITELY look real to me. Why Vogt was there with his little prop is beyond me. I think this was at least partially real, and they are PROVING IT this time.
HOWEVER, . . I have to admit, Vogt makes me want to call B.S. on the entire show . . . . . . .
Because . . . . . . .
Here at the bat man theater, we have the blood splashes going TOWARDS the door, rather than away from it. If someone really did run out of that theater bleeding, the blood splashes would be going the other way. This is an obvious setup, where the idiot who threw the blood down did it going the wrong direction.
Above we have Jessica Redfield (Ghawi's) damning tweet, - Jessica was one of the "dead" at Aurora, who witnessed another mass shooting a month earlier, and moved to a place with "five swimming pools and a lake" a few days before the "shooting". Nice payoff.
Below we have all the pictures of shot up children, bullet holes in the classrooms, children on stretchers and everything else of photographic proof from Sandy Hook:
So it's at least understandable why I am tempted to say no one got killed out in Boston, with mister NO LEGS suddenly sprouting one for show and all the cute photography tricks that were pulled in the past.
I am posting the following, in case it is real.
<
The patsy and his controllers have been found
Too many pictures got out of the Boston marathon to avoid this inevitability. This is developing, but it appears that two CIA or other handlers wearing earpieces and backpacks were controlling a patsy to do this bombing. Since other people are working on this (many many people comparing photos) I am going to ignore this topic until someone really pastes it all together. I do not need to spend time on this type of investigation when thousands of others are happy to do it and are posting their results.

I will post the final conclusion here later.
Boston coverage continues below the following article
Jewish community attacks power substation with late night gunfire
How, you may ask, do I know it was the Jewish community? Why would I be so brazen about it? Well, the answer is in the fact that when the attack happened, it was not possible to make a 911 call via any land line in the area (something the police are investigating right now) yet it was possible to make calls to other numbers via the same land lines, which proves the phone system was working and selectively sabotaged to NOT be able to accept a 911 call.

Now, why block 911 from a land line? Simple. The work telephones at the PG&E substation used land lines, and cell phones are often not allowed into that type of work environment. The short time that confusion in calling the police gave the shooter an extra ability to escape would be a favor made possible only by the Jewish community, which owns the phone company. They would definitely prevent calls to a specific number from working to protect one of their own while that special someone finished the job there.

The motive is a no brainer - it is a well established fact that it is the zionists pushing for a gun ban, with all the major players in gun banning being Jewish, most notably (it) Dianne Feinstein. Add to this the totally phony Sandy Hook psy op, run by the Jewish owned media, and it should be stick you like a porcupine obvious who wants guns banned in America. The fact that the Jews ran the slave trade proves the reason - they hate our freedoms and want a system in place that totally abolishes all true freedom and replaces it with an illusion. When I was inside their community, they talked about being close to achieving their final victory over mankind, but "were not there yet, because the internet was causing a problem".

Now to why they would attack a substation to begin with -

If Americans are not going to fall for a bullshit false flag bombing in Boston, and if they are not going to fall for Sandy Hook type incidents, then the Jews are going to have to justify banning guns (which will enable them to take out America, the last stand against world slavery) by attacking infrastructure, the most vulnerable of which is the electrical system. I am actually surprised the bullets did not short out any of the transformer windings, which then leads to another conclusion - whoever did this knew where to hit the transformers to prevent an immediate explosion, and only drain them of their oil, which acts as an electrical insulator. The oil is needed as an insulator because the voltages are too high and connections too close to not cause explosions in open air. So the idea the shooter obviously used was to cause the transformers to leak their oil, and later explode when the levels dropped enough which would give the shooter time to escape. Lucky thing the PG&E workers were on the ball and prevented explosions from happening (the transformers are enormous and take a while to drain) and as it is, 10,000 gallons of oil got out.

So here we have a knowledgeable trained shooter, not a typical saboteur, because of the way the transformers were hit, and a disabled 911 call system. This rules out Russia, North Korea, Iran, and any other country that does not have access to the phone system passcodes to disable the 911 number as well as the lone nut case, and leaves ONE CULPRIT, A CULPRIT WITH A MOTIVE - THE JEWISH COMMUNITY.

And if they think they can ditch the truth by censoring all reports of 911 not working in the area, they can have a nice time trying, because I made a Jpeg of THAT REPORT ALSO.
It looks as if they were forced to partially re-post the truth.
If the link below does not exactly match the text farther down the page, with the stuff they initially censored bolded, then it's holonet. As far as I can see, the link below now matches. But they pull the "switch what the link shows based upon your IP" crap with Youtube, so I do not know what is going to show on your screen from somewhere else (perhaps this behavior is not limited to Youtube). Make sure what you see at this link matches the Jpeg of the original article farther down the page.

Here is the link I am talking about.
Boston reporting (major) continues after the following article:
This web site may have stopped a false flag nuclear attack
I was told in no uncertain terms that after the Fukushima report, the CIA, FBI, Pentagon, Chinese military, Russian military intelligence and others were watching this web site closely, because the Fuku report was documented accurate and the various intelligence agencies then took my NSA background seriously and have continued to hit this site for info that is hard to find elsewhere. Well,

I don't take Fulford as 100 percent accurate but his last release made me think, and does contain some hard truth, which follows:

" Japanese TV stations had cancelled their regular TV programming for what was supposed to be a special announcement at 9 PM on the 13th. Several Japanese government offices also sent out false reports on that day that North Korea had launched a missile. However, nothing happened and the official North Korean news agency website was taken off the internet for a while when it became clear the North Koreans were no longer following the Zionist script.

Obama's messengers had given North Korea $3 billion to stage provocations but the North Koreans stopped cooperating when they found out that Israeli nuclear submarines were planning to stage nuclear terror attacks to blame on them, according to Japanese military intelligence."

If you read farther down this page, I clearly showed how North Korea was bribed with 3 billion to put on a show, and as a result they were setting themselves up to be the fall guys in an Israeli false flag nuclear attack, where the Israelis would use either their submarines or a Magna BSP OWL. What made the North Koreans stop going along with this script? I won't ever know for sure, but I would like to think it was this web site, and believe it probably was.

At any rate, despite the censorship making it seem otherwise in the MSM, it really looks like the elite are grasping at straws now, hoping for one of them to be the winner. My guess? the Boston bombing will backfire, they are all over the map poking and prodding for a way to benefit their agenda with this, and for all I can see it really looks like THIS TIME, they totally screwed the pooch.

If Fulford is right, and all the deaths in the elite aristocracy are targeted killings, and the pope really is running around asking questions about the legitimacy behind all their crap, we just may see that fortunate day when those the zionists worship within their hierarchy are dragged through the streets and LYNCHED. A hollow point would be good enough. At any rate, they are cornered now and losing options. North Korea's failure to swallow the bait well enough to get it's intestines ripped out was probably a critical setback, and evil people will do horrible things when cornered. Who knows what that will be, but I would not expect the zionist cabal, which has hundreds of their own nukes and thousands of America's nukes usurped to go out quietly. The financial and metals market rigging just is not going to be enough to satisfy their arrogance on its own.

April 15, 2013
Who did NOT bomb the Marathon
1. Arabs
2. Iran
3. North Korea. Save every last news bit, youtube video and sound bite, because it is a certainty that if this was not someone's barbecue going off, it was either the CIA or the Mossad. We are going to have to solve THIS one on our own and most importantly, spread the word - IF YOU GOT CELL PHONE VIDEO OF THIS, OR ANY OTHER VIDEO, DO NOT TURN IT IN. They will bury all pieces of it that do not serve their agenda, and you will not see it again. More later
UPDATE: The explosion looked like Tannerite, Gun owners could be blamed leading up to a ban
UPDATE: PERPETRATORS MAY HAVE POSTED TO GODLIKE PRODUCTIONS BEFORE DOING IT, THREAD IS WIPED, TRYING TO PULL FROM CACHE NOW
UPDATE: GLP PUT UP LYING THREAD IN IT'S PLACE, BUT I HAVE PROOF OF THE ORIGINAL. SEARCH ENGINE CACHES WIPED, I ALSO HAVE PROOF THEY HAD IT AND DELETED THEIR CACHE. IF THE POST WAS NOT SIGNIFICANT, WHY MODIFY GLP AND WIPE THE SEARCH ENGINE CACHE?
Original poster was using a UK IP address. Who gets THAT kind of preferential treatment in the search engines? Someone in the City of London?.
UPDATE: Police arrested a Saudi National so it looks like the good news is that the patsy is not a gun owner or patriot, at least so far. UPDATE: They backed out on the Saudi angle on this.
UPDATE: Families of Sandy Hook shooting WERE AT THE BOMB SITE WHEN IT WENT OFF, DURING A SPECIAL "DAY OF HONOR" FOR THEM AT THE BOSTON MARATHON. ??!!?? More to come on this topic, they were exactly at mile 26 in the 26.2 mile marathon, and the bombs went off BEFORE the finish line, and from the photos, one of them had to have been at mile 26. Sounds like they are supposed to play into the sob line in an OBVIOUS FALSE FLAG.
The attack happened right where all the nations flags were, and CNN is saying this is a global attack, and the "world" has to respond. LOVELY.
UPDATE: Explosion happened on the same day as the Boston bomb squad was doing a "controlled explosion drill". HMM, looks like the elite scammers forgot all about the fact that we have already connected the dots between drills and it really happening . . . . . . .
UPDATE: THIS STORY IS MORPHING, THE ORIGINAL IS BELOW AND I HAVE PROOF. I AM DOCUMENTING IT ALL IMMEDIATELY. BOMB SNIFFING DOGS AT START AND FINISH LINES, man on now censored video screams "THE DOGS SHOULD HAVE FOUND THE BOMB, ARE YOU SURE YOU WERE NOT IN ON THIS"Somebody FIND that video.
UPDATE, CENSORS HOT AT IT, HERE IS THE ORIGINAL VERSION OF THE ARTICLE LINKED ABOVE:
UM Coach: Bomb Sniffing Dogs Were at Start, Finish Lines for "Drill"
UPDATE: THEY ARE CHANGING THE ARTICLE ABOVE, THE ORIGINAL IS BELOW.

University of Mobile's Cross Country Coach, who was near the finish line of the Boston Marathon when a series of explosions went off, said he thought it was odd there were bomb sniffing dogs at the start and finish lines.

DELETED: "They kept making announcements on the loud speaker that it was just a drill and there was nothing to worry about," Coach Ali Stevenson told Local 15. "It seemed like there was some sort of threat, but they kept telling us it was just a drill."

Stevenson had just finished the marathon. His wife had been sitting in one of the seating sections where an explosion went off, but thankfully she left her seat and was walking to meet up with him.

"There was just smoke, another explosion went off," Stevenson said. "We all started running. There were people crying."[p>

DELETED: "Stevenson said there was no question in his mind that this was an intentional act".
The video where the man screams out to the bomb squad "Are you sure you did not have anything to do with this" is at the end of the first press conference with the police. People are saying that the man who screamed it sounded pissed off, as if he knew they did it. It got censored out. FIND THE ORIGINAL.
UPDATE: All links to any references where people are speaking about the drill that was going on are being rapidly deleted from all news web site comment sections. It's a forbidden topic. Oh, did I forget to mention that the Zionist cabal did this false flag for whatever reason?

April12, 2013
North Korea PAID OFF FOR SHOW
North Korea was paid 3 billion dollars to saber rattle and BULLSHIT a nuclear threat
It's ALL A SHOW FOLKS, but a nuke QUITE POSSIBLY WILL GO OFF, COMPLIMENTS OF THE ISRAELI MOSSAD.

I have this story NAILED TO THE WALL BELOW, READ THE FOLLOWING, I AM LEAVING THIS TOP POSTED UNTIL THIS SHOW IS OVER.
If you want to know why this site is hated and censored, look at what is below with regard to North Korea and the RCEP. I'd bet a $50 that the Mossad is aboard an Israeli submarine, standing by and waiting for orders to launch on an unwitting North Korea's behalf. And if a sub is not used, it is a near certainty that An OWL will hoot
Is the RCEP the real reason for North Korea's behavior?
North Korea may have been paid to act belligerent and unwittingly provide the perfect cover for an Israeli sponsored nuclear false flag
The zionist banker group may appear to be powerful to America and Europe, because America and Europe are tightly within it's grasp. However, their hold on the world economy via the U.S. dollar may not be all it is cracked up to be.

The Regional Comprehensive Economic Partnership which could be compared to an oriental form of NAFTA presents a serious threat to the superiority of the dollar as a reserve currency in the global economic marketplace. Combined, the RCEP member states have a GDP much larger than the United States, and as a group, via the RCEP agreement, these countries have agreed to trade with each other via their own currencies, thus bypassing the need to use the US dollar as a trade medium.

The RCEP took form on November 20th, 2012. And that date is significant - Think back a while - when did North Korea begin acting so belligerently? When did they do their nuke test? When did they launch their missile that probably got shot down? The timeline fits. And North Korea sits within the RCEP group of nations. I'd bet they are getting paid to act belligerently.

Now the focus is away from Iran. It's all North Korea now. Why did the zionists suddenly begin ignoring Iran, only to put the spotlight on North Korea? Could it be that there is a greater economic threat looming for their Rockefeller banker dollar, a threat greater than Iran's private central bank? I would hedge my bet that ANY country capable of owning and running a nuclear reactor, ANY country capable of building rockets and nuclear warheads, is not too stupid to do the math and understand that 2 or 3 nuclear warheads launched from an area a few hundred kilometers across to a target that is enormous is a stupid idea, when the target can respond with thousands of nuclear warheads in return. I don't think North Korea is serious with any of these threats, and I would bet that instead, there is a greater chance that NK has been given an incentive by the Rothchild or Rockefeller bankers and their cronies to act belligerently on the world stage in exchange for a payoff.

I would bet they have been told to make a little noise, and nothing will happen. Just do not launch. And what happens next? How about making a few of Magna BSP's owls hoot? It would be a pristine false flag. After all, North Korea said they would do it, RIGHT? Think about that - NK threatens. Something goes BOOM. Perfect setup; - and then, the Rockefeller group rolls their military right into the midst of the RCEP nations, breaks lots of stuff, and re-instates it's own economic order, complete with forced dollar compliance.

Far fetched idea? I don't think it is too far off the mark at all.
CONFIRMED
Incentive given to North Korea CONFIRMED
Aangirfan is a top level truther who digs very deep and is highly credible. Aangirfan has found a report which confirms that North Korea did indeed get a massive payoff, My only variance from AAngirfan's perspective is that I believe Kim Jong has eaten the bait and will now be hooked into taking the rap in a nuclear a false flag.
The obvious problem with North Korea playing along is that Kim Jong probably does not know that Israel has nukes planted in many places around the world, waiting for a PRIME false flag opportunity. Kim Jong is providing this opportunity. And he, even with a payoff of 3 billion, is likely to be getting the shaft big time. I would say that there is a high probability of a nuke going off somewhere now, and that Kim Jong will not be responsible, but he will definitely have the blame rammed down his throat. To get a firm understanding of Israel's nuclear strategy, which is what makes situations like this one with North Korea so dangerous, make sure you have read my report NUCLEAR BLACKMAIL