Permalink For ENEmaNEWS, if you did not see this its pretty good.
2 new mirrors of this site 1 and 2 are now working. Thanks to Paul Short and Judge Dredd for setting these up.
1LXwQoVSw9MrDCV2G8ZGEbnewgUr9xXaB8
The web won't be around forever, get the truth in print. Uncensored magazine is perfect for this:
Chavez | chiapas earthquake | CIA | Codex Alimentarius | Compartmentalization | contractors | web control | Corevpro | Al Rasheed bombed on purpose!| Rockefeller crack head intellect | Banker Bailout | Main Benghazi Report | supplemental benghazi | Bickering Jews | Nuclear Blackmail | Agenda 21 | BUSTED! | Hacked ECM's | stuxnet cartoon | Cells | cells addendum | CRR busted by Congress | Nibiru | How to deal with tyranny | Debka Psy Op | Deep Water Horizon | They are desperate! | SKP | Separate disinfo | Chinese invasion | Ecuador Snowden | Electronic Intefada | snowden 2 | civilization | Explosives in nuke plant! | Wag the Quake | Farganne snail | Fluoxitil | Fukushima Sabotage click here for updated PDF | NSA KEY | Kokesh CIA | Power grid tampering will end an era | Iranian consulate | gun control | Jenin comments | why I don't link corbett | Digital Stepping in the Aurora Borealis | Hastings | Zombie Apocalypse | 3 watt 3G | 50 plus mpg | Mike Phillips speaks | another antidepressant story | Aboud Church | Jenin bulldozed | antidepressants | Assange | Web site attack | Aurora | Russ Clarke explains 911 for the children | FED GETS THE MESSAGE | 70 MPG | Sandy Hook original coverage | "human" | Substation Attack | INTERCEPTED!! | The Real Iran | Iran bombed | Syria Nuked | FBI whistleblower | Jenin | Jewish Community | FAKE MANIFESTO!! | Masataka Shimizu | Libraries destroyed | Links | Luciferian | Mails from Japan - the real perspective | The main core | Pornshackles | McCaffee SCAM | Mexico | Micro Nukes | Off the air | A Mexican speaks out | Letter to the Mossad | Fertilizer plant | Uri Avnery | New antidepressant mails | Gas explosion | NO EMT? | NSA Edward | NSA not God | Occupy L.A.! | Pizza shop video FAKE | Stories from Jenin | Executive Order bans tech. | Election stolen | PERPS!! | Persia | Bacteriophages | Photograph the CIA! | Predator Drone | NSA competition | Sydney riots | Syria psy op BUSTED! | PUPPY THROW - arent you proud? | Shaken Baby SCAM! | Meet Rachael Corrie (watch this to the end) | Radar anomaly | Railroaded! | Boston Whistleblower | rigged elections | Nuclear Rogue | Russia playing Snowden games | Sandy Bridge (old version) | Senator Wyden | Here's a good one! | Snowden is the litmus test | V4BL | Tainted Nightmare | Joe did not stack up. | Israel destroys records | Did the U.S. down Sukhoi Superjet? | Real good SHTF advice | Taxation without representation | The Hack | Tomato Freakout | I said this before Snowden! | Joe Vialls 1 | Joe Vialls 2 | Violence? | Meet Nick Vogt | 250 plus! | Mossad nailed! | Nailed again! | COME ON NOW! | Open letter to NSA | When all is lost 40 percent! | Amish Allergies | Benghasi psyop fail | Spamhaus weponized | ConEdison thermite | Google Arrogance | No Hesitation | Indianapolis bombing | Mossad caught blowing up Mexican congress! | Oklahoma City | PressTV | Psyapocalypse | Russian comeback | Rockefeller narratives | Haarp and hurricane Sandy | Security tips 3,2,and1 | A shill screws up | Smart Meters, (tip4) | Springfield Bombing| Youtube rigging | Contractor earthquake testimony |
Mailboxes once again completely dead, I cannot send mails and all mails sent vanish into nowhere. I spent a fair amount of time this weekend trying to sort this out, and it´s just all dead. If you received a mail from "me" since last Thursday, it was not from me.
Donations UPDATE: Michael C contacted me asking if it was Nuevo Leon, or Leon GTO. It is Leon GTO. Response pending.
I have the bills paid for this month and enough for basic gifts. I am worried about next month though, so anything sent will definitely still be paying the bills. I appreciate all the help sent very much, thank you!
This is the current state of the following donation offers.
If it has not been updated to indicate the latest action, including the final amount, DO NOT SEND.

LaMoria made an unspecified offer of help via the destroythedarkness mailbox, thanks!

Michael C. made an unspecified offer of help via the jimstonefreelance mailbox, thanks!

Paypal is working at gamuzziusa@gmail.com, this is a wallet factory owned by friends so if you want to donate that way and Paypal asks what it is for, say it's for wallets, thanks!
Cold hard proof Common Core is educational SABOTAGE
Jim Stone, Dec 19 2013

It is the job of educators to teach children the simplest way possible to solve problems and learn. Successful educational programs make it possible for children to master skills such as math easily, by showing them the simplest way to solve a problem. The best way to sabotage the learning process is to clutter it up with irrelevant steps that are not needed. And when it comes to math, common core does exactly that.
A 2 step math problem in 108 irrelevant steps
The question - There are 18 people. These 18 people counted up to the last person with a number that landed on 90. What is the number they counted up by, for 18 people to reach a number of 90 while counting by it?

Obviously, to get this answer you should divide 90 by 18, which gives you the number 5. 90 divided by 18 equals 5. Therefore, the people said 5,10,15,20, all the way up to 90. But if your student gives this obvious simple solution to this problem, they are marked wrong even though they solved the problem the most skilled and rational way.
Here is how, with common core, the children are required to solve this problem in not TWO steps (90/18), but in 108 steps.
They are required to draw 18 circles, and put 1 hash mark near each circle until they get to circle 18, loop back to the beginning with another hash mark near each circle to the end, and repeat this until they have drawn 90 total hash marks, and then count how many marks are near each circle. If they do it the mathematically correct way (90/18) they fail.

Folks, using hash marks is the cave man way of doing it, and you won't learn ANYTHING doing it that way. That is how people who know nothing at all about math are forced to do it in totally uneducated regions of the world, IF they are stupid as well as not educated. This is cold hard proof that our educational system is actually training the kids to think like monkeys. If in the 4th grade your educational level is so low that you are required to hash mark out math, you have no education at all and the requirement of doing it this way or face failure is insurance to the global elite that you will attend school, LEARN NOTHING, and fail if you are taught how to do it the correct way elsewhere and insist on doing it right.

After having this new common core method forced on them, fourth graders who got straight A's on internationally standardized math tests in third grade were reduced to C's D's and F's on internationally standardized tests in the fourth grade. The sabotage is so effective in removing proper mathematical thinking from the children that what is learned in past years is over written and lost. Common core is an act of war on America, but we all know who is now in control of our education. And with this "elite" zionist community seeking permanent intellectual dominance over all people, it is easy to see why common core is getting rammed down America's throat.
How the NSA destroyed the economy
Jim Stone, Dec 17 2013 Washington´s Blog did an absolutely brilliant write up about how the NSA has dealt their own nation an economic death blow with their mass surveillance. Here is a comment on the article:

"Did the idiots at the NSA have no clue that they would kill the US economy if they vacuumed up every electronic transaction on earth? And then allowed it to be used for political and economic purposes?

They just did - self inflicted gunshot wound to the head....

Do you think any foreign government or company will use any US software or computer hardware in the future? Of course they will not. Not only that, but they won't even connect to US based networks.

Cloud computing? dead. IBM? dead. Apple? dead. Microsoft? dead. Oracle? dead. Adobe? dead. Facebook, Twitter, Google, HP? You got it.

Thanks NSA, you just killed the only functioning part of the US economy.
My own input into this topic -
Though when I was at the NSA the targets were mostly Russia and China, the Israelis were given free reign of any system they wanted, and because I was ignorant at the time, I helped the Israelis get whatever information they wanted when they were there. So Israel has always been able to walk right into any NSA facility and get VIP treatment and full use of the equipment. This is really spooky, because President Bush walked through my facility as well, and we hid EVERYTHING from him, he had a pre assigned course through the facility that was followed to the letter. We made sure he got to see lots of blinking lights while never having a chance of getting a clue as to what was really going on there. Why then, was Israel, a foreign country given free reign when even our own President was not? Interesting question, eh?
GUESS WHAT?
One time, the only thing the Israelis were there for was to track a drug shipment coming up to America from Colombia. I assumed they cared about keeping drugs out of America, but now that I know who really runs the drug trade, it's a safe bet they were only tracking their competition.
And now I can make another good bet as to what the NSA evolved to do for Israel - rape and rob NON JEWISH companies of all their secrets, and hand them to the Israelis. It's no wonder why ALL the communications companies are all Jewish owned now, and no wonder at all why all the software companies, media groups, tech firms, EVERYTHING is Jewish now, because they used the NSA to steal EVERY NON JEWISH COMPANY'S SECRETS and subsequently destroy the competition. NO company can survive having hostile forces know who all their key employees are, all their marketing plans, all their inventions, their finances, EVERYTHING. Absolutely NO ONE can survive this, and I firmly believe that abuse of the NSA's power is the sole reason why the Jews now dominate all spheres of American business.
Now that I have added my perspective, take a look at this - I am sending you straight to Washington's blog without posting what he said here, he did excellent work with this and you really should read it there. CLICK HERE
A PG-13 message to the censors
I sent this out today, and decided to post it because it quite well describes what goes on behind the scenes at this web site.

" A message to the censors: Don´t think for a minute I believe this mail is real. You are all a bunch of lying jackasses and I am NOT STUPID.

I am sure you will pass this response along in this form however, along with the original mail sent, one I never saw.

Fuck off assholes.

The article linked above is a make or break for America. It´s damn near over, if it is not already. I have a question for the Jewish community - AFTER you destroy America and the rest of the free world, AFTER you poison the world with your virus inflicted nuclear disasters, destroy all the non-jewish children with brain eating vaccines which are also designed to permanently alter their DNA and make them inferior throughout all future generations, AFTER no one has any will to actually live because you have either wiped them out with the medical system or destroyed them in other ways, what kind of world will you have?

Your actions regarding the Japan disaster were inexcusable, yet it is obvious you intend to do more. And there is the level of your wisdom - you really don´t care about what the rest of us have as long as Israel is never touched by your actions, yet you forget that you live on the same planet and that you need to parasite suck on the "inferior" to even live at the quality of life the "inferior" built for themselves. When you are finished destroying the "inferior" people of this world in your quest for permanent "supremacy", you will have NO ONE to support you other than yourselves - the work of your own hands, and you will accomplish that with seeds you destroyed with GMO and a world you destroyed with nuclear disasters. THAT is not very wise, is it? Only your arrogance makes you blind to this future, your genetics give you an intelligence equal to the rest of us, it´s the arrogance that makes you short sighted and inferior.
For your information, your financial superiority gained by carefully calculated evil will do you NADA when you finish destroying the world you live in via your quest for permanent supremacy. It matters not that even the "poor" among you live very well in this moment when all of it is gained via the destruction and subjugation of others. When you finish destroying America, I am certain there will be another victim brainwashed into supporting you on time, but you are destroying ALL children in ALL places, you are sparing no one and this will lead to your downfall. Like it or not, you need to ride the backs of "inferior" people who are actually your equals to be where you are now, by destroying us you are only destroying yourself. Ignorance is a blissful road to nowhere, and unbridled arrogance will lead you to that destiny.
Don't fall for the "Fukushima reactors were poorly designed" B.S. being pushed to the forefront now
Everything being pushed to the forefront at this time is a bag of lies, and without fail omits key info, which is:

1. The Stuxnet virus was released in the facility. This is easily proven by the fact that the control room readouts remained normal while the entire facility was destroyed as well as the fact that it was found there a month earlier. It is nearly impossible to root out. It is not possible for a boiling water reactor, which operates at 550 farenheit to show normal temperature readings when it is boosted to over three thousand farenheit to melt it down. Stuxnet keeps the control room readouts normal while it receives remote commands to destroy everything, commands sent by the Israeli Defense forces over a totally unauthorized internet connection that was admitted to even in the Jerusalem Post.
Ignoring this aspect of the Fukushima disaster as ENE News and Rense do when it is so well known and was even reported in the Washington Times is an act of war by itself, because information superiority and the use of it to keep people ignorant to allow a subsequent attack is a cornerstone of warfare.
2. The generators never flooded AT ALL at reactors 5 and 6, where there were five perfectly working generators capable of feeding power to reactors 1-4, but despite having turned on automatically and never recieving an ounce of water because they were well out of reach of the tsunami, 4 out of 5 mysteriously shut off. The one that did not shut off was the ONLY ONE in the entire facility that was not connected to a Siemens Scada controller, which Stuxnet infects. But the Israelis did not need to worry about that lone generator, because it was hooked up to a transfer switch that used a Siemens scada controller, which kept it from sending power to reactors 1-4. Anyone who ignores this aspect of the Fukushima disaster the way ENE news does is a fraud, pure and simple
Off site power generators arrived at Fukushima on flat bed semi trucks within 8 hours of the tsunami,
generators totally capable of giving the facility full back up power, but once again the switch gear which routes the power did not engage even after being replaced multiple times as technicians hunted for the problem, which in the end was Stuxnet infected Siemens Scada controllers which were part of the facility infrastructure and impossible to bypass on such short notice. Ignoring the fact that off site power was brought in LONG BEFORE anything really bad happened, only to not be allowed to connect by a resident virus is a FRAUD, and ENE knows this and pushes this fraud of "ignorance" every day they ignore this fact.

In addition to this, OFF SITE POWER WAS NEVER LOST. You heard that right. Fukushima had six incoming power feeds, one of which remained live throughout the entire disaster. But once again, the switch gear that was supposed to connect that source was controlled by Siemens Scada, infected by Stuxnet, and failed to function. The lights at Fuku should never have even blinked. It was not until after the disaster that this was discovered. Technicians just figured that since the transfer of power never happened, there was no power. THERE WAS.

I am calling only ENE on the carpet over this, because they KNOW, they are not stupid. Rense and Fuku diary might just be in the dark. I sort of doubt this with Rense though.

3. And obviously, the key that proves beyond all doubt that the entire Japan scenario was a false flag act of war is NO QUAKE DAMAGE AS THE TSUNAMI COMES IN, Folks, this is not rocket science - a 9.0 is an earthquake which creates at or near total destruction at distances up to 1000 kilometers from the epicenter. Lesser damage extends outward farther. Russia should have at least felt this, as well as China. China and Korea should have had serious damage as well. The quake is a paper thin lie taped together by the trust of a gullible public and ignoring the fact that the only damage was tsunami damage, which absent a sufficient earthquake could have only been caused by a tsunami nuke is a critical fail.

Causing people to look towards and blame Tepco, Japan, and G.E. for this disaster is the job of scammers such as Arnie Gundersen and his illustrious ENE News, a fraud that was launched 3 days after the explosion at reactor 3. ENE was NOT around before the Japan disaster, it is a propaganda outlet pure and simple. Arnie Gundersen IS SASKI.

The Fukushima report documents all of this far too clearly for Arnie, ENE, Rense and Fuku diary to miss, and there is no damn way any of those have not heard about this web site, especially with the wars Rense has fought over it. Rense flips out when my name is mentioned - WHY?

I am also going to call out Mike Rivero for what he posted today about G.E. being at fault, and to him I would like to explicitly state -

You have told the truth about Stuxnet. You are not totally technically stupid. How can you believe ANYONE who blames G.E. for the explosions when you yourself know for certain it was the Israelis that did this, and why did you post this latest round of FUKU nonsense? Even Alex Jones told the truth about Stuxnet. It's not that hard. You have yet to come out and say the quake did not happen, are you blind to this? Can't you watch a youtube video, any video of the tsunami and realize that no quake damage equals tsunami nuke? The seismograms are all on this site, as part of the Fuku report. Japanese seismologists also know this quake was B.S, but with the scamming ziopress and usurping NSA, the truth about this has become extremely difficult to get mass exposure for.

I will let you slide on Magna BSP, the nuke camera, and other aspects of this. You probably are not all that up on nuclear topics so you don't really know how impossible Fukushima was outside of a willful act of war. But it takes virtually nothing to watch a few of the tsunami videos, as the tsunami is coming in and ask WHY, in locations less than 30 miles from the "epicenter" of this 9.0 is there NOT A BIT OF QUAKE DAMAGE TO BE SEEN ANYWHERE? That alone ought to get you asking the truthfully hard questions about "what really happened" to Fukushima.

Here is an illustration of what happened to Fukushima with Stuxnet not explicitly mentioned because there are now several such U.S./Israeli industrial viruses that do the same thing to other systems. Scada was simply the first.

Blaming G.E. for Fuku is the equivalent of blaming Boeing for 9/11.
This is well worth a read -
This appears to be a well researched documentation of what the NSA does to steal your data. It may be 50 pages, but it's nonstop info. Jump to page 5 or so to get the initial fluff out of the way.
RED ALERT E-MAIL
Jim Stone 11/12/2013

First, a little background. Tim Horton was a legendary Hockey player in Canada. He started the Tim Horton's coffee franchise in Canada. Tim Hortons is Canada's Starbucks, and is superior to Starbucks in almost every way. It's the GO TO place in Canada, everyone from construction workers to lawyers frequents Tim Hortons, they are by far the largest food type franchise in Canada so this is a VERY BIG DEAL -
Tim Hortons censoring truth sites from their WIFI
A VERY concerned Canadian sent the following:
I went to Tim Hortons yesterday to get a coffee and browse the news (mainstream and alternate) as I and millions of Canadians do daily on their free (not so free) wifi. I browse several alternate sites depending on the current issues. The first one I went to was AMTV news, a big ERROR sign came on, which has never happened before. I then tried about 6 more sites, same thing, I could not believe it, so I went to Macdonalds and every site came up clear. Then I went to a different Tim Hortons, tried 2 sites - Just Wondering by Zen Garden and David Duke. These were also access denied. A few other truth sites came up but were so slow and screwed up, Eric Dollards read as an error, this time amtv did come up although I did not attempt to watch the videos because they would not come up in any reasonable time.
I then googled tim hortons wifi censorship and discovered a July 19 Canadian Press Release; Tim Hortons apologises after blocking access to Dailyxtra.com and only stopped after being threatened to be boycotted by twitter. I also just saw this u tube video below of another site that was blocked.
I hear all kinds of strange things in Canada are going on the internet. I feel certain parties my be experimenting with internet censorship, searches, emails thwarted etc etc using Canada now as a practice playground to see how far things can be pushed. This is criminal and treasonous, an attempt at complete big brother control freakery and must be stopped. All alternative and social news media together must fight this. It is the foot in the door to tyranny. No different than gun confiscation starting in New York!
Boycott Tim Hortons, their coffee and shut down any business that censors free news. This email may likely be thwarted but I will follow up with phone calls.
Please note; most sites do not have their email address and phone # posted. This makes it hard to get tips through or to even know and verify that news tips or important information makes it through. Every site should list a # and email address for information to combat what is actually happening to internet censorship everyday! Lets get with it!
Here is the video I mentioned above Free Speech Denied my website blocked at Tim Hortons.
My final comment to Tim Hortons - If you insist on messing around like this and I have my way, you will have 20 minutes to live before being dumped down the drain. HOW'S THAT FOR QUALITY CONTROL?
Antidepressant withdrawal advice
In response to the Tim Horton´s report, Anonymous wrote:
Jim, this country is becoming an Orwellian nightmare, a distopia. It's run by an extreme radical right-wing government and the equally extreme media is regulated by that gov. They're pushing the glorification of war and patriotism, and this spans national media all the way to small local papers which have mostly been bought up by huge media companies.

My local paper here... you can't access it online unless you sign up for a free subscription, and there's no linking to or quoting of articles online or they threaten with copyright BS. What this does is isolates local news, keeping it local and largely free from the prying eyes of people elsewhere. By doing that, people across the country cannot get together and compare notes on local media and trends, etc.

I posted something on twitter a few weeks back to this effect "How many shrooms would Orwell have had to take to imagine the current state of the world?"
I have received many e-mails from people asking me how to alleviate their symptoms after discontinuing antidepressants, so many in fact that I am going to release this information to the general public
WARNING! - DO NOT use this information to "feel better" while still taking antidepressants. If you do, of course it will make you feel better but it will at least triple the long term damage. This information was gathered during my major antidepressant study in 2009, and it is completely medically accurate. Using this information to alleviate side effects while taking antidepressants will only give your brain what it needs to satisfy the demands placed on it by the drugs, demands which if satisfied to the full extent will allow the drugs to destroy you to the full extent. "feeling better" while on antidepressants is NOT A GOOD THING AT ALL because it only means your brain was given what it needs to destroy itself more but feeling better after discontinuing antidepressants is needed by many many people.
FIRST AND FOREMOST - THE BIGGEST SECRET YOUR DOCTOR WILL NEVER TELL YOU
Antidepressants severely deplete Sodium, Potassium, and Calcium. With regard to these essential elements, ALL antidpressants do the same thing. This is why antidepressants cause bone weakening and osteoporosis, and why many women shrink in height and develop bone problems while taking them.
Your brain needs calcium to function, and because antidepressants (and methamphetamine) put your brain into overdrive, your brain will require far more calcium than you can possibly eat while taking them.
And where does the brain get the calcium from when it can't get enough from what you eat? YOUR BONES. When on antidepressants, your brain will take the calcium it needs from your bones. This calcium builds up and makes hard deposits in the brain, usually in the frontal lobes. But the brain can only take so much without causing physical failures, and when your bones can give no more, you will not feel as good as before because your brain will no longer get what it thinks it needs. You will slow down.

Another key element that gets depleted by antidepressants, and perhaps the most important is Sodium. Contrary to popular "wisdom", salt is arguably the most important nutrient you could possibly eat. It is NOT a health hazard. Lack of salt makes people lethargic and passive. It makes them tired and physically weak. Lack of salt destroys muscle tone and causes headaches, and can also cause many other health problems including depression. This is exactly why in a world of conspiracy where practically all the advice in the MSM is bad, salt is the universal villain.

The phrase which defines people who have "lost their salt" as being passive nobodies is rooted in the fact that without enough salt in your diet you lose your pep. Salt is the most important electrolyte for satisfying the electrical transmission needs of neurons, and without it you will not function correctly. Salt does not cause high blood pressure. All studies have proven that in cases where people have high blood pressure, discontinuing salt intake will reduce blood pressure for only a short period of time, after which the blood pressure returns to it's previous high level while the person becomes less energetic due to a lack of salt. With regard to blood pressure, discontinuation of salt is a temporary fix that should be avoided.

Antidepressants also severely deplete Potassium. And you can die without enough Potassium. Like Sodium, Potassium is a key electrolyte your nervous system needs to function.
Those are the three cornerstone biggies with regard to antidepressants. Now that they are out of the way, I will summarize and continue
To help you feel better after stopping antidepressants, EAT LOTS OF SALT, CALCIUM AND POTASSIUM. And I mean a LOT of salt (8 grams a day) and a LOT of potassium (a similar amount daily) and a LOT of calcium (4 grams a day) until you feel better. This will vary from person to person. While doing so, you need to MASSIVELY increase your intake of water. LET ME REPEAT THAT - UPPING YOUR SALT THAT MUCH WITHOUT DRINKING ADEQUATE WATER WILL MESS YOU UP GOOD. To regulate how much water you need, check your urine and make sure it stays light yellow or clear. There is no better way to make sure your water is adequate than that simple check.

Now onto the other things -
Even though these are less important than Sodium, Potassium and Calcium, messing up even one of these can really set you back, though because these are less important not getting these right will not definitely cause problems, they are only likely to -
Avoid fluoride like the plague. Don't use fluoride toothpaste, go to Wal Mart and get Tom's (kosher) toothpaste without fluoride. Most mouthwashes now have fluoride - avoid those as well. There is an entire class of antidepressants that have fluoride as the root ingredient. Fluoride is a mind control trap that does NOTHING for your teeth. The dentists are parrots squaking what they "learned" in a rigged "school". Don't drink tap water, drink Crystal Geyser, Arrowhead, or another genuine spring water brand. Not all bottled waters are spring water, make sure you check the source. Many will say it like it is - they just bottle city water, which virtually always has been spiked with fluoride. Crystal Geyser and Arrowhead both seek out springs in various parts of the country and are guranteed (by me) to be of top quality and fluoride free.

Avoid ALL ARTIFICIAL SWEETENERS AND JUST USE SUGAR. Sugar has been vilified by the conspirators for ONE REASON - to cause hapless fools to use aspartame and other fake sweeteners which are usually mild forms of antidepressants that are addictive all by themselves. And beware of "natural" alternatives to sugar such as Stevia, because even though they are natural they often still have similar side effects.

Get lots of vitamin C. Vitamin C is not just for strong gums and healthy teeth, your entire body (especially your brain) needs it and having a lack of it only shows in your gums FIRST, when really the need is throughout your body. Make sure your vitamin C is sour and nasty and not sweet, because if it is sweet it has been spiked with a fake sweetener.

Avoid chewing gum, it's all poison and has the phenylketoneurics warning for a reason - it's now all rigged and just a medication that will make susceptible people trip out. Phenylketoneurics don't have to worry about natural foods or meat and potatoes, which means that they have NO HEALTH PROBLEMS AT ALL, only a label applied to them by the so-called "medical" community because they will flip out when they are fed synthetic poisonous bullshit that acts as a mild and addictive antidepressant that most people can handle without serious consequence. The fact that some people can't take it DOES NOT mean they have health issues when they can eat all natural foods no problem. The chemists are the problem. Gum NEVER used to have that garbage, now when I chew that type of gum I get dizzy. It is specifically designed to affect the brain. To hell with that.

Avoid McDonalds, Jack in the Box, Wendy's, and all other fast foods EXCEPT: Carl's Junior, Burger King, Little Ceasars, Del Taco, and In-n-Out. I actually tested this. I was the guinea pig, believe me, fast foods will SCREW YOU GOOD if you eat at the wrong place. And it does it in secret - I can eat at McDonalds and feel fine the entire day afterwards. It's the next three days that are HELL. I will get such bad headaches THE DAY AFTER McDonalds and Jack in the box and Wendy's, headaches that last for NO LESS than three entire days, that whatever they put in their foods has got to be intentionally bad. There is not a single thing on the McDonald's menu that won't totally screw me up, but as if to keep it all a secret, it only happens the day after.

In America, avoid ALL SODA POP POINT BLANK. And it's not the corn syrup either. In Mexico, only Pepsico products give me that "McDonald's headache", the rest are all clean. I think I have the answer to what is going on with that horrible food and the pop in America, but that's a later report. Just avoid it.
Enough of the explanations, here is the condensed version of what to do after discontinuing antidepressants
1. Eat COPIUOUS amounts of salt, potassium and calcium. Make sure the salt is iodized as well.
2. Avoid ALL ARTIFICIAL SWEETENERS, ALL OF THEM, INCLUDING GUM.
3. Avoid ALL FLUORIDE, no matter what the source
4. Get lots of vitamin C.
5. Avoid ALL FAST FOOD, but if you HAVE TO eat it, REALLY avoid McDonalds, Wendy's and Jack in the box.
6. Drink LOTS of water, until your urine stays almost clear of color and you do not need to pee a lot.
7. Not mentioned above - You need lots of Omega 3 oils. This means you need Eggs with butter, almonds, walnuts, fish, lots of other meats (chicken is the best for recovery).
8. And finally, not mentioned above - despite my saying to use sugar for sweetening instead of anything artifical, you can't just eat a whole pile of donuts, follow up with bread (which breaks down to sugar) and have a salad and be healthy without meat. You have canine teeth, all people do and it means ONE THING - WE NEED MEAT. Despite being able to make it for a while on other foods without meat, we still need it. The best diet for getting over antidepressant damage will include meat (lots of chicken) but don't forget red meat, it will also include nuts such as walnuts and almonds, and LOTS of vegetables such as broccoli and carrots, (the standard american good stuff). Of course fruits such as apples and bananas. The key thing to remember outside of the really big things is to avoid processed foods and anything artificial. Salt it nicely (it tastes great that way), enjoy!.
Explosion at American Nuclear Facility
and mums the word . . . . .
The media is being tight lipped about this so far. No word has come out of the nuclear facility (as of time of this posting)about what went on. But it was bad enough to be photographed from outside the facility and shook the ground for miles, so it was impossible to hide. The reports of what went on are so sketchy at this time that no one really knows what is going on. But enough time has elapsed between now and the explosion for the truth to have gotten out regarding it, Why the silence?

UPDATE: At latest report the reactor is shut down after a transformer explosion and running on diesel backup. But it took an awful long time for them to say this . . . . .

This is the second incident at this reactor this year. The first was a crane accident which killed one and wounded 8. Perhaps this particular facility is having management issues.

It should not be possible for a large transformer to explode unless overloaded for a long time or unless it is improperly maintained. All large transformers have gauges on top which tell you if the transformer is sealed. Practically the only thing that can cause a problem with one is water getting in. The gauges on the top of such transformers tell you the pressure inside the transformer relative to outside pressure. If there is no pressure difference, it means a seal is broken and water will get in. Even if there is no rain, water will leech into the oil inside of these transformers from the ambient air and condense at the bottom. If it builds up enough, BOOM. The guages on the transformer will tell you if that scenario can happen. This is the most common cause of problems with large transformers and it is ALWAYS negligence that causes it, once a week you are supposed to have people go around and check the gauges on all the transformers. If this is never done any large facility is likely to have one eventually explode. Perhaps negligence is why mums the word?
Read the full report at time of posting(for whatever good that is) HERE and I am looking into this.
When 1+1 does not add up
Jim Stone, 12/10/13 10:20 AM Central

UPDATE: ENENEWS ended up being two and a half years behind with their "fuel cladding black dust" report which was released as a "me too" report four hours after this one I posted earlier today. U.S. nuclear officials said this two years ago and I said it two and a half years ago. This news is "not just in" as ENE claims.
DEAR ENE: WHEN YOU FINALLY POST THIS PICTURE I will stop calling you liars.
My post from today regarding this follows
When 1+1 does not add up
There is an aspect of the Fukushima disaster that I never went into simply because I have so little respect for propaganda outlets such as CNN that I don't really even address their errors - I tend to stick to criticism of those who might be salvageable. HOWEVER, since CNN, Fox and other complete liars are still regarded as credible by many, I am going to make an obvious point about Fukushima that may wake up a few rem sleepers.

The one point that can be easily made about Fukushima is the fact that there are exclusion zones that remain permanent. This is because there is residual radioactive debris which makes them uninhabitable. It is one thing to survive driving through the intense radiation zones quickly to go to work in a sanitized sheltered environment for month long shifts (because you can't take repeat dosages from driving in and out of there or working outside there, which was made clear in the pre censorship reports about the Fukushima 50.)
The MSM lie is that there is still full containment and that all that happened was a couple hydrogen blasts and a little steam, which blew away with the wind
But this is easily verifiably false and can easily wake a sleeper through easily verified statements available all over the web. And there is absolute proof that that there is absolutely ZERO containment remaining out at all 4 of the destroyed reactors, one of which had no core and was completely mothballed when it "exploded".

The proof is the exclusion zones, which could only be needed if hard material was expelled, hard material that could only come from the guts of a reactor in the form of dust, hard material that won't blow away with the wind like steam will, hard material that has stayed around and is now on the ground and on the rooftops, collecting in ditches and rain gutters JUST LIKE CHERNOBYL.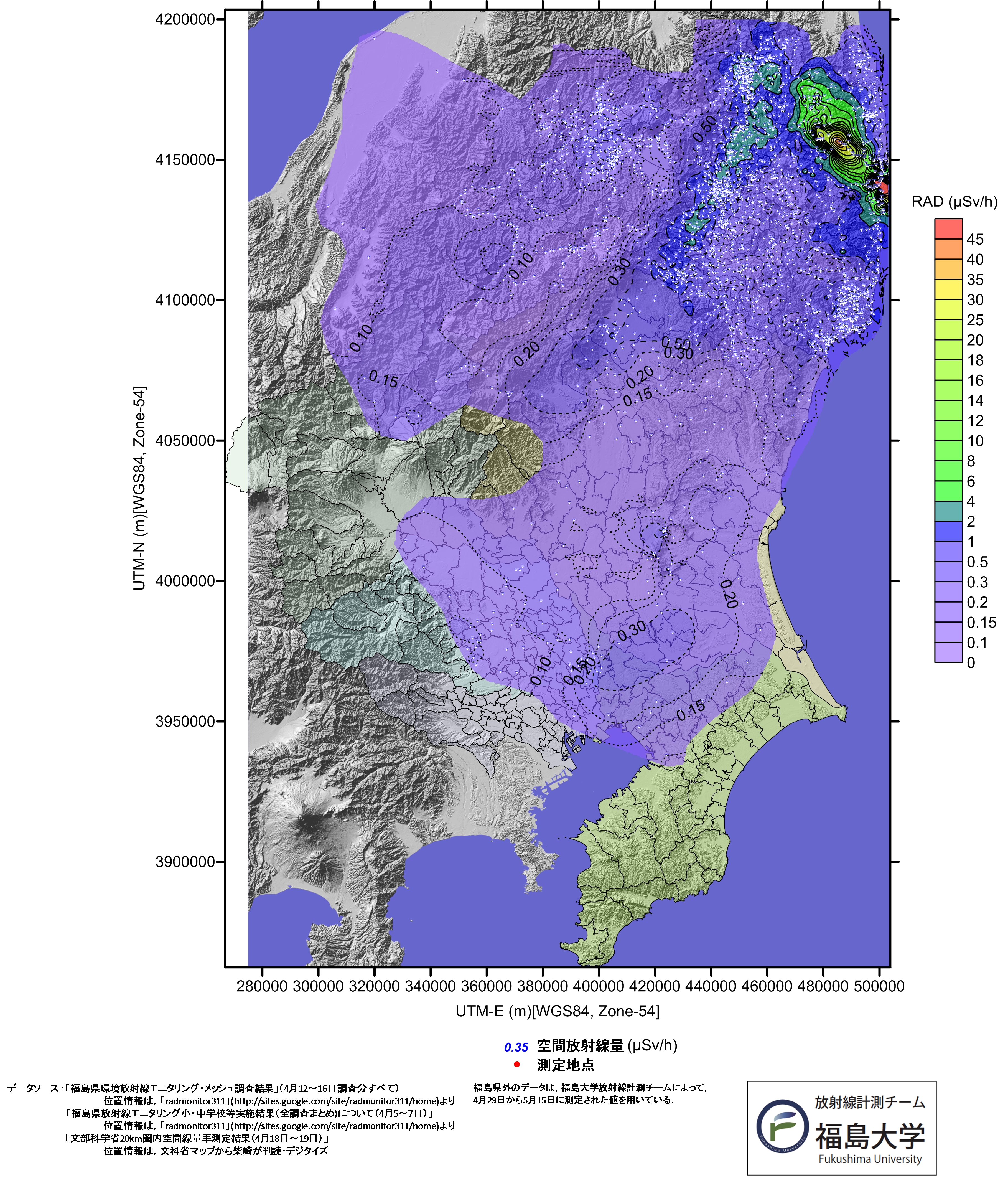 If the reactors had only released a little steam as reported by CNN and Fox and all the other total liars, any evacuations would have been completely temporary with people being allowed to return in a few days to ALL AREAS, even those immediatly outside the facility. The fact that there are approximately 5,000 square kilometers that are no longer inhabitable AT ALL in the areas surrounding the facility (according to Chernobyl evacuation thresholds) with only 300 actually evacuated (because the Japanese have nowhere to go so they are sitting in radioactive slop) proves all by itself that Fukushima was a disaster of epic proportions that the MSM will not touch.
An explanation of the map to the left: (click to enlarge) This is represented in usv/h. To get MSV/year, multiply by 8,740. Any zone denoted by 0.3 or higher (even in the purple areas) would hit the Chernobyl permanent evacuation threshold. This map represents over 300 KM distance from left to right.
Obviously Japan did not evacuate the entire area shown (they could not, because they don't have the land to spare.) Even the lightest purple areas with the lowest numbers have at least a thousand becqurels per square meter per hour, but would be considered inhabitable by Russia.
The MSM coverups are so blatant that this alone can wake up a deep sleeper. If you try to use this approach, please try to keep your deep sleeper away from the opposite liars who are telling obvious lies such as the world is destroyed and the Pacific is dead, because even the thinnest B.S. filter will see that for what it is and could cause your sleeper to go right back to bed. Getting waking sleepers to laugh and hit snooze is the job of ENE news, Rense and other opposite liars. This is Japan's disaster, the world will live.
To wake your sleeper, show them the Chernobyl exclusion zones, with a map that shows MSV/year, and then show them the Fukushima excusion zones, with a map that shows MSV/year. You will see that with the Fukushima disaster, the declared habitable zones have radiation levels that are up to 30X the level of the exclusion zones around Chernobyl, with virtually ALL of Northern Japan having radiation levels that at least reach the level declared by Russia to be uninhabitable after the Chernobyl disaster.
With the Japanese stuck on an island what else could they do, other than stay and eat reactor guts? If this is the first time you have hit this web site, there is ONE nation to blame for the Fukushima disaster, and it is not Japan, and it is all documented. For the WHOLE truth that is difficult to find anywhere else including the answer to the big question - WHO DID IT AND WHY THIS IS ALL BEING SWEPT UNDER THE RUG BY THE MSM, I suggest you read the Fukushima report.
More testimonies of the destroyed
Caches of antidepressant horror stories are difficult to find, because most places censor them. I just encountered an enormous cache of testimonies against antidepressants that never got censored. Though the vast majority of mails regarding the testimonies of the destroyed which I have posted on this site are thankful I posted them, a few people have, over the months, e-mailed me saying it had to be bogus. To them I have to say:
READ THIS,
and make sure you scroll down on that page to an entirely new cache of "testimonies of the destroyed". There is no doubt that antidepressants are an act of war on the people. If there is anything out there that puts the entire medical system in question, any sort of great beacon of warning, it is the way antidepressants are handed out and the subsequent disaster stories that are swept under the rug.
Thwarted nuke?
"Jim, There has been some content floating through the conspiracy forums tying the firing of the 2 Generals and the Admiral by Obama and a thwarted set off nuke on 11/19/2013. Are you aware of this rabbit hole? I read your site all of the time and would love your perspective. Thanks, Sharkey"

My response:

I made note of this nuke at the time there was a transfer of nukes to the East coast. Then so many different stories which popped up regarding it that I began to ignore it.

I have found that many people drive hits to their sites by whipping people into a frenzy over a future threat with an assigned date. It works great. And then when the date fails, they find some way to exuse it off and release the next thing we are all supposed to be afraid of. Comet Ison was one such thing. 2012 was another. There are many such things. And they are all B.S.

When we get hit it will come out of NOWHERE like 9/11 and 3/11, and it is at THAT TIME that people need to record, screen capture, and save EVERYTHING to nail the "elite" in their false terror fraud. One thing I have made abundantly clear on this site is the fact that nuclear facilities can be destroyed by viruses that are now infecting virtually all of them, and administered from Dimona Israel. As long as the right political suck ups are made, nothing goes boom. Perhaps Sweden had a virus resistant system and needed a little explosives packing to be placed under threat of nuclear blackmail. There had to be a reason why the Swedes were handled differently.

Another thing I have made abundantly clear here is that Haarp - weather - earthquake - volcano technology is well developed now, and people need to question EVERYTHING regarding natural disasters because they can literally be caused by the flick of a switch now. It's not all natural anymore, and being on top of any big ones right from the beginning can help people capture the evidence they need to hang the bastards who did it if they did do it.

One thing is certain - when they do whatever comes next there won't be any rumors floating around the web beforehand.
Too good to be true!
I am sick and tired of people saying I am "too good to be true" and therefore must be a psy op.
"Anonymous coward" sent the following comments to key people through the forum messaging system:

"I am not sure if Jim is a shill. Jim has exposed things that are incomprehensible for the average to expose. But if this means shill, how so? Well, if I was a shill I would take valid info and then generalize it to a particular community i.e. rabbinical.

I will state my point with two distinct endgames. One Jim is accurate and presents in a way that discredits too far... the other that shillery exists and accuracy is exisstent but diverted to a secondary source (ie, the Rabbi's)
My response to this individual and anyone else who thinks I am really a shill tank or intelligence agency with bad motives SIMPLY BECAUSE I AM TOOOO GOOOOOD.
I am not too good to be true
The new method of attack against this web site is becoming OBVIOUS - THIS GUY IS TOO ACCURATE WITH EVERYTHING. WHEN YOU CHECK HIS STUFF, IT IS ALL ACCURATE. WE CANNOT REFUTE HIM WITH FACTS, SO WE HAVE TO STICK INTO THE PUBLIC CONCIENCE THAT HE IS A SHILL ANY WAY WE CAN, BECAUSE HE IS DOING THINGS THAT ARE "INCOMPREHENSIBLE FOR THE AVERAGE TO EXPOSE". POOR RABBI'S.

Nice thing to read first thing in the morning. If I am too damn accurate with everything for you, and if you really believe the Rabbi´s are innocent when it all goes beyond my own testimony of what happened in that community, where the truth is so obviously observed simply in who owns everthing from finances to media to medical to communications - if you cannot see that what I am saying is true point blank, go tune into CNN, LOSER.
I have a little news for you. I am not alone.
History is full of great people who were far beyond average, and THAT is why you can drive a car, THAT is why you have electricity, THAT is why you have a computer, THAT is why you can sit at a computer hurling accusations rather than milk cows and hand plow a field like you would be without the accomplishments of those who came before you with a much greater intelligence. And if you and others succeed in back stabbing yet another one of these intelligent people as you have tried to back stab me and you actually succeed in damaging me sufficiently, IT WILL BE WHY YOUR KID HAS AUTISM, YOUR NUCLEAR FACILITY EXPLODED, AND THAT EARTHQUAKE HAPPENED OUTSIDE A FAULT ZONE, AND WHY YOUR POSTERITY WILL ONE DAY BE HAND MILKING COWS AND PLOWING FIELDS WITH A VACCINE INDUCED GREATLY REDUCED INTELLIGENCE. I swear to GOD, I hope everyone who has tried to screw this web site, it's communications, it's credibility on the web by calling it "too good to be true" and all the other B.S. that goes on - ALL OF YOU out there who have tried to damage this effort deserve the worst of what what I am trying to stop can bring you and I hope it all happens to YOU FIRST.

"He HAS TO be a psy op, because it's all accurate and TOO MUCH for one guy to expose". GET A LIFE.

To the rest of you, thanks for being here with your help and support and trying to spread the word by linking this crap out.
My first big slap at the CIA
I put off telling this story because it is such old history. This is the event that ended my music career in Boston
It´s an oldie but a goodie
Back when they were drumming up public support for the war on Iraq, around the time of "shock and awe" they continuously, every day, had a woman on TV named Zainab Suwai of the "Islamic American Congress". She ended up on all channels, I assumed nationwide.
Zainab claimed to be an Iraqi assylum seeker, having witnessed Saddam´s horrors. The one she spoke about most was the "Iraqi human meat grinders" which were used to torture people by feeding arms and legs in and having the people watch them come out as hamburger.
I knew she was FAKE, and hated her
After a week or so of this B.S. constantly coming across the television, I got a bug up my butt and decided to do my first real independent forensic job ever - locate the world headquarters of the "Islamic American Congress" and tear "Zainab Suwai" a new reality.

It did not take much to find their world headquarters. And when I did, it was a stroke of luck because those headquarters were located not more than 20 miles away in Cambridge Masachussetts. So I went there. All the way there I was thinking of what I was going to say to her, and what could possibly happen. I was going to rip her a good one, possibly even beat the crap out of her. I just hated the obvious lying propaganda . . . . . . . but did not expect to have a brush with an American intelligence agency . . . . . . .

I got as close as I could by driving, parked it and started walking. Looking for the address . . . . . . a big building or something large enough to house a "congress" of one sort or another, even a big room on a second floor somewhere would do . . . . .

And then I noticed I had crossed the point where the addresses were progressing in the wrong direction. I turned around and walked the other way, and then found it - it was a Mailboxes ETC-.

So I went inside. Now, everyone knows what Mailboxes Etc was. It was a place to get a fake address that was typically staffed by a 300 pound woman or some idiot with super thick glasses. And that is NOT what I saw at this particular Mailboxes ETC. It was in fact a CIA front.

Behind the counter were three super tough looking special forces guys in plain clothes. And I said it - A HUGE SCAM IS BEING RUN FROM THIS LOCATION - ZAINAB SU - that´s all the farther I got before they started screaming for me to get the hell out. I have always had really good cameras, and I had my good one with me. I walked backwards towards the door while turning it on and they screamed DON´T TAKE ANY PICTURES (CLICK) GET OUT OF HERE WITH THAT CAMERA (CLICK) DON'T TAKE ANY PICTURES!!! and as my butt hit the door, they vaulted the counter and shot towards me.

I got outside and at first they did not follow, they just screamed through the glass for me to not take any pictures as I snapped the last shot through the glass. I then turned and ran across the street. I was concerned because I knew I had uncovered something big, so I half walked backwards watching the place and before I was even 50 feet down the street a long black diplomatic car shot out from behind the Mailboxes ETC, screamed into the cross traffic without stopping and was headed straight for me as if to run me down.

I thought I was doomed, but when I turned around to run I realized I was right in front of an apartment complex with narrow spaces between the buildings too narrow for a car to get through and an open front and back gate. I ran through the barricades, which would stop the car by themselves and between the buildings. Once on the other side - well, there is something you need to know about traffic in Boston before I explain what I did to get rid of them -

Traffic in the Boston metro is CHAOS, and the roads seem to follow old cattle trails with no real logical layout. On top of that they are packed to the max with cars, and are almost always one way. So I quickly realized, before even clearing the buildings that they would never be able to follow me if I ran directly into traffic against the one way (on the sidewalk of course). They would never be able to find a way to loop back towards me. So that is what I did, and I ditched them with ease.

I then got to a point that was four blocks down the street the Mailboxes ETC was on, and with a nice long lens framed it perfectly and took a relaxed shot.

I had my own commercial printer for printing my promotional stuff for my music performances, and I used it to print up thousands of flyers that had a picture of Zainab Suwai, the Mailboxes ETC and an explanation of what happened. I had them ready by that night. And I went into the subway system and threw a handful in each subway car (boston has lots of those) because I knew the media would never report it.

Zainab Suwai suddenly vanished from televison and never appeared on television again. The CIA did not abandon that project entirely however, she was re-assigned as a CIA front to bring Feminism to the Islamic world.

The next day I went back to check on the Mailboxes ETC and it was just a blank building absent any signage. They ripped it up THAT FAST.

I was a popular musician - way too popular to ever get away with pulling a stunt like that. They knew who I was. And I started receiving threats during performances. They staked out the house and had someone constantly watching from the corner. I stopped performing and left town and laid low for a couple years. It was the end of my music life. And I was not upset about it, because I nailed the bastards.
A homo, a negro, a Jew, a crackhead, a commie and an illegal alien walk into a bar.
And the bartender asks: What'll it be, Mr. President ?
In the following mail, Ben Fulford explains a lot of behind the scenes political information I never paid attention to, with my fukushima report focusing almost entirely on the actual actions that were carried out and the forensic proof that it was the Israeli mossad that did Fukushima. Fulford´s mail mainly focuses on the reasons behind it all, and the sea bed nukes which I said were used but never went into detail on. Fulford´s reasoning is much closer to my own regarding the politics of it all than the other excellent mail which follows Fulford's. Here is the detail on the tsunami nuke topic and politics behind it all, as well as I have ever heard it said compliments of Fulford.
UPDATE: Aarron Russo´s sister, Renee Russo called into a radio program I was on regarding the Fukushima report (one I never linked here) and disrupted it badly, calling me an anti-semite and blaming it all on North Korea. So I think I know where the North Korea tie in got started. I suggest not considering it. ALSO

I find it hard to believe the Pentagon would really use warheads from the sunken Kursk, when Russia would have been there guarding it, on top of the fact that the Kursk got hit in the side which left all the missiles completely secure, passcoded, locked down and sunk to the bottom of the ocean, as well as saturated with seawater. Why would the Pentagon risk a conflict with Russia by retrieving the warheads to begin with, only to subsequently let them travel an endless cattle trail across the globe and then use them to do the Japan disaster? That does not wash.

If the excuse is made that they needed un-accounted for warheads to do it, Israel would have gladly provided them. Certainly, if the order to use nukes came from the Pentagon, they would have used their own rather than deal with sunken salvaged Russian garbage that would have been fully passcoded even if brought to working condition.

Furthermore:

If the Pentagon ever got ahold of working nuclear warheads from Russia's arsenal, they would have been dissected immediately and fully analyzed as an intelligence asset that could help them develop an ABM system custom tailored to the secrets they discovered by taking them apart. That possibility alone would have caused Russia to destroy anything that approached the Kursk. So with that in mind, take a look at what Fulford has to say, there are quite a few gems here.
The mail which follows Fulford's is also a must read
Benjamin Fulford sent the following in an e-mail
Mr. Stone,

First of all, thanks for your courageous and ground breaking work on uncovering the Fukushima mass murder and terror operation. I am writing this e-mail to provide you with forensic evidence that I have gathered on what the 311 tsunami attack was about and exactly who was involved.

My sources for what I am about to write include Japanese military intelligence, former Prime Minister Naoto Kan (whom I have known personally for many years), members of the crew that smuggled the nuclear weapons used in the attack into Japan, members of both the French and British branches of the Rothschild family, senior CIA agents and a member of the team that actually drilled the nuclear weapons into the seabed before the 311 attack.

The first thing you need to know is that the attack was planned many years before it happened. The Japanese business magazine Zaikai Tembo, citing a CIA report, wrote in February of 2007 that the US had decided that Japan was getting too much of its energy from nuclear power and that if that trend continued, Japan would no longer be dependent on US controlled oil and thus would no longer have to obey the US. The conclusion of the report was that the best way to ensure Japan remained a colony would be to destroy the Tokyo Electric Power company, the people who ran the Fukushima plant.

Senator J. Rockefeller, whose family controls (through foundations) General Electric, the manufacturers of the plant, was deeply involved in this operation. As a preliminary to destroying Japan's nuclear power generation capability, Westinghouse and General Electric sold their nuclear power plant manufacturing businesses to Toshiba and Hitachi. This was insider trading at the highest level and Hitachi and Toshiba should sue.

The ongoing attempt in recent years by an Asian secret society to wrest control of global finance from Western oligarch families is a bigger back-ground to the Fukushima sub-plot.

For example, Democratic Party of Japan Finance Minister Shoichi Nakagawa was asked at a G7 meeting to hand over $100 billion to the cabal. He answered that he would raise the money by selling $100 billion worth of US Treasury bonds. He was going to say this at the press conference that followed the G7 meeting so he was drugged to prevent him from doing so. Later, when he returned to Japan, he was murdered by CIA death squads.

Getting back to Fukushima, the refusal of the Japanese Democratic Party and authorities to hand over any real hard currency to the Western Oligarch families, resulted in the decision to go ahead with the Fukushima operation as a way of intimidating the Japanese once again into surrender and obedience.

One key source of mine, who has variously gone by the names of Richard Sorge, Alexander Romanov, etc., was part of a multi-agency Western ring involved in smuggling drugs into Japan. I have confirmed through a long term acquaintance by the name of Steve McClure, a supposed music journalist, that Richard Sorge was his long term supplier of drugs.

In any case, Sorge told me that he was summoned to Pattaya, Thailand, by a member of the British Special Air Service, a South African going by the name of Spencer and told to bring 70 kilograms of "thai stick" Marijuana, heavily laced with mind destroying chemicals and approach me. He was told to tell me to introduce the yakuza to him or else I would be killed. The Yakuza told me it was a trap and to keep away from it, which I did. Sorge also told me that when he was in Thailand, he was shown a 700 kiloton nuclear missile that was stolen from the sunken Russian submarine the Kursk. This missile was smuggled into Japan together with the drugs.

The man overseeing the smuggling operation was a former Hong Kong deputy police commissioner by the name of Stephens, according to Sorge and Spencer. The man in overall operational control of this operation against Japan was General Richard Meyers, according to CIA and other sources.

Based in subsequent interviews with members of Pentagon military intelligence and MI5, the route taken by the missile to Japan has been identified. It was part of a batch of four nuclear missiles stolen from the Kursk by Nazi underground forces who took them to their submarine base in the Atlantic Island of Sao Tome, according to MI5. From there, it was taken to another submarine base in New Guinea, according to Pentagon Military intelligence.

From there it was taken to the Philippines Yatch club where Stevens' crew then took it by yacht to a remote island on the Okinawan archipelago. From there it was transported by fishing boat to the port of Kyushu. From Kyushu, the missile was taken by van to a property owned by former Prime Minister Yasuhiro Nakasone in Hi No De Cho, in Western Tokyo. From there it was taken to the North Korean Citizen's organization headquarters near the Yasukuni shrine, according to Sorge.

Sorge risked his life and has survived multiple murder attempts because he attempted to warn the Japanese authorities about the impending nuclear terror attack. He told them the missile was at Nakasone's property and he told me as well. The Japanese authorities ignored our warnings. Later we again told them the missile was located at the North Korean headquarters in Japan.

For his efforts, Sorge was arrested by plain clothes police who ignored his warnings about impending nuclear terror and instead asked him to testify falsely that I was a drug dealer.

A South African/British agent by the name of Michael Meiring, who had both legs blown off by a bomb he said was set by George Herbert Walker Bush Senior also began contacting me around this time. He came to me under the name of Dr. Michael Van de Meer and he showed me a bullet proof attaché case, 7 passports and an Uzi machine-gun. Dr. Van de Meer told me that Tony Blair had bragged I would be arrested on drug charges.

In any case, Japanese authorities failed to react to our warnings and the bomb was loaded onto the deep sea drilling ship Chikyu. Local news reports place the Chikyu drilling into the seabed off-shore from Sendai in the months before the March 11, 2011 Tsunami and nuclear terror attack against Japan.

Furthermore, multiple witnesses have come forth to testify that the Prime Minister Naoto Kan was seen inside the Japan Freemason headquarters building near Tokyo tower on the day before the 311 attack. He was being shown a map of Japan missing the Tohoku region where the tsunami it.

The Israeli company Magna BSP was in charge of security at the Fukushima nuclear plant at the time. A Miyagi prefectural government official says employees of this company loaded plutonium into the plant against his will in the months before 311.

Immediately after the tsunami and nuclear terror attack began, Prime Minister Naoto Kan was asked to order the evacuation of 40 million people from the Kanto plain, Kan said during a press conference at the Foreign Correspondent's Club of Japan.

He also received a phone call from Israeli Prime Minister Benjamin Netanyahu the day after the attack demanding that he sign over ownership of all Japanese government holdings of US government bonds to cabal oligarchs, which he did, according to Japanese military intelligence.

Following the attacks, a member of the Japanese self-defense forces who was involved in breaking up the nuclear bomb from the Kursk into several smaller bombs and drilling them into the seabed, showed up at the Tachikawa Christian church run by Pastor Paolo Izumi asking for protection. He said that 14 of his colleagues who were involved in the drilling operation, not understanding the purpose of what they were doing, had been murdered in order to silence them and that he feared for his life. The man was sheltered by the church and is now in the witness protection program.

After the 311 attack, this writer went to South Korea at the invitation of Dr. Van de Meer. While in Korea he was told the Rothschild family had planned the attack because they wanted to force 40 million Japanese refugees to take shelter in North and South Korea. The Rothschild family intended to move the base of their Asian operations from Tokyo to a planned new special economic zone in Korea, he said. He knew in advance of the 311 attack and looked deeply ashamed when he admitted he did not warn me about it.

Following the 311 attack, un-marked planes were spotted dumping radio-active industrial waste containing cesium, according to a Japanese gangster whose gang was sub-contracting for the CIA and Mossad around Fukushima.

The massive propaganda fear campaign following the 311 attack can be traced to Mossad, the Pentagon and the CIA.

In addition to the people named above, some of the individuals involved in this mass murder and fear propaganda campaign include Kenneth Curtis, the head of CIA Japan, Michael Green, the head of Mossad Japan and Richard Armitage.

Other people involved in this mass murder campaign include George Bush Sr. and Jr., Michael Chertoff, James Baker, Paul Wolfowitz, Senator J. Rockefeller, Michael Hayden, Guy de Rothschild, Evelyn de Rothschild, Peter Hans Kolvenbach, former Pope Maledict, and others yet to be named.

Benjamin Fulford 古歩道ベンジャミン
New Tsunami Info!
I got to the mailboxes before the Jewish Sabbath ended, and therefore got the following mail. It's a doozie.
UPDATE: I received a death threat for posting this mail and subsequent comments
Since this is practically routine by now, full speed ahead! (they will have a tough time carrying it out)
Please read the comments following this mail. Despite the allegations that the Pentagon triggered the tsunami (which I do not doubt) there is a reason why the puppet Obama is firing generals left and right - and it is because the zioclan has America totally under their control(most likely via nuclear blackmail) and therefore whatever the Pentagon does is done as if ordered directly through the Knesset. One way or another it is STILL ISRAEL, the fact that America has become a zombie puppet pretty much shifts all blame to the puppet master which is itself a puppet to the Rothchild elite or whoever is above even them.
Jim Stone, Saturday Nov 30 2013
Permalink
This came in while "they" had a forced day off
The following is new information about the Japan disaster I cannot refute and there is enough meat here to provide some serious perspective. I don't give the Jews such an easy break, but yes, I do believe they are being manipulated as this writer says and there is a LOT to this report regarding the Japan disaster that is totally new stuff.
Anonymous wrote the following:
I cannot tell you who I am. In all likelihood, they can figure it out, but I'm not going to make it any easier for them. If you want to know the truth about the reason for the tsunami, I suggest you take the time to read this. You've done some very good work and you're on the right track. However, you're following the wrong leads on some very important things. Israel may have mutual interests, but they are not the ringleaders in this scenario. You give them too much credit. I hope you won't take that too personally and read the rest of what I have to tell you. That's not to say you're entirely wrong, but Israel is just another piece of the puzzle.

People must put aside patriotism and realize that this is the doing of the United States of America and their puppeteers. I too have little love for Judaism. Due to their incredibly self-centered ideology, Jews are very easy to manipulate. You're virtually spot-on about Mossad's involvement. The motivation, however, is quite different from what you have concluded.

Japan was not being punished for their reluctance to sign their country's finances over. All those obstacles were easily disposed of. The turn of public opinion against nuclear energy was not part of the plan, hence why the US backed Japanese government has completely ignored it. You're right that Israel's mutual interest in the disaster stems from their concern with Iran's nuclear program, but even this is incredibly complicated.

The execution of the man-made tsunami disaster was the decision of the Pentagon.

A little background: Since the end of the second world war, the victorious US set up the Liberal Democratic Party of Japan as it's puppet government through the CIA which continues to finance them to ensure their election victories. This has been relatively successful with the party holding nearly unbroken complete dominance in Japan. However, the puppet masters are not omnipotent and did not expect an electoral victory for the opposition, the Democratic Party of Japan led by Hatoyama.

As Prime minster, Hatoyama proved to be quite a thorn in the sides of the US and Pentagon as he made no secret of his desire to move towards Japan's independence from America and pursue better relations with their Asian neighbours, specifically China. As such, Hatoyama became the victim of much bullying and intimidation from both the US and within Japan. Peace is not part of the agenda.

After breaking his promise of relocating the controversial US base in Okinawa, he finally stepped down. He later went on to essentially admit he lied about his reasons for doing so. However, even with him out of the picture, the damage had been done. US-Japan relations had taken a hit. The US needed a way to regain Japan's trust and support and a man-made disaster was the way to do it. Ask yourself: who really benefitted the most from the disaster? America immediately put into action "Operation Tomodachi" (Tomodachi meaning friend, a name which makes me sick. With friends like that, who needs enemies?) and were able to come out the heroes in the aftermath.

Critics of American presence in Japan were silenced and now strengthening the Japan-US alliance became important again. The public was once again eager to support US bases in their country. All the garbage you hear about "deepening" the alliance is just another way of saying "Further integrating Japan into the American stranglehold". The new ambassador, Caroline Kennedy, a totally unqualified woman is another puppet for the purpose of sweet talking Japan. Why would America want to give up the alliance? They are quite comfortable right where they are with their hold over Japan.

The DJP now too has been ensured that it will not stray from US interests. It's now mostly a matter of convincing Japan to give them even more money for providing their "security". It is nothing more than a protection racket, and the people running it are no better than gangsters.

A lot of people were very disappointed in Hatoyama for what seems like lack of courage and resolve to stand up to the US government, but the man did the best he could. I have met the man myself and he is truly a good person. He has a family and in the end, he valued his and his family's life over politics. Had he continued down the path he was going, you could bet he would have ended up like Ishii Koki, another politician who delved too deep into the LDP's affairs and paid for it with his life.

Abe Shinzo, the current prime minister, is one hundred percent a US stooge. It's actually quite funny, at least from the perspective of one who knows the truth about the Japanese political world. He pretends to stand for an independent Japan while being completely subservient to his American masters. The US pretends to want Japan, Korea and China to get along and overcome their history, but that is the last thing they truly want, at least any more than is necessary. The controversial Yasukuni visits are specifically planned for the purpose of igniting anger with Japan's neighbours. If you trace the roots of most of these revisionist organizations in Japan that are making a fuss abroad, you will find CIA prints all over them.

A China-Japan-Korea alliance is practically the American government's worst nightmare. A unified Korea is also very bad for business, hence the North has to be carefully manipulated to cause a fit every once in a while. The Jongs are just like Osama bin Laden: A face for "freedom lovers" to hate and to distract us from reality.

The Senkaku dispute is completely manufactured. Had Hatoyama remained in office, he would have negotiated joint China-Japan control of the islands. The recent nationalization of them was done with the specific intent of provoking China and further scaring the population into supporting the alliance with the US, which succeeded as expected.

The ironic thing is that the US believes they are the puppet masters when in fact they are a puppet too. The oligarchic bankers are behind it all. Scum like the Rockefellers and Roschilds may be their face, but they aren't the whole picture by a long shot. We will never see the real puppet masters and they have no interest in public exposure.

The US's efforts to contain China will soon be blowing up in America's face, as the money they are using to support this massive military build-up will soon be completely worthless. The dollar is dying fast as on schedule. American exceptionalism is pure myth, just like the Pax Americana. America sold its soul to the bankers long, long ago and it's almost time to pay the price. It served its purpose and now they have no reason to keep going. Their empire will crumble into dust as the parasites are leaving it to the wolves and staking out their new host. This can be seen in China's recent economic reforms. While these sound good to the short-sighted, they are a part of the plan to turn China into an elitist playground of corporatism, much like the US is now.

China's time in the sun will not last of course, and with all of the great powers suffering from decimated economies, the path to one world government will be secured. While China is not totally infected yet, the bankers are gaining tighter and tighter control over the country, and unfortunately, the corruptibility of the politicians is making it very easy for them. China has been being primed for many years now. I really hope the Chinese people will find the courage that Americans never had to stand up to this system, but I doubt it at this rate. They are doing a very good job of making it look like they are getting more freedom when they are really moving towards corporate fascism.

You shouldn't take my word for all this. However, I hope I can inspire a few people out there to do some investigating. The trail isn't as invisible as one may think. Some good places to start are looking into what the US navy in Japan was doing on 3/10/11. Project Seal is no longer a secret. Do people really don't think that if the idea of tsunami weapons was deemed viable over 60 years ago, it wouldn't be even more so today? Current nuclear weapons make the ones used on Japan look like firecrackers.

The military industrial complex never stops thinking of ways to make more efficient ways to kill people, and that's where the majority of the money goes. There are plenty of explicit statements by the US government itself that weather manipulation exists. See the defense.gov April 28 1997 transcript of a briefing with defense secretary William S. Cohen, where he says that groups possess earthquake and weather manipulation abilities. If others can do it, the US military can do it far better. People need to stop treating this like science fiction and straight out confront the government and ask them if these technologies exist, and if they say they do not, then why have they said they do in the past? Then watch them squirm. Does anyone remember the missing 2.4 trillion dollars of military spending that Rumsfeld promised to investigate? No, they were too distracted by 9/11 the very next day. But take a guess where that money goes. I also recommend Anthony Sutton's work. He paints a very clear picture of Wall Street's sociopathic ways in setting up enemies and then profiting from the wars with them.

If I'm perfectly honest, I think that the Japanese, Americans, and the rest of the world really deserve what they get. You can only put so much blame on the bankers. It is all of us who are complicit and allow ourselves to be manipulated, mostly out of love for our flags, military, and whatever other silly things. However, this is my world too, and now I just want to live a peaceful and free life to reflect on my mistakes. And if I must die for telling the truth, so be it. It is better than living in such a world where telling the truth gets you killed.

I admit myself I have been complicit for far too long and I'm making my amends now. If just a few people can be inspired, then it will be worth it even if I am to die. It's too late to punish human trash like Zbignew Brzezinski, Joseph Nye and Henry Kissinger. They don't have much time on this earth anyway. However, Richard Armitage, Chuck Hagel, John Kerry and others like them can possibly still face justice yet.

At last, be wary of the gatekeepers and other controlled opposition. You are right to be wary of Rense. I won't name any names, but it is worth asking yourself why some people spout obvious silly lies while still occasionally getting some facts right. Do not let yourself be coerced into silence. If there is good in this world, then it must be earned by fighting for it. I can promise you the future is very bleak if we do nothing, and thus we have nothing to lose.
My Comment
Good, VERY GOOD. please note -
The full time internet connection to the heart of Fukushima went into Dimona and that was openly reported in the Jerusalem Post. Israel is 100 percent responsible for Fukushima, regardless of who set the tsunami bombs off and haarped up an earthquake. And even if that was done with American property, you can damn well bet that there was not a single main street American in the know-.
We all know who really runs things. And you said it yourself, but I would like to re-iterate that America is a puppet state the same way you said and I do not think for a minute there was any main street American involved in this. Thank you for this awesome e-mail, there is a lot of detail there I never knew which is easily proven accurate.
J from Illinois wrote Jim,
thanks for putting up that email you received from that source regarding the Japan Tsunami & all. He claims the filthy Pentagon is behind it and I would believe it. Was Mossad involved? Yes of course I imagine.
But his email provides some interesting angles & context. I don't know if Israel is up to quite as much evil as I had thought. I realize Mossad is sister to CIA basically so the criminal elements are still in cohoots.
Who really, really ordered the nuke tsunami? did they know it would do what it did to Fuku? how could they have 'known' this would be a direct result of the tsunami (the fuku disaster, that is)?
WHO Is BEHIND ALL THIS TREACHERY, JIM?
Godspeed, brother.
j.
illinois, usa
My response:
"WHO Is BEHIND ALL THIS TREACHERY, JIM?
First of all, just from seeing the actions of various Jews, we know full well it all goes back to the same root. I have had many tell me it´s the Masons, but I have sat inside the belly of the monster and know damn well the Masons are puppets themselves. My time with the Jewish community makes it all irrefutable and I don`t really care about the guesses of others after having been there.
One clear area that shows it is them and only them, all by itself is computers and this is a small area. Google owners silent suck up to the NSA? JEWISH. Facebook owners? JEWISH, and after the Jews got ahold of Yahoo, they immediately destroyed Geocities, which had by far the best cache of truthful historic and scientific data in the world burned by the destroyers of history just like the library at Alexandria. A full 40% of the web died when they killed Geocities, and you don't do anything like that as an economic choice, it was a clear act of war.
And what about Bill Gates? He takes the money from Microsoft and uses it to fund sterilization campaigns against the third world via "philanthropic vaccine programs" and when I discussed this exact point with the Jewish community, the wife of the Rabbi specifically said, YEP, AND THIS IS GOOD. HE IS A BILLIONAIRE, GOD GAVE HIM THAT MONEY BECAUSE HE IS DOING THE RIGHT THING AND I SUPPORT HIM ENTIRELY. That attitude prevailed throughout the community - there is no doubt whatsoever who is behind ALL OF THIS and even low level people within that community know a HELL OF A LOT MORE than ANYONE would ever guess.
True, as the writer said, Japan is totally controlled by the CIA, but when that itself was a Rothchild creation from the start, it is not really America controlling Japan. It all traces back to the same root of evil.
I went through a fairly large disaster
I am going to let go of a little secret. The business I talked about to become self sufficient and not need donations was a cancer care center. Claudia and I had scraped together enough cash to purchase enough medication for complete therapy on 8 people, and we ordered it from overseas. We also had plans, with the proceeds from these 8 people, to order a mass spectrometer, centrifuge and high performance microscope. We used some of Claudia's money and also some of the donations to order the medications. The procedure we had was endorsed by the Mayo Clinic as the most effective method of curing cancer, and this method is not used by mainstream medicine or even the Mayo Clinic because it is simply too effective and too cheap for them to profit from (and they admit it on their own web site, belive it or not.) Our cost would have been 12% of the cost of normal cancer treatment in Mexico.

The overseas vendor was awesome, and totally upheld his end of the deal. The problem happened when it got to Mexico. For now, I am not going to say what we ordered, but it is unconventional and can still be called chemotherapy (but it won't make your hair fall out or shorten your life). Most of the warnings about this from the Mayo clinic consisted of statements that if you do not manage it properly you will cause an over burden of dead cancer cells in your patient's blood and kill them by overloading their organs with too much dead tissue to filter out. However, it is pretty simple to avoid this simply by carefully measuring medications and asking questions about how people feel. It is entirely possible to avoid problems with decent lab equipment such as the mass spectrometer, centrifuge and microscope I mentioned.

Anyway,

The problem was NOT with the overseas supplier, and it was NOT with the Mexican government. The problem was with the shipping company, which once it knew what we ordered, they basically held the package ransom and refused to process the order and began charging us $1,000 every two days to "store" the package, which only weighed five pounds and was less than a foot square. I believe this was done because they knew we would pay practically anything to get that package. They were wrong. We went broke just ordering it and were forced to abandon it in customs. It really screwed us. The shipper blamed the Mexican government for the ridculous storage charges but I think it was a screw job (as well as every other Mexican we have told this to) and when we get to the bottom of this, if it is not exactly as the shipper stated we are going public with names, the shipping company, the WHOLE STORY.

Our first client, who knew what the package was burst into tears when she heard what happened, and her mom was forced to go into radiotherapy, the only other option. This was a major screw job. We will be talking with her on Saturday and attempting to get enough for her mom through other avenues. We have told her the exact chemistry to allow her to seek it herself if she is able.

I had intended to be independent of donations at this time, but because this happened the income stream never materialized and I still need help with donations. We are now working on an emergency backup income stream to become independent of donations a different way, but I still need help, and any help will be greatly appreciated. I am obviously not going to say what the new plan is because there are just too many people trying to screw with us over this web site, and I am not certain what happened to that package was not part of this as well.
I have really taken a lot of heat for this web site, especially the Fukushima report and still need donations, your help will be greatly appreciated.
I apologize for delaying the shipping of the last 3 printed fukushima reports (which are printed and ready to go) but they would have already shipped absent this latest stupid road block (they are expensive to ship.) No matter what, they will ship eventually, those who ordered these three have not been forgotten.
Absolute Supremacy
If you work for the Government, what do you get for destroying the lives of tens of thousands of innocent people and destroying as many families? three to five years
If I was the judge I'd have had this woman dis-assembled one cell at a time and sent out through the exhaust stream of a 747. But when they are all part of the same corrupted clan, you cannot expect any real punishment no matter how big the crime.

Most galling to me is how the pictures clearly show she is only sorry for herself and can really care less about those she destroyed.
Farganne wrote:
"since you are connected with wealthy mexicans"

My response:

I am not really associated with wealthy mexicans. They were associated with the church of Scientology, which I am not associated with. All I did was observe. My less wealthy mexican friends (who still have cars anyway) confirmed that everyone who was a scientologist had been there when I was there, and all were in very good shape, quite a few of them very wealthy.

All I did was install a theater and make a few friends. I will not be a scientologist, partially because I don't want anyone to try to "fix" me. If that's their gig, fine. They all seemed allright.
Comet Ison may have exploded
We will get the answer in a couple days, if it appears from the back side of the sun.
Nasa noticed a sudden two orders of magnitude falloff of Comet Ison´s brightness. Though there are no hard answers right now, Nasa has guessed the comet may have exploded. It would not be impossible for this to happen, because comets are usually small (Ison was approximately 3 km in diameter) and because of this they can heat up significantly in a short time. If on approach the core had a high concentration of liquid nitrogen or a solid gas such as carbon dioxide in a solid form, the heat from the sun could create enormous pressures inside the comet as the gasses vaporized, and blow it apart.

If Ison did indeed explode, it could have easily created hundreds of meteors two hundred meters across, or a smaller number of larger pieces, - pieces which now have a different trajectory than they once had. It is possible that one of these pieces will hit earth, though it is not likely. Obviously the wrong piece could end up being bad.
A couple persistent Fuku questions
I have received repeated questions about Fukushima, mostly centering upon whether or not the Pacific is destroyed. In a word, NO. Will the Pacific coast remain safe? In a word, YES. HOWEVER -

Reactors 1-3 were put to full thermal output from Dimona Israel via an internet connection installed by Magna BSP. Reactor 3 is missing entirely, and whatever remained after the blast is no doubt fissioning in the water table. Reactors 1 and 2 are totally hollow shells with nothing left in them at all, having completely melted down. All of this happened with the control room readouts remaining normal, as Stuxnet is designed to spoof. So to this day the engineers at Fukushima cannot get a good look at what is going on, the infected controllers are too radioactive to approach and scan for viruses so there is no doubt Israel got away with this scott free for as long as the Fuku engineers remain in the dark about this.

The area around Fukushima is permanently destroyed. Some sources have said that fuel pellets from reactor 3 have been found up to 30 KM away. I sort of doubt this, my guess is it all fell within five kilometers but then again, the fuel is more robust than any bullet and how hard can a nuke throw things? One thing cannot be denied - the remains of reactor 3 had to be taken care of via remote control and robots, and this fact never made it into the ziopress. It's certainly a lot worse than anything CNN will report.

The Pacific is not destroyed for several reasons. One of them is the fact that for millions of years almost all of the reactor cores will sit where they are right now, that material is not all getting put in the ocean - in fact, only a fraction of a percent will ever be there (short of what reactor 3 put there during the blast, which was a lot).

Another reason why the Pacific will not be destroyed is the fact that it is just too much volume to contaminate seriously with only three reactor cores. The U.S. did a large number of atomic tests out in the Pacific, many of them using up to a thousand pounds of enriched uranium and it did not wreck the ocean. I would estimate that at a minimum the U.S. blew up a total of at least 20 percent of the total volume of radioactive material in the melted down reactors during past atomic tests out in the Pacific, and it cannot be measured now. And Tsar Bomba which was lit off by Russia contained approximately 5 percent of the radiological potential of the reactors out at Fuku and released it all into the environment in one big blast. The area is not dead now (though it was significantly fried at the time).

The ocean happens to be an ideal sink for radioactive waste. One key factor is that even gamma radiation cannot penetrate more than two and a half feet of seawater. Water itself is a radiation shield. This will serve to enormously squelch any damage Fukushima does to the ocean and certainly people living on the coast will not get anything measurable from the sea even while swimming in it. If it was open air, where gamma rays can travel miles, well, that might be a different story.

The final thing that protects the ocean from damage is it's depth. Since any contamination that goes into the ocean will end up getting dispersed in a column of water that is miles deep, there will be no concentration zones like there would be on land. The ocean will remain absent any hot spots. On land, the radioactive materials will all end up in river beds eventually, which are two dimensional when compared to the ocean and very poor radiation shields when the rivers run dry or low. That will be a much bigger problem, and is possible in the North Western United States, Western Canada and obviously Japan. But since the fear mongers out there have the job of making you fear bullshit, they talk about the ocean and not the real potential problem areas. If I was camping in Idaho, I would not pitch the tent in a dry river bed. Chances are it would be safe, but absent a geiger counter I would stay away. And obviously Japan would be worse.
I was completely right about Benghasi
In my original Benghasi coverage I stated the consulate never existed and the event never happened and that it was all just a CIA stunt to frame Arabs as terrorists. Looks like I was right.
CBS apologizes for airing fake Benghazi eyewitness: `We Were Wrong. We Made A Mistake` CBS News apologized this morning for airing the accusations of a now-apparently-fake Benghazi whistleblower, Dylan Davies.

Davies is the author of a new bombshell book accusing the Obama administration of massive security failures leading up to the fatal attack on our consulate in Benghazi, Libya in September of 2012...

Or at least, that's what Davies told 60 Minutes. What he reportedly told the FBI is another story entirely.

Benghazi attack "witness" Dylan Davies told FBI he was nowhere near the attack

According to a blockbuster story last night from the New York Times, Davies told the FBI that he was never anywhere near the US consulate in Benghazi during the firefight. He told the FBI that he didn't get to the consulate until the next morning, long after the fighting was over

And now that we have a witness as a confirmed liar, I am saying it again - THEY ARE ALL LIARS, THERE IS NOT AND NEVER WAS A CONSULATE IN BENGASI, AND AMBASSADOR STEVENS NEVER GOT A FUNERAL.

After I pointed out Stevens never got a funeral, a fake "memorial" was hatched in California. But NOT A FUNERAL BECAUSE IT NEVER HAPPENED.

What we had in Bengasi was an "attack" on a house the CIA was renting to front their false flag B.S. on the Libyan people, NOTHING MORE.

Read more about the B.S. whistleblower HERE And after doing so, consider this - Here we have a high profile Benghasi witness flushed out as a total liar. My guess? Benghasi was nothing more than a Sandy Hook, where the CIA rented and burned the home of an innocent Libyan to stage a line of B.S. to feed the press with an "arab spring" and subsequent bag of lies fronted by many people for the purpose of occupying the press with something fake and irrelevant while the nation was gutted from within.

There is not and never was a consulate in Benghasi. To this day, the state department web site PROVES IT. If an ambassador died, SHOW ME THE GRAVE - or was he "buried at sea" along with Osama?
And remember, I called them on this B.S. over a year ago!
My final comments about Scientology
This web site is not about Scientology, so this response to a mail from Farganne will be the final comments.
All I can say is that the Scientologist who corrected my report went into extra detail. What she said was that after two weeks of antidepressant usage, people never register on the e-meter for the rest of their lives, not the 9 months I talked about.

Also, prior to this I never said people were completely destroyed with certainty, what I said was that some got hit harder than others, while others remained resistant to long term exposure. I also for certain have said that I have known people who have taken low doses of zoloft for 10 years and fully recovered, so the damage is dependent upon the individual, what they were put on, and the dosage level.

I simply repeated what the scientologist told me - that the e-meter won't work anymore. How would I know differently?

Also, I got another correction - if you have been seriously damaged by antidepressants you can be a scientologist but you cannot be audited which is essential for progressing to the higher levels because the e-meter will not work, not ever. It is a really good device for testing whether or not people really go back to being themselves. If you are in doubt, go to a Scientology church and ask to be pinch tested. All you do is hold the sensors and they pinch you. If the correct reaction shows up on the meter, you are probably OK. If you allow them to ask you a few simple questions while on the meter, they can do a better test. These will be things like "what color is your favorite" or who do you love the most. Things that will cause an emotional response, which can be read.

Furthermore, don't hold me accountable for simply saying it the way they said it. I myself am not a scientologist, and my previous antidepressant report stands as it is. If anything they said contrasts with what I have said in the past, it does not change what I said in the past. I always said that there are those who have been on antidepressants and have recovered, but with that in mind, people will sometimes survive a plane crash.
A very concerned letter about scientology
I received a very lengthy and concerned letter about scientology. Because I doubt much of what is written in it, I am not going to post the letter. However, I will say that I really appreciate the concern expressed in the letter and want to repeat clearly I am not a scientologist, I am not interested in joining Scientology, and the report which follows my response to this concerned individual is simply a purely objective report.

My response. I appreciate your lengthy letter and obvious concern.

All the people I know in Mexico who are scientologists were scientologists as children. From there they went on to succeed and live far above the level of the average Mexican. The story is the same across the board, even people not associated with those I know have factories they have had for over a decade down here and got them after becoming scientologists. Many of the scientologists in this particular community are millionaires and even those who are not live far above the average Mexican level.

Like I said, I am not a scientologist. I have friends who are, and they were putting in a new church. So I volunteered (YES, VOLUNTEERED) to do all the electrical and some of the structural work for a theater they were putting in. So I got to get a good look at what was going on. These are not brainwashed crazed nutcases. These people are totally with it and above board.

I am not into reporting what is convenient or stylish, I simply say it like it is. And I am not a scientologist and will never be one. HOWEVER, if I knew of someone who was considering going on antidepressants I would kick their asses through the front door of that church just to save them, there is no future worse than an SSRI, and I don't see a bunch of mind wiped losers walking around the Scientology community here.
In response to the Scientology article, Farganne wrote:
"I have a question:

"You can see it on TV, in Hollywood movies, in the news, EVERYWHERE, scientology is arguably the most elite hated religion out there."

Then why are Tom Cruise and John Travolta such high profile scientology acolytes? "

My response:

That's the same as asking why Mel Gibson survived producing Passion of the Christ.

Once people get up to a certain level they can't just be destroyed. As far as Tom Cruise goes, Oblivion was in my opinion by a huge margin the best and most eye opening movie ever made. The elite ziopress shilled it into the ground, even though it totally exceeded the Matrix as far as a message goes, and The Matrix was revolutionary all by itself.

If you want to see a Scientologist's view of tyranny, watch Oblivion. They really do think of governments like that.

Oblivion plot:

An alien harvesting machine called the TET, which was equipped with a near godlike intelligence was sent to Earth to steal the oceans and other resources. It destroyed the moon to destabilize the planet and make us less able to fight.

It kidnapped two astronauts that were in outer space and cloned them to make an army, which returned to Earth to destroy mankind. The people of earth were stunned to see two people who were well known heroes be cloned by the millions for the purpose of destroying mankind. They succeeded.

The movie starts out with a pair of these clones (man and woman) who had been programmed to believe they were ridding the world of the last remnants of an alien invasion, when the aliens they were killing and fighting against were in fact the real people who lived here to begin with.

If you ever wanted an example of good people being deceived into doing the worst evil, while believing they were doing good, Oblivion is IT. There is a good reason why the elite hated and shilled that movie so badly in America. It's a perfect reflection of how the elite are using the good people among us to destroy other good people.

It shook me for a week, I was not normal for a full week after seeing that movie and even today I don't want to see it because it was so damn disturbing. It was an awesome movie in and of itself as well. The fact that it got shilled so badly in America is not only rooted in the Scientologist like message of good people being used by power to accomplish evil, but also in the fact that Cruise is a Scientologist.

I guess when all is said and done, ANYONE who is not Jewish and in the movie business nowadays is at a severe disadvantage to begin with, while also facing the threat of character assasination for not pulling the zionist lies along. Only the best can make it in that environment.
In response to the scientology report, a Scientologist said the following:
"You are wrong about the Church of Scientology turning away anyone who has done psychedelics or SSRI's. Anyone is welcome to receive courses in business management or other courses we offer. We will provide help to these people.

What we will not do however is audit people with an e-meter and allow them to become scientologists, because they don't usually register at all, and if they do they won't register normally so it is impossible to audit them. Most people who have taken SSRI's or other modern psychiatric drugs are flatlined on the e-meter, we can't get a reading so we do not know if they are really here to do us harm."

Many of the people here have seen the antidepressant report, and I was almost shocked (while not being surprised) to hear that people who have taken SSRI's are usually flatlined on the e-meter even years after stopping SSRI's because FLATLINE IS EXACTLY WHAT I SAID WOULD HAPPEN TO THEM, based on my own research. SEE THE FOLLOWING GRAPHIC, which is part of the antidepressant report:
Headline: E-meter confirms people who take antidepressants get destroyed the way the following graphic shows:
As stated in the original antidepressant report, after approximately 9 months of antidepressant exposure so many neurons die that there is never a full recovery. Many people flatline emotionally forever. That is why the e-meter can't get a good reading on people who have taken SSRI's in the past (when the damage is permanent, which is virtually always) and since they are clipped out while on them, the e-meter cannot get a reading at all on people who are in the process of being destroyed by antidepressants.

This is proof positive that I am exactly correct with this graphic, which shows the progression of neuron overload under the influence of an SSRI. Antidepressants simply peg your emotional neurons to the max until they burn out forever, SSRI's are by far the worst drugs ever made. They produce the most destructive high you could ever go on. These drugs should clearly be flatly illegal and they get handed out like candy - an obvious act of war on the people. Many many innocent people know exactly what it is like to be stoned to the max like the worst druggie on the highest high while not even realizing it, because the drug dealers were a pharmacy and a "counselor".
The scientologist who corrected me on what is said below also said the following:
It was innacurate when you said that people in the government are not allowed into scientology, and that all government employees are banned. What we are concerned with is intelligence agencies and naturally evil people. For example, If you are a tax collector or work for any tax collection agency, which amounts to a theft from the people, you cannot be a scientologist. If you work in the media and are a bold faced liar, you cannot be a scientologist. If you are in the business of killing people on the battlefield, you cannot be a scientologist. If you work for clandestine black projects, etc, you cannot be a scientologist. There are people who work in the government who are scientologists, but believe me, they get the run down before being allowed in.
The Scientology E-meter is 100% legitimate
Jim Stone, Nov 26 2013
Permalink
I am not a scientologist, but I have looked into this. And I have actually (recently) been asked a few questions while on an E-meter while being allowed to watch the needle and can state with certainty that the device is extremely stable and actually works.

Scientologists use the e-meter to clear bad hidden memories or "engrams" with the end goal of removing all bad engrams and leaving people in a state which is uninhibited by past hidden memories that limit their ability to perform rationally. I have my doubts that a state of "clear", in which all bad engrams are removed thus allowing application of un inhibited logic to dictate reactions and responses can be achieved and maintained, but I do believe they are onto something legitimate and are far better than any shrink.
It is my guess that the e-meter functions by applying a high voltage which is far beyond the breakdown voltage of skin at a very low current, and measuring changes in electrical flow through the body that are triggered by thoughts. There are several phases of thought you go through with each thought, and if you are lying it can be clearly seen on the needle because it affects the way the phases of thoughts transition. This can clearly be seen on the needle. The e-meter by itself does nothing, it requires a skilled interpreter to see the peaks and valleys in your biological resistance and determine what they mean. It was obviously accurate, because the interpreter was standing in front of the e-meter telling me what the needle would do next without touching the e-meter at all when I was questioned. It followed the interpreters predictions exactly, and no matter how I manipulated the sensors called "cans", nothing I did could fool the machine into displaying a false reading.
I was able to get ahold of decent pictures of the circuits in a Mark 5 and a Mark 7 e-meter, and can say that the calibration potential in even the Mark 5 exceeds the possible precision available in the best of what the NSA had for signal electronics. There is no doubt that even the Mark 5 is a precision device. The Mark 7, which I was able to test the stability of by squeezing the "cans" is an order of magnitude better, with 11 20 turn calibration potentiometers for a single signal path. That's unheard of in my experience, the best I ever saw at the NSA used 5 per signal path, 11 for a single signal is unbelievable. And it gives the e-meter an ability to shrug off all lies, it's simply too stable to fool.
I looked into this simply because the elite hate scientologists so much
You can see it on TV, in Hollywood movies, in the news, EVERYWHERE, scientology is arguably the most elite hated religion out there. And there is a reason. It's the fact that Scientologists use government level top notch lie detectors for practically everything, to keep infiltrators out. They routinely boot the CIA out and catch and remove infiltrators almost as a routine. Since the CIA has a goal of infiltrating and destroying all but one zionist religion, the fact that Scientologists have a device which functions as an immune system against invasion makes them absolutely hated by the powers that be.
I was also able to conclude that Scientology is in fact not a cult
Another major reason why the elite hate scientologists is the fact that the people who are members are typically wealthy and influential people. And unlike what you are told, they are not slaves to the religion. Scientology for the most part is funded by donations from wealthy members, and the members stay wealthy. These people own businesses, run private schools, are doctors, engineers, etc and not just preying on lower scientology members. In fact, the funding that comes from the wealthy members in the form of donations is so top weighted that it appears the poorer members get a free ride.

Most people have heard that scientology has slave workers trapped in a cult. That is the lie Hollywood and the MSM tells, (as usual)and I'd like to ask people why they know Hollywood and the MSM is lying about 9/11 while believing these same liars would tell the truth about anything else? Over the last two weeks I had the job of installing a theater in a scientology church and got to know some of these volunteers, who account for a whopping 5 percent of the total scientology community.

They could be compared to volunteers who work for any religious organization, be it the Salvation Army, the Catholic Church, or any of the other Christian denominations. They work hard but are treated well. Their needs are cared for very well. And they choose that lifestyle because they see the good in what they are doing and the results it has on society.
What do volunteers do?
You might find this eye opening. Many people know that the Salvation Army has an enormous drug rehabilitation program, staffed by volunteers. The Church of Scientology does also. And arguably the biggest thing the scientologist volunteers do is provide alternatives to modern psychiatry.

Scientologists are fighting the flu vaccine and other damaging medical practices harder than any other group, which makes them a target of elite hatred. They actually took my article "tainted nightmare", ran it by their own people and released a modified version to be distributed church wide years ago, shortly after I published it. They all know, as part of the religion, that the world banks are the enemy and that most governments are rotten to the core, so much so that you cannot be a soldier or other government employee and be allowed into the church as a member. Unless you are something like a fire fighter, working for a government which by default is virtually always evil and oppressive is too big an evil to be accepted.

Scientologists also refuse any people as members who have done psychedelic drugs or have EVER been prescribed a psychiatric medication such as antidepressants, because they are fully aware of the fact that those types of drugs do permanent damage that can never be recovered from and that once you take them you can never be truly stable or "yourself" ever again. They are also front runners in the fight against psychiatric procedures such as electro shock therapy and the bogus "counselors".

And they have a point - if a "psychiatrist" lacks a basic tool such as an e-meter to find out what is really going on inside someone, if a psychiatrist sits in a chair and declares you to have a mental illness outlined in a book most people with common sense know is b.s., and then blows someone's brains out with an SSRI without having even basic diagnostic tools, it makes them quacks with the ability to destroy. And destroyed people who have lost themselves are exactly what the "elite" want the masses to be composed of, people who are too confused, drugged, wiped out or otherwise damaged to set their own paths and destinies. The elite want you to watch what is on a screen and OBEY.

Certainly it would be better to talk to someone who has a machine that knows if you are being honest with yourself, who can therefore keep questioning to the root of a problem and address it and actually make you able to live your life (if you really are that messed up) than it would be to just take a pill on the advice of a shrink and solve the "problem" by blowing it away along with everything else inside you, would it not?

I am not a scientologist. I will never be one. However, I know who the enemy is, and it is not them. And before writing this I took a look at some of the shilling hatred against them on the web. It's all B.S. The shilling hatred mostly focuses on the volunteers and how they are trapped in a "cult", and get driven to destruction by forfeiting all their assets to the church.

Folks, this is a bold faced lie. A BIG FAT LIE. It simply does not happen that way. I saw all the members in this community, and they all have outside jobs, businesses, good cars, IN MEXICO. Do you know what part of the social strata you have to be in to drive a Lexus in Mexico? And there are no slaves anywhere, they are just normal people attending a church that has a couple volunteers, who ALSO HAVE A CAR IN MEXICO. Believe me, if you have a car in Mexico you are NOT a slave, and in this case the personal car the volunteers have is church provided. And the theater? It had 3 Bryston amplifiers, 4B SSt's, a whopping $5,000 U.S. EACH. The scientology community in this town in Mexico is the first group of people I have ever seen in Mexico that ALL HAVE CARS. THAT is a positive anomaly that makes the lies against them being "slaves" completely transparent.

This cannot be possible in a cult that destroys it's people, if you think the Church of Scientology is a cult you have been badly fooled.

sure - the E-meter in my opinion could cost less and looks hoaky. Sure, they sell lots of written materials to members, sure, they are the kings of glitz but it actually produces results, there HAS TO be a reason why their membership is composed of the top people in this society and I would hedge my bets that it is because the church provides guidance to it's members in all aspects of life including business and what it takes to get ahead. These people are not suffering, that much is certain.
And when it comes to the e-meter, I am among the most qualified out there to say it is completely legitimate. I actually understand what makes things work, and there is no doubt the e-meter is exactly as represented. The shillage regarding this device and the rest of this organization is really really thin.
They let a large number of non damaging mails through today
Nov 25 2013
They backed off on the censorship for a day and only threw the most damaging stuff away, or so they thought. Let's see if I can get back to full censorship with my response to the following:
Dear James,
I've been slowly working my way through your amazing Web site, article by article – I'm sure I speak for many people when I say thank you for the risks, time, intelligence and effort that go into making it possible. I'm in a precarious financial situation currently, but as soon as I get out of this country, I plan to make a donation.
Anyway, among today's reading was "Yesterday's tornados a work of evil?" which got me thinking about a tower, allegedly for cell phone communications, that I'm aware of here (El Salvador), as it's located on one of the highest points in this country on a coffee farm I helped to sell – the tower was excluded from the sale.
In light of your article and my grandmother's predictions that a massive earthquake is coming our way next year, I'm wondering if its real purpose is different, especially given the tiny size of this country. I've lived through the 1986 and 2001 earthquakes and the latter are rumored to have been man made (madman made).
I know you get a lot of mail, so no need to answer this one, except maybe a quick "received" to let me know if it reaches you. One of my children who uses Hotmail reports that safe-mail.net gets routinely sent to his spam folder, and for some reason I have been unable, from this country, to set up a GMX email account -- always get a "try again later" response.
Hope you can stay safe,
Ren.
My much needed update on this topic and response:
"They" have definitely used their earthquake machine repeatedly, and I have felt both it and natural quakes. Let me start by telling you the difference in the feel -

I have felt several natural quakes. And they have the same feel to the shake as riding in a 4 wheel drive truck over rough trails. Natural quakes have sudden jolts and bounces at random intervals and you can't guess what will happen next. CONTRAST:

I also experienced the totally FAKE man-made Chiapas quake, and it felt completely different from a natural quake. It felt more like being aboard a perfectly smoothly accelerating jet taking off of a smooth runway. It's pure acceleration with absolutely no bouncing. A creepy liquid gooey dizzy feeling. YOU CAN FEEL THE DIFFERENCE between a natural quake and the earthquake machine VERY EASILY.

None of the natural quakes ever made me feel like I would get motion sickness, but the fake quake did. It first accelerated West, then South, then back East. And like I said, there was absolutely no shaking our bouncing, it was perfectly smooth fluid motion.
How can you tell it was the earthquake machine, in solid concrete terms?
The most obvious for me was the feel. The second most obvious is that the earthquake machine somehow pulls on the surface of the earth, so any quake made by it registers at 15 KM depth or less. Typically they register at 10 KM depth. Natural quakes do not do that. Natural quakes are virtually always 50 km or more down, up to 700 km. On rare occasion they can be at 25 KM, but NEVER at 10 KM. The Japan earthquake was measured at 10 km depth, a dead giveaway.

Another obvious indicator it is a man made quake is lack of seismic damage per magnitude rating. Since the earthquake machine has a smooth pull and virtually no bumps or shakes, damage totals have been (from all the observations I have made) a full magnitude less than natural quakes. That is a very key indicator. AND FINALLY
As shown with the advertisement for the state wide Chiapas earthquake drill, The 20 March 2012 Chiapas quake coincided TO THE MINUTE with an earthquake drill for the exact same quake of the exact same magnitude, at the exact same location President Obama's daughter was vacationing at the time. How can you have an earthquake exactly matching your drill scenario, with the exact same magnitude happening at the exact same time as your drill?
There is little doubt the powers that be did it to threaten Obama. Since the drill had everyone outdoors near the "epicenter" at the time the "quake" happened to match the drill, only a few hundred people died even though thousands of homes were destroyed. And Obama's daughter was safely outside while the threat was delivered because of the drill. Interesting it is that so many other "terror" events have coincided with drills, which made this particular "coincidence" an OBVIOUS one, So if you do get hit by that earthquake down there in El Salvador, all you have to do is pay attention to what I have said here to know if it was an act of war or not. Check the magnitude and compare it against damage. If the damage is less than the rating for the quake, that's an indicator. Pay attention to how the quake feels. If it's a smooth ride absent any bumps and jolts, like accelerating in a jet at takeoff, that is another indicator. And most importantly, if it is at a depth of less than 15 KM, that's the smoking gun.
For reference, the Chiapas report follows:
This was my initial report of the March 20 Chiapas quake
I felt the earthquake in Mexico city, it happened at high noon.
I was in a Starbucks next to the Sams Club in the Santa Fe district of Mexico City. The quake lasted about 20 seconds, and whatever the magnitude, people gawked at the swaying buildings. SO, tie whatever magnitude this was into the Tokyo footage on 3/11. This swayed buildings and flickered the power. How much does it take to sway buildings and cause power glitches? At any rate, I was unimpressed with the 3/11 Tokyo footage.

Ok, I got the details, it was a 7.6 in Oaxaca Mexico, on the coast about 500 km away. My guestimate of the magnitude in Mexico City is that it was about a 4.5 - 5.0 at this distance. It felt like accelerating back and forth, and from the feel of it I would say the earth had to have moved 10 feet back and forth but it was not a violent movement. It disoriented drivers, after evacuation I saw a guy on a motorcycle talking to a cop, and the cop was sort of laughing, re-assuring the rider he was not delerious.

Hmm, a 7.6 500KM away swaying buildings and flickering power. Remind me, how big is Japan? No seismograph on 3/11 registered anything higher than a 6.67, consider that. What happened in Mexico today was much bigger. And the construction here is not that good, so I think there may have been a disaster at the epicenter, though everything is business as usual in Mexico City.
March 20 Mexico quake verified MAN MADE
A reader sent me a mail with a link to a report by Dutchsince, which claimed that the march 20 quake in Mexico was man made. I was skeptical, but then took a look at his report which documented that a very well planned and advertised earthquake drill matching the exact same scenario at the exact same magnitude at the exact same time had taken place. If you look at what I said in my initial report - it felt like accelerating back and forth, not a violent movement, and in mails I also added that it had no vibration of any sort. This matches the descriptions of the Fukushima quake that came out of Japan. Furthermore, if you read my mails from Japan, in there my writers said that all the quakes were happening at a depth of 10 KM and because of that, and the way the quakes felt un natural, they believed the spate of recent quakes in Japan were from an earthquake machine, the existence of which is documented in the Fukushima report. Well, the USGS said this quake happened at a depth of 10 km, which matches Japan exactly. Usually quakes are much deeper, and this similarity with Japan is suspicious ESPECIALLY CONSIDERING
THIS!!!UPDATE: LaVoz Del Norte pulled the article about the drill but I have a backup (linked below)
To Lavoz Del Norte and others who will bury the facts when they are inconvenient, Now you know what will happen on this site; (explanation to readers on the next line . . . . .
Note - The newspaper La Voz Del Norte, which posted this article has banned all access to it and all others on their site related to it. SO,
. . . . . . After a while in this business of busting lies and cover ups, you learn to do that!)

This text article is dated March 13, and verifies that indeed, this quake HAD TO BE man made and that the graphics for the drill, which the article speaks about are not phony.

It is verified truth the quake in mexico was indeed man made, the depth, which matches the suspicious quakes in Japan, and the fact it coincided with an earthquake drill matching the exact same scenario puts it over the top into the false flag terror category.

Many of my readers are well read enough to know that on 9/11 there was a terror drill covering the EXACT SAME SCENARIO happening nationwide, including at NORAD, which caused them to fail to address and react to a very real situation, and the London train bombings, where the same thing happened. Now that terror in the name of Arabs has failed, they are attempting a new approach - terror in the name of the environment. You would think they would come up with a different bag of tricks, the whole "drill coincidence" theme is getting a little obvious. I made good and sure I got the real info from the real source before posting this, and now, I applaud Dutchsince for the WONDERFUL work!

And now, since this is proven, I am going to make a real good guess. I would be willing to bet that a gravity wave, or gravity machine has been invented. This would be prime for triggering earthquakes, because if you could put a gravity pull on the crust of the earth, in a direction other than down or up, it would indeed move the earth back and forth the way I felt it. I think that is what we are witnessing here and I would bet 500 pesos the Mexican government was not in on this particular joke.

___________________________________
A quick note to David Dees,
Nov 23 2013

There is no doubt that there was no major earthquake in Japan and that the tsunami was nuclear. Anyone can certainly drive that home. The evidence in the youtube videos is staring you, me, ALL OF US in the face. How can anyone look at the evidence and not see this undeniable truth?

I know I have been back stabbed and called a psy op. I ask anyone who thinks so to re-consider, HOW CAN YOU PSY OP EVERY TSUNAMI VIDEO THERE IS? HOW CAN YOU EXPLAIN HOW YOU COULD ALWAYS STILL BUY THE LATEST NIKON, CANON, AND OLYMPUS CAMERAS ON SCHEDULE WHEN ALL THOSE BRANDS ARE MADE IN SENDAI, THE CITY AT THE EPICENTER? THAT ALONE IS PROOF OF NO 9.0, Japanese manufacturing would have taken two years to recover from a real 9.0.

The truth is staring all of us in the face, it really was that blatant a screw up. People really do trust so blindly that they swallow everything in the MSM hook line and sinker. The Japan earthquake lie is so transparent that those who sit there and say the quake was real after seeing widely publicized news feed showing absolutely no quake damage before the tsunami, after buying Japanese products with absolutely no delays in manufacturing because the tsunami could not reach the manufacturing facilities and the quake never happened as stated,IF ANYONE SITS THERE IGNORANT AND LYING IN THE FACE OF SUCH OBVIOUS EVIDENCE AGAINST THE OFFICIAL STORY THEY HAVE GOT TO BE THE OPPOSITION,

I know you and many others depend on Rense. I have a question - Can the truth survive it? Alex Jones at least told a partial truth. WRH at least told a partial truth. Natural News told the whole truth along with Henry Makow and Ben Fulford, both of whom Rense whacked over this. I have another question - If Rense will sit there and lie and obstruct this truth, can he be trusted to tell the truth about getting threatened with losing broadcasting rights over this? Can he be trusted to tell the truth about Makow or Fulford?
HELL NO, and it is high time for people associated with Rense to wake up and see him for what he is - FAKE OPPOSITION with nothing but Fuku lies and fake cover of credibility Jew stories that are ancient and do nothing to address the current situation - a nuclear rogue Israel fronting nuclear blackmail on all nations to get huge payouts to bankers. That is the new modus operandi of the zio front world banks - to threaten all who do not submit to financial slavery with epic man made disasters and nuclear armageddons, and Israel is their front company for getting the job done.
You cannot really blame the nuclear engineering communities for being rock stupid about Fukushima and under-stating the threats when people like Rense, who actually have a voice fail to use it to alert the world to how bad Fukushima really is, IN REAL TERMS, AND NOT BECQUREL BULLSHIT THAT SOUNDS SPOOKY AND MEANS ABSOLUTELY NOTHING TO PEOPLE WHO ACTUALLY KNOW NUCLEAR TOPICS. I'd drink a thousand bequerels per liter per hour for a little refreshment on a hot day ANY DAY. Anyone going in for a PET scan gets thousands of times that dose.
Dear Rense
When you FINALLY get a shred of honesty that might cost you your toy train, even a little thread, a gossamer spider web thread (strong enough to hold the sentence) why no earthquake damage before the tsunami? I might think you are fighting the good fight.
Come on now Rense, HOW HARD CAN IT BE? JUST WATCH A DAMN YOUTUBE VIDEO. WATCH THREE AND LOOK - IT'S OBVIOUS.
Until then, go to hell with your lies about your broadcasting rights, about why you really booted Makow and Fulford, and about why you still continue to lie about even a most basic thread of truth regarding the Japan disaster. There is not an ounce of truth on your site regarding this - where the hell are you? You are the biggest truth fail out there, at least CNN does not even pretend to be real.

And to David Dees - welcome to the club of awareness, RENSE KNEW ALL ALONG.

Where do you go after knowing this? Will your concience continue to allow you to ride the train with Rense?